By Keith Loria, Contributing Editor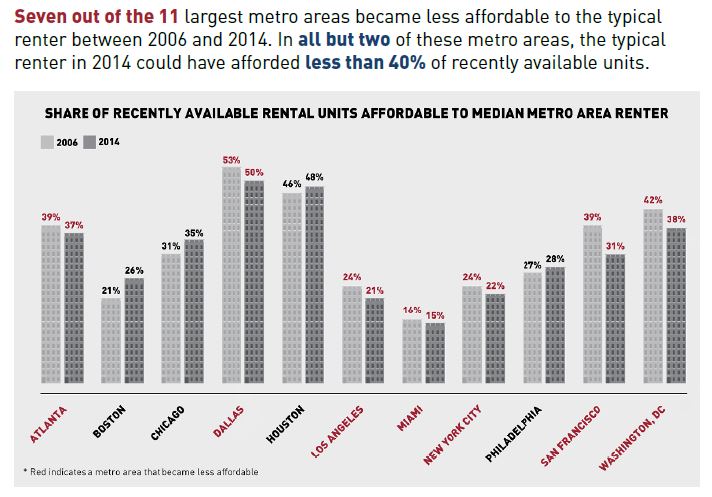 The renter population has grown in both central city and suburban areas, while more renters have been struggling to find affordable housing in the 11 largest metropolitan areas in the U.S., according to a recent report from the NYU Furman Center and Capital One on the National Affordable Rental Housing Landscape.
"In 10 of the 11 largest metro areas, and in metro areas nationwide, the median gross rent rose between 2006 and 2014," Laura Bailey, Capital One's managing vice president of community finance, told Commercial Property Executive, noting that this was the case both in the central cities and the surrounding suburbs. "We found that many of the trends we observed in central cities last year are also happening in the surrounding suburbs: The share of renters increased; the price of renting increased; low- and middle-income renters still struggled to find affordable apartments."
The rental population is booming. Between 2006 and 2014, the renter population grew faster than the stock of rental units not only in the 11 largest metro areas but in metro areas nationwide, pushing the average rental household size up and putting pressure on the affordability of rental housing.
"Of the 11 largest U.S. metro areas, Washington, D.C., is the least affordable for the typical American renter in a metro area, followed by the San Francisco, L.A. and New York City metro areas," Bailey said. "Of the cities we studied, the Chicago, Dallas and Houston metro areas were the most affordable to the median U.S. renter household."
The report notes that the depth of the housing shortage requires innovative solutions focused on both creating new affordable housing and preserving existing affordable housing, along with a deep collaboration between the public and private sectors.
"Unfortunately, the report is an accurate representation of the housing challenges facing this country," Stephanie Berman, Carrfour Supportive Housing's president & CEO, told CPE. "In South Florida, where the population is continuing to grow, we are seeing firsthand the increased need for more affordable housing options. However, there simply is not enough quality supply to satisfy this rising demand."
Carrfour Supportive Housing receives calls from families seeking affordable housing on a daily basis, and even with 30 communities comprising about 2,000 units across the county, it's at full capacity with long waiting lists.
"It's very frustrating that we can't help everyone in need," Berman said. "Building more housing is one part of the equation, but we also need to be mindful of the quality of our developments and the supportive services that we're offering."
While government programs such as the National Housing Trust Fund, created by Congress, and the Sadowski Trust Fund, created by Florida's legislature, provide dedicated funding sources for affordable housing, proceeds are often diverted from these revenue streams to cover other expenses.
"These programs, and others like them, need to be adequately funded in accordance with existing law to ensure affordable housing is developed where it is most needed," Berman said. "And of course, additional investment on the part of the private sector can expand access to housing. Companies also have a responsibility to pay employees a reasonable wage. Anyone who is in a position to influence compensation has an opportunity to help tackle the issue of affordability in their own community."
Daryl Carter, Avanath Capital Management LLC's founder, chairman & CEO, also sees a correlation between the report findings and his portfolio.
"We own a variety of affordable communities in many of those major markets, and I can tell you that in our portfolio, rent is a little less than $1,100 a month and we are almost at 100 percent occupancy and have considerable waiting lists at many of our properties," he told CPE. "The biggest challenge is, rents are going up but incomes aren't."
Looking ahead, Bailey said she expects to see a continuation of many of the trends that have been prevalent in recent years.
"The renter population will continue to grow and there will continue to be a considerable gap in supply and demand, which will push rental vacancy rates down," she said. "Low-income and middle-income renters will also continue to struggle to find affordable housing in the nation's largest cities and metro areas."