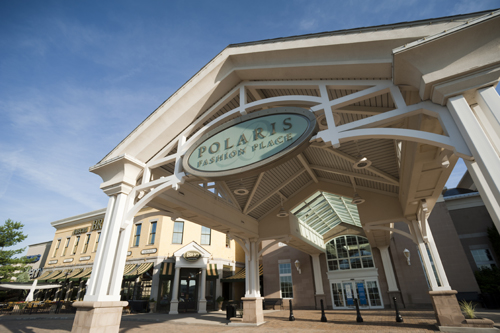 By Gail Kalinoski, Contributing Editor
When Washington Prime Group was spun off from Simon Property Group Inc. in May, its leaders began looking for opportunities to acquire and redevelop assets that would have strong cash flow and add franchise value. They saw many opportunities to expand the retail REIT, but CEO Mark Ordan said they were holding "out for something special."
Apparently, Washington Prime found "something special" in Columbus, Ohio, home of Glimcher Realty Trust.
On Tuesday, Ordan and Michael Glimcher, CEO of Glimcher Realty Trust, announced the two retail REITs were merging in a cash and stock deal worth $4.3 billion, including assumption of debt. The combined portfolio will have 119 retail properties – including high-end and middle-market malls and outlet and lifestyle centers – with approximately 68 million square feet of gross leasable area. The transaction, which must be approved by the Glimcher shareholders, is expected to close in the first quarter of 2015.
"This adds a very high-quality mix of assets to our portfolio," Ordan said on a conference call Tuesday morning with analysts. "This puts us in great shape."
With assets in more than 30 states, Glimcher said there would be "room to grow rents as well as occupancy, as we have historically at Glimcher."
"When we look at our combined assets, we see a lot of upside potential," Ordan added.
Washington Prime has 96 assets with 52.4 million square feet of space and a total enterprise value of $5.3 billion. Glimcher will have 23 properties after the sale of two assets to fund the deal, for a total of 15.8 million square feet and an enterprise value of $3.2 billion. The combined company's assets, which will have an average 92.6 percent occupancy rate, will be worth $8.5 billion.
Glimcher said there would be "tremendous operating synergies" at the company, which will be renamed WP Glimcher. The company will maintain Glimcher's headquarters in Columbus. Ordan will serve as executive chairman, and Glimcher, who will report to Ordan, will be vice chairman & CEO of the combined firm. Glimcher and one Glimcher board member will join the new nine-member board of directors. The new company will trade on the New York Stock Exchange as WPG.
The cash portion of the deal is expected to be funded with the sale of two Glimcher-owned shopping centers – Jersey Gardens in Elizabeth, N.J., and University Park Village in Fort Worth, Texas, to Simon for $1.1 billion. The sale of the two properties will be concurrent with the closing of the company acquisition by WPG. Joint ventures with institutional partners, other asset sales, capital market transactions and/or draws under a $1.3 billion fully committed bridge facility provided by Citi could also be used to fund the deal.
Jeff Green, president & CEO of retail real estate consultancy Jeff Green Partners, said he was a little surprised because he didn't realize Glimcher was looking to merge or be acquired.
"But the more I think about it, it makes sense," he told Commercial Property Executive. "It's two retail REITs, combining them and strengthening them, which will allow for some more leasing clout. I think it's a great deal for both."
Other benefits of the planned merger include adding strong cash flow, broadening the geographic diversification and tenant mix, and giving the combined firm a headquarters and support structure to allow it to transition from its operating agreement with Simon and a proven management team led by Ordan and Glimcher.
While Ordan noted during the conference call that they had reached out to the various rating agencies and "hoped to continue to maintain our strong and important credit rating," at least one downgraded Washington Prime, which also trades as WPG, after the announcement of the definitive agreement on Tuesday.
Fitch Ratings said in a news release that it had downgraded the Issuer Default Rating for WPG to triple-B-minus from triple-B, although it did note that the rating outlook was stable.
"The primary reason for those actions was the leverage," Sean Pattap, senior director of Fitch Ratings' U.S. REIT Group, told CPE.
Pattap said in the release and an interview with CPE that the initial triple-B rating for WPG was "predicated in large part on Fitch's expectation that the leverage would sustain between 5.0x and 6.0x and be toward the stronger end of that range."
He said the downgrade to triple-B-minus "primarily reflects that WPG's pro forma leverage is expected to be between 6.5x and 7.0x upon obtaining long-term financing."
Pattap also said Fitch expects WPG to "de-lever organically to 6.0x within 12 to 24 months."
Despite concerns about the leverage, Pattap said, "we recognize that the transaction makes sense strategically."
The Fitch report stated that the deal will improve WPG's asset quality with more malls sales per square foot, higher rents, increased occupancy and expanded or new markets.
"The GRT transaction deepens WPG's presence in Midwest markets, while expanding the footprint in California, Florida and Texas," the report said.
Another plus is the addition of the Glimcher team and infrastructure.
"By inheriting GRT's platform, this transaction will allow WPG to terminate its transition services agreement ahead of schedule and accelerate WPG's independence from SPG. At the same time, we think that WPG's ties to SPG have been valuable, as evidenced by SPG agreeing to purchase the GRT assets prior to closing," Pattap told CPE.