By Barbra Murray, Contributing Editor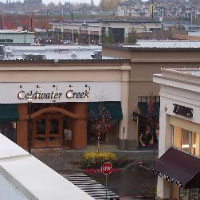 Fourteen years after becoming a 50 percent owner of Portland's Tanasbourne Town Center and Phoenix's Arrowhead Crossing in a joint venture with DRA Advisors Inc., DDR Corp. has acquired its partner's stake in the assets for $70 million. DDR is now the full owner of the power centers, which offer a combined total of nearly 1 million square feet of prime retail space.
Tanasbourne, a 566,000-square-foot property, first opened its doors in 1995 and came under the ownership of DDR, then Developers Diversified Realty Corp., in 1996. Today the property is anchored by a list of national retailers, including Nordstrom Rack and Target, and boasts an occupancy level of 97 percent.
Arrowhead Crossing also has a nearly full tenant roster, with the likes of Nordstrom Rack and Staples contributing to the large-format power center's 96 percent occupancy. The 412,000-square-foot property, also developed in 1995, became part of DDR's portfolio in 1996.
It was in 1998 when DDR entered into an agreement to contribute six properties, including Tanasbourne and Arrowhead, to a 50/50 joint venture with DRA. Now, DDR calls the two retail centers its own, having acquired DRA's interests with proceeds from the issuance of 4.8 million common shares. The assets come unencumbered, as the retail REIT repaid mortgage debt totaling $104 million at the closing of the purchase.
"This transaction is another example of our continued effort to creatively source transactions that allow us to grow our prime portfolio while improving our balance sheet and simplifying our story," Daniel B. Hurwitz, president and CEO of DDR, said. "Furthermore, our knowledge and familiarity of the assets reduces risk and give us confidence in the long-term growth profile of each property.
DDR has had a busy first quarter. Earlier this week, the company announced its $47 million acquisition of the 561,000-square-foot Brookside Marketplace, a premier shopping center in Chicago. And in January, it struck its biggest acquisition deal year to date with the formation of a joint venture with Blackstone to purchase a 10.6 million-square-foot, 46-property shopping center portfolio from EPN Group in a transaction valued at approximately $1.4 billion.
And there's more to come. "We are being very diligent in underwriting potential acquisitions, and despite a competitive market, we are pleased to be finding select off-market opportunities like our new joint venture with Blackstone and hope to be able to disclose more of what we are working on in the coming months," David J. Oakes, CFO of DDR, said during the company's fourth quarter earnings call in February.