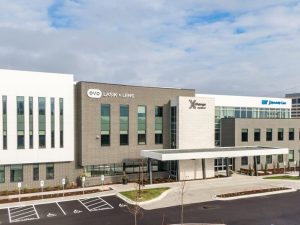 The Davis Healthcare Real Estate Group has completed Xchange Medical, a medical office building totaling 78,000 square feet in St. Louis Park, Minn. The Synergy Architecture Studio-designed, Class A building is fully leased.
The development team also included Timco Construction Inc. as general contractor, Loucks Inc. as civil engineer and landscape architect, as well as Koma Inc. as structural engineer.
The Minneapolis-based developer acquired the multiple-parcel, 4.6-acre site in 2015, but only announced its plan for the three-story project last fall. In October, Davis secured a two-year, $20.7 million construction loan for the development, according to CommercialEdge data. Minnesota Bank & Trust originated the financing.
Located at 6099 Wayzata Blvd., Xchange Medical is anchored by Ear Nose & Throat Specialty Care (ENTSC) and Surgical Specialty Center of Minnesota. The latter has signed a 27,000-square-foot lease, fully occupying the top floor, while ENTSC takes up most of the second floor. The tenant roster also includes Retina Consultants of Minnesota along with OVO Lasik + Lens.
The medical office building features a covered patient drop-off, a healing garden along with 324 parking spaces, bike storage as well as electric vehicle charging stations. Xchange Medical is facing Wayzata Boulevard to the north and offers easy access to Highway 100 and Interstate 394. Central Minneapolis is less than 6 miles east.
In August, The Davis Healthcare Real Estate Group acquired a 107,228-square-foot medical office building in Portland, Maine for nearly $38 million.