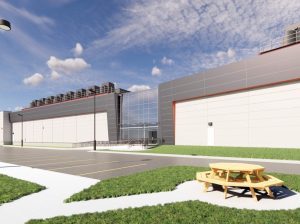 DataBank has started construction work on its sixth data center in Salt Lake City. The new facility, SLC6, will be constructed within the provider's 23-acre Granite Point Campus in Bluffdale, Utah. This latest addition will bring the campus to nearly 48.5 MW of critical IT power.
"Salt Lake City has become a go-to data center destination, especially for companies looking for an alternative to expensive metros such as Los Angeles, San Jose, and San Francisco. We think this is for a number of reasons: a business-friendly climate, targeted tax incentives, a highly educated workforce, low-cost and renewable energy sources, plentiful fiber, and geographic benefits that make it an ideal disaster recovery location for traditional West coast metros," JP Laqueur, DataBank Senior Vice President of Marketing, told Commercial Property Executive.
SLC6 will offer a range of colocation, cloud, connectivity, managed services. The facility will offer 100,000 square feet of raised floor space and 22 MW of critical IT power, while tenants will have access to more than a dozen carriers and cloud providers. The newest data center is expected to come online in the third or fourth quarter of 2022.
DataBank owns a private, 66 MW, N+1 power substation at its Granite Point Campus, which allows for cost savings and scalability options for enterprise clients or hyperscale cloud ventures. The property comprises four other facilities—SLC2, 3, 4 and 5, offering raised floor space ranging from 20,000 to 55,000 square feet. All data centers, including the newest one, are constructed at a Tier 3 design and in compliance with security standards (PCI-DSS, SSAE-18 SOC1/SOC2, GDPR, and FISMA).
A growing alternative
Salt Lake City's 'Silicon Slopes' region is a key growth cluster of technology companies, from manufacturing to software development, adding to demand for hyperscale and colocation space. Last year, Utah legislature passed a bill that modified tax exemptions related to data centers, targeting new facilities. According to a DataBank announcement from earlier this year, under the new legislation, tax savings for customers in its new facilities would reach up to 7.25 percent.
The provider is looking for more development options in the Salt Lake City market, as the Granite Point Campus will reach its full capacity. DataBank operates another facility in downtown Salt Lake City, besides the Bluffdale campus.
DataBank is ramping up its presence in other markets as well. Over the past four months, the company announced expansions in Denver, Pittsburgh, Dallas-Fort Worth and Indianapolis. Last year, the provider announced it will acquire zColo, the data center subsidiary of Zayo Group Holdings. This acquisition was completed in February this year, by closing transactions of five data centers located in France.