By Michael Ratliff, Associate Editor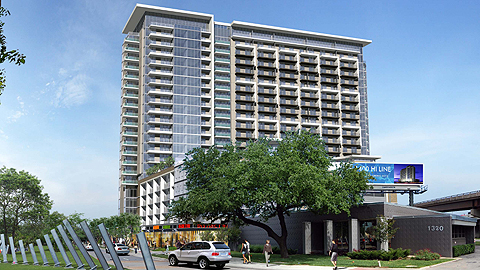 Dallas' up-and-coming Design District will get a new high-rise addition with the development of the 1400 Hi Line residential project. Construction of the 341-unit property will go forward on the strength of a $50 million loan secured by Broad Street Advisors for the project's developers, Houston-based PM Realty Group and National Real Estate Advisors of Washington, D.C. U.S. Bank is providing construction financing.
The project will be the latest residential entry in a district that currently includes about 370 stores and roughly 1,100 residential units. PM Realty Group and National Real Estate Advisors are positioning 1400 Hi Line as a high-end product geared to the "renter by choice" market.
"We felt that with the location adjacent to downtown, and the eclectic feel of the Design District, that it was a great place to come in with a second-generation product behind the first three multi-family projects," said Bryant Nail, PM Realty's senior development officer. He added that the site is less than a quarter-mile from a DART train station, and the North Central Texas Council of Governments has provided a grant to finance a pedestrian connection.
Among 1400 Hi Line's signature features will be a rooftop park covering nearly an acre, a fitness center, a fire pit, cabanas, outdoor grills, on-site parking and 27,000 square feet of retail.  The developers expect the project to  be ready for occupancy by the summer of 2012, followed by completion during the first quarter of 2013.
The project's development coincides with high demand for multi-family housing in the Dallas-Fort Worth metro area. An estimated 50,000 new households will form in the market this year, yet only 4,200 apartments will come on line.