By Timea Papp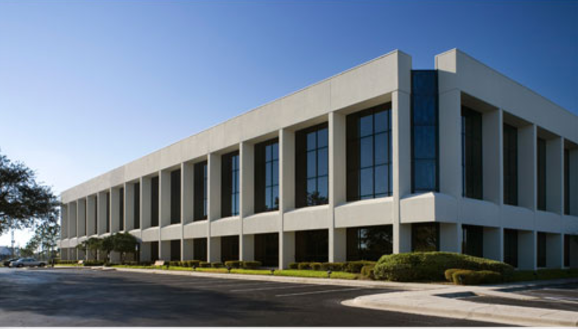 Cushman & Wakefield welcomed a new tenant to the Glades Building at Baypoint Commerce Center, a 71,402-square-foot office building in St. Petersburg, Fla. Accounting firm Spoor Bunch Franz has signed a 17,944-square-foot lease to consolidate two of its offices into a new corporate headquarters.
Senior Director Barry Hanerfeld led the leasing negotiations on behalf of landlord The Feil Organization. The new tenant will relocate both its 11,146-square-foot downtown St. Petersburg office from the Plaza Tower and its 7,800-square-foot Clearwater office to Baypoint Commerce Center in the third quarter of 2017.
Located at 877 Executive Center Drive West, The Glades Building is part of Baypoint Commerce Center, an approximately 700,000-square-foot office park. The 15-building campus was originally developed in 1971 and features on-site property management and leasing, after-hours security, fully furnished conference rooms and ample parking.
The office park underwent expansive renovations after The Feil Organization acquired it in 2011. The modernization includes new building lobbies, upgraded restrooms and landscaping, improved parking areas, new monument and directional signage, LED lighting and new patios, sidewalks and benches.
Spoor Bunch Franz, a Tampa-based accounting firm founded in 1971, will employ approximately 60 people at the Glades Building. Hanerfeld was named the exclusive leasing advisor at Baypoint Commerce Center in 2011 and has increased park-wide occupancy from 60 to 85 percent. The Glades Building is currently 91 percent leased.
"The Feil Organizations' investment in the park, its willingness to work with potential tenants to finalize deals, the park's accessibility to the greater Tampa region and the renaissance of the St. Petersburg market have all contributed to an increase in demand and occupancy for this revitalized asset," said Hanerfeld in a prepared statement.
Baypoint Commerce Center's 76-acre campus is located north of downtown St. Petersburg, providing accessibility via Interstate 275, Fourth Street, Dr. MLK Jr. Street, and the Howard Frankland and Gandy Bridges. This location offers numerous dining, lodging and retail venues nearby.
Image courtesy of Baypoint Commerce Center