By Paul Rosta, Senior Editor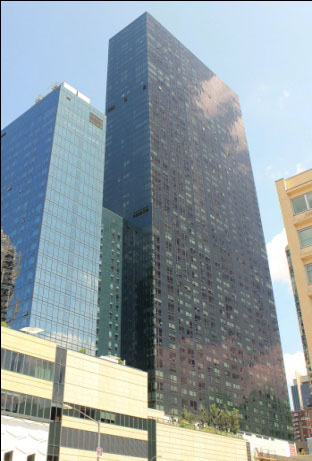 On the heels of an uneasy year, 2013 promises improved clarity of fiscal policy that will foster modest growth in investment, especially during the second half. That prediction was among the highlights of a global, national and New York City market forecast unveiled Tuesday by Cushman & Wakefield Inc.
"We believe that in 2013 there will be less uncertainty," said Cushman & Wakefield president & CEO Glenn Rufrano at the presentation in Midtown Manhattan. Introducing the program with an overview of global investment trends, Rufrano estimated that investment sales volume will hit $808 billion this year, up from $763 billion in 2012 and edging past the $807.5 billion in transactions recorded two years ago. In particular, volume will rise 15 percent in the Americas and 8 percent in the Europe/Middle East/Africa region. By contrast, volume in the Asia/Pacific region is expected to be almost identical to last year's $310 billion total.
A striking trend was the dominance of three markets. Greater New York City took top honors, drawing $33.5 billion in investment. The runner up – London – commanded $28.9 billion, followed by Hong Kong/Kowloon, which attracted $15.7 billion in investment activity. In explaining why investors have established these metro areas as the big three, Rufrano former Federal Reserve chairman Paul Volcker said: "When you're uncertain, or you're in a storm, you get into the biggest ship."
Drilling down into the nation's most powerful commercial real estate market, Rufrano projected that investment volume in New York City would jump 15 percent in 2013, which would put the market on a par with the rest of the U.S.  That volume would mark a surge compared to last year, when the city's investment sales grew only 3 percent. Rufrano attributed the surprisingly modest increase in part to the trades of several Manhattan trophy properties that were expected but did not materialize by year's end. Those assets—Worldwide Plaza at 825 Eighth Ave.; 11 Madison Avenue; and Tower 45, located at 120 West 45th Street—could each command upwards of $1 billion once owners and prospective buyers agree on a price.
Manhattan's Strong Finish
Summing up New York City's 2012 investment sales market, Steve Kohn, president of equity, debt and structured finance for Cushman & Wakefield, said: "Thank goodness for the fourth quarter." Fully 42 percent of the year's volume–$11.1 billion—came in the last three months. Worries about capital gains tax hikes may have stimulated much of that activity, although those increases turned out to be lower than investors had feared. By sector, multi-family assets enjoyed the biggest increase, as sales jumped from $3.4 billion to $5.8 billion in 2012, Kohn reported. Meanwhile a scarcity of big-ticket deals, combined with a 64 percent drop in Class A recapitalizations, trimmed office investment activity from $9.4 billion to $6.8 billion.
Ken McCarthy, Cushman & Wakefield's chief economist, cited Manhattan's recent job-creating record as one of its continuing attractions. Since the recession ended, only Houston and Washington, D.C., have outperformed New York City in terms of employment growth, he said. However, economic growth nationally continues to lag that of previous recoveries; during the past 13 quarters, the U.S. economy has grown only 7.5 percent—only half the rate demonstrated in previous recoveries, McCarthy added. Tax hikes and budget cuts will create a drag on the economy during the first half of 2013. However, resolving the uncertainty over the nation's fiscal policy during the second half of the year is likely to help the economy rebound, he predicted.
On the Manhattan leasing front, vacancy ticked up slightly, to 9.4 percent at year's end, but continues to hover around the point of tenant-landlord equilibrium. Midtown South's vacancy rate of 7.1 percent is the lowest of any U.S. central business district, even after a 120 basis-point uptick last year. Vacancy ticked up in two of Manhattan's three major submarkets, as only Downtown reduced its vacancy rate to 8.8 percent. By the end of 2014, about 6.5 million square feet of Class A office supply will come on the market Downtown in new and existing buildings. "We're going to see prices increase as vacancy increases because the product that is being added is at the top of the market," said Robert Constable, executive director for the Downtown office market.