By Gail Kalinoski, Contributing Editor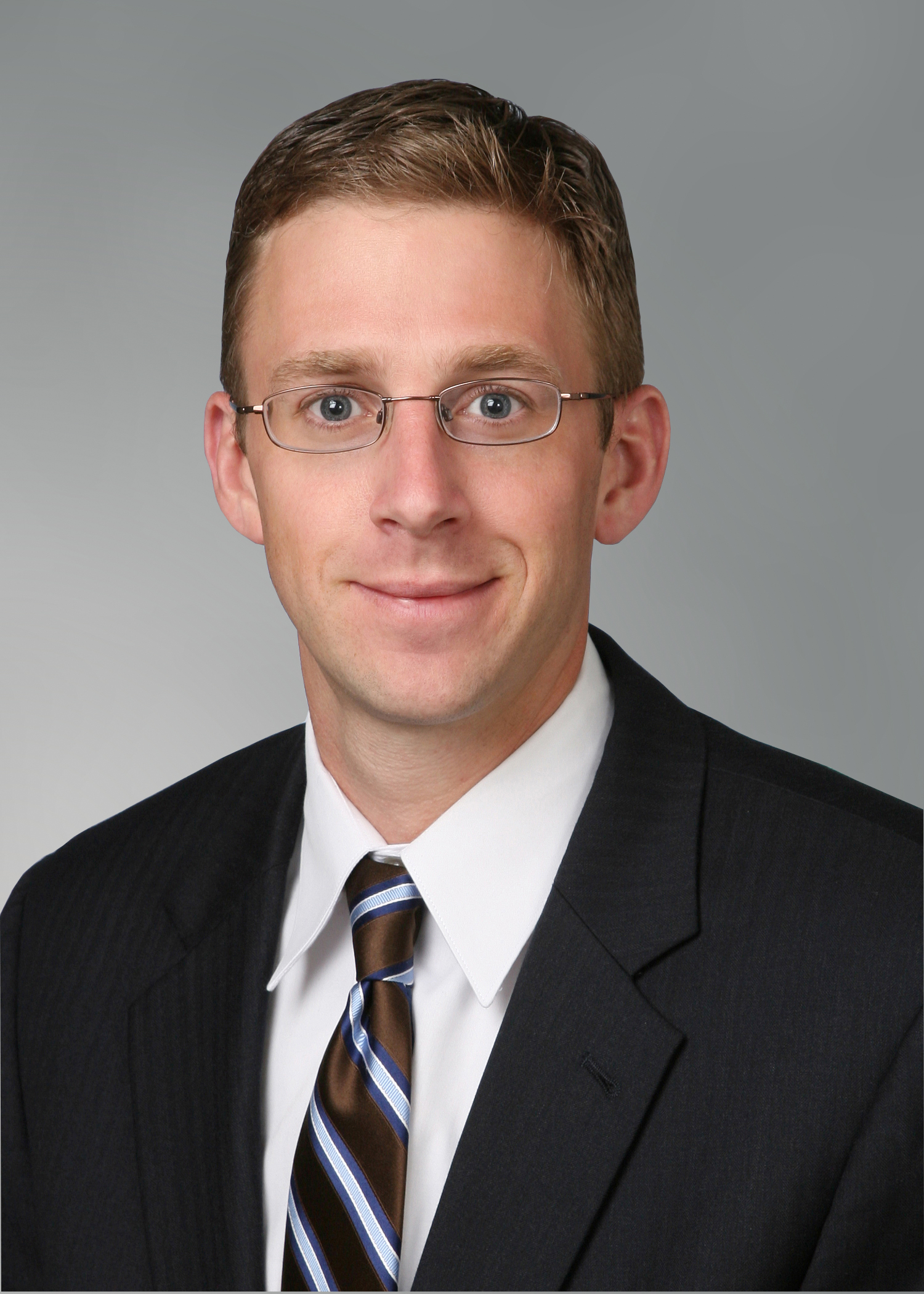 The U.S. industrial market is the hottest commercial real estate sector with third-quarter vacancy at cyclical lows and rent growth the strongest it has been in 15 years. And the office sector is holding its own too with demand high enough to result in one of the best quarters post-recession.
Those are just some of the highlights of the 3Q market reports from Cushman & Wakefield released this week. The healthy industrial and office statistics came during a quarter that saw the global economy hit a rough patch with market volatility, a slowdown in China, rising U.S. dollar, and fallout from the decline in oil prices that could have adversely affected both the industrial and office markets in the United States, but they didn't.
"In our view, the core of the U.S. economy remains solid; really solid enough to power through these headwinds and we do still see this as a healthy economic background for commercial real estate," Kevin Thorpe, Cushman & Wakefield's chief economist and global head of research, told Commercial Property Executive.
An improving job market is one of the drivers with U.S. unemployment at 5.2 percent in the third quarter compared to 6.1 percent in the same quarter last year.
"The economic environment in 2016 should support continued job gains, pushing the unemployment rate down below 5 percent and improving the outlook for the American consumer," according to the Marketbeat U.S. Industrial Snapshot Q3 2015 report.
The Marketbeat U.S. Office Snapshot Q3 2015 report also notes that the fundamentals in the economy are strong enough to withstand some of the global turbulence and predicts the six-year long expansion to continue.
"Job growth indicators remain robust for office-using industries and strong leasing activity combined with lagging new construction will keep upward pressure on rental rates," the office report stated.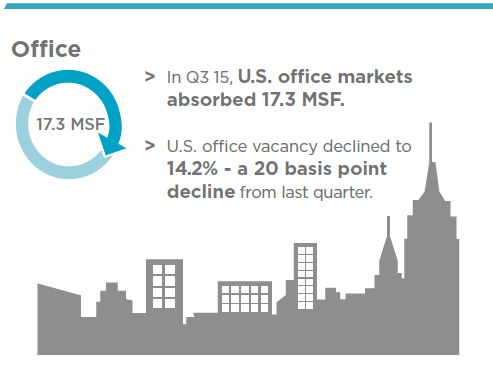 Thorpe said demand for office space declined slightly in the third quarter, but it was still strong enough to remain one of the strongest quarters in this cycle. The U.S. office market absorbed 17.3 million square feet of space in the third quarter. While it was down 10 percent from the second quarter, the demand was still strong enough to offset the limited new office space and drive the vacancy rate down from 14.4 percent in Q2 to 14.2 percent in Q3. But the construction pipeline is ramping up and 95.1 million square feet of office space was under construction by the end of September.
Rent growth is also a big story with about 90 percent of all U.S markets seeing positive rent growth and more than 40 percent experiencing year-over-year growth above 5 percent, according to the Cushman & Wakefield office report.
As for the markets that are the hottest, Thorpe said tech markets like San Francisco and San Jose, Calif., are still "white hot."
"What's interesting about this year increasingly is it's becoming a second market story," Thorpe told CPE. "Markets
like Nashville, Oakland and Atlanta, these are markets that are nowhere near the top ten list a few years ago and now all are in the top ten in terms of rent growth."
Nashville, for example, saw year-over-year third-quarter rent growth of 10.6 percent to $21.99 per square foot. Thorpe noted Nashville has a strong diverse economy that "benefits greatly from the millennial boom."
But it is the industrial market that has really been on fire, Thorpe said.
"It's absolutely thriving," he said. "There were reasons to believe that the third quarter was going to be weak. There was the slowdown in China. There was market volatility and that didn't disrupt the robust path that industrial is on at all."
Thorpe said U.S. industrial rent growth is the highest it has been in 15 years and is "now in record-setting territory."
"About 70 percent of all markets are experiencing positive rental growth, and 45 percent have seen year-over-year growth above 5 percent with double-digit gains in 14 markets," the Cushman & Wakefield industrial report noted.
Nationwide, the average vacancy was 7.4 percent.
"It was another massive quarter of absorption in the industrial sector," Thorpe said.
The report stated the U.S. industrial sector absorbed 57.9 million square feet in the third quarter, bringing the year-to-date occupancy gain to 173.1 million square feet. Net demand is on pace to exceed 200 million square feet this year. In the third quarter, all regions reported positive absorption gains, according to the report.
With demand increasing, construction has also ramped up. There was 182.3 million square feet of industrial space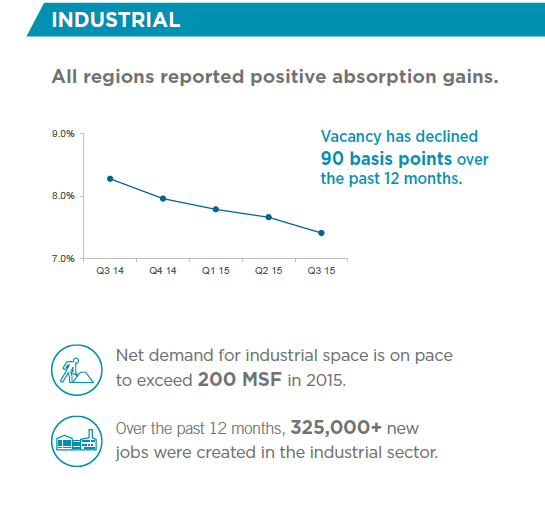 under construction at the end of the third quarter compared to 160.9 million square feet a year ago, according to the report.
Thorpe said the growth of e-commerce, particular companies like Amazon that are increasing same-day or next-day delivery, has been a big driver in the industrial market spurring construction and leasing of small and mid-sized facilities as well as large distribution centers.
"E-commerce account for nearly 50 percent of all the net absorption," he said. "The fulfillment centers are certainly a big part of that.
Also contributing to the strong industrial numbers is an improving housing market along with growth in the automotive and manufacturing sectors, Thorpe said.
He said areas near port cities  and distribution areas are the leaders in the industrial market citing the Inland Empire of California, Los Angeles, Atlanta and Chicago as a few of the hottest markets.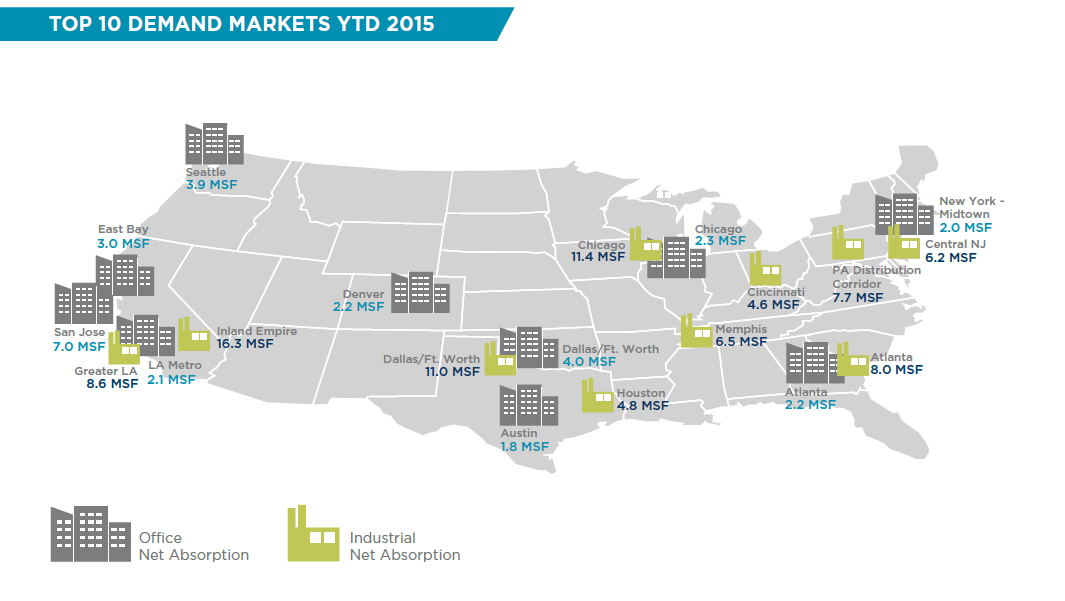 All graphs and charts provided by Cushman & Wakefield.