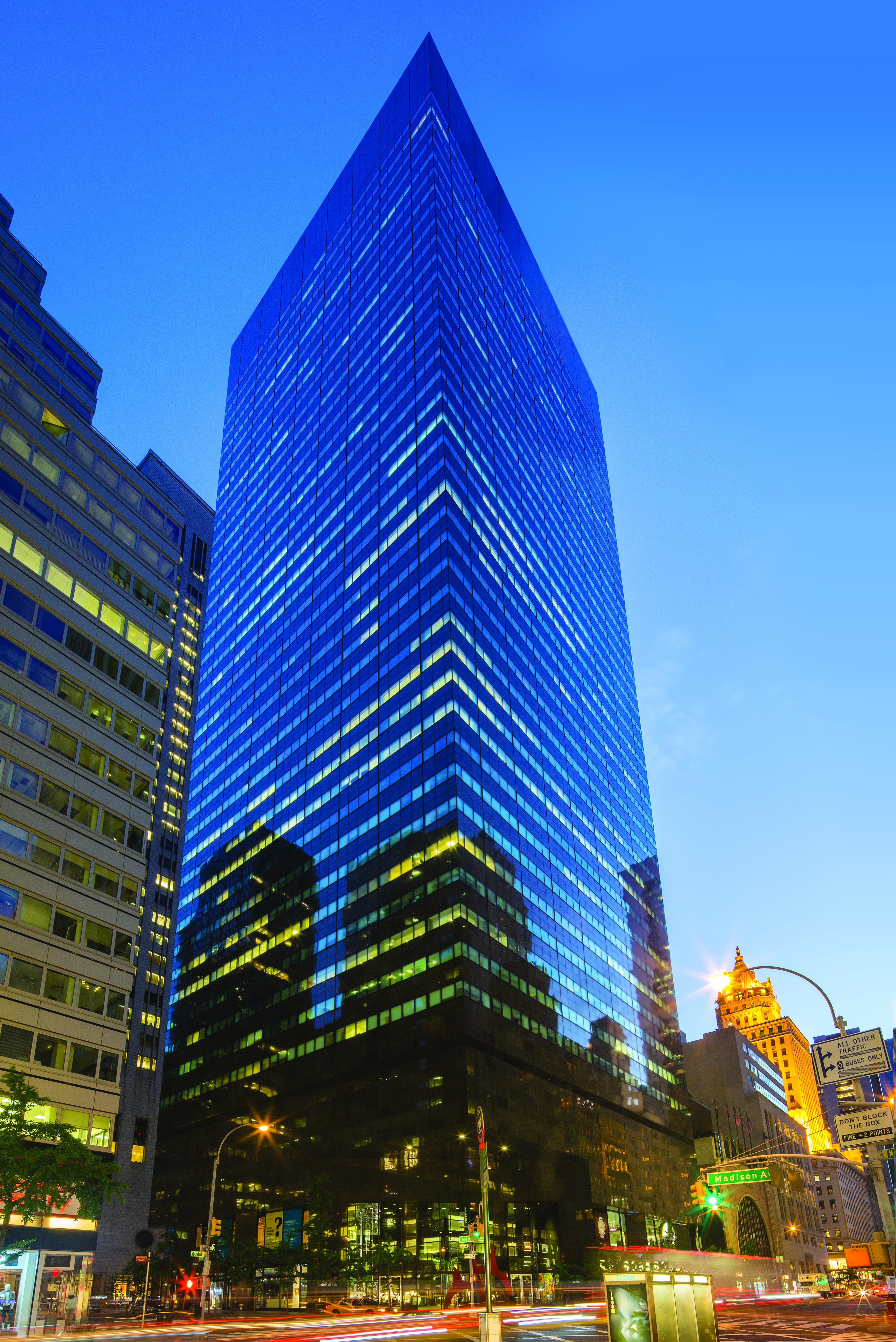 By Gail Kalinoski, Contributing Editor
The State Teachers Retirement System of Ohio, which had been considering selling a minority stake in 590 Madison Ave. in midtown Manhattan, has instead refinanced the mortgage for the 42-story tower with a $650 million loan arranged by Cushman & Wakefield.
The fixed-rate financing was provided by Goldman Sachs Mortgage Co., which had also provided the previous mortgage that Cushman & Wakefield had secured in January 2007.
A Cushman & Wakefield Equity, Debt and Structured Finance team of Steve Kohn, Alex Hernandez, Chris Moyer and Alex Lapidus represented an affiliate of the building owner, STRS Ohio, in the transaction.
"This is one of the truly premier office buildings in Manhattan, located among the most prestigious commercial properties, hotels and retailers," Kohn, president of Cushman & Wakefield Equity, Debt & Structured Finance, said.
"The lending community greatly appreciated the excellent credit quality of this offering," Hernandez, a Cushman & Wakefield managing director, added. "Both the property fundamentals and institutional sponsorship are unmatched."
Formerly known as the IBM Building, the trophy office tower at the heart of the Plaza District submarket has more than 1 million square feet of rental area, including 39 floors of office space, retail on the ground, lower and mezzanine levels and a private 78-car parking garage for tenants. Built in the early 1980s as a headquarters for IBM, the firm is still a major tenant. Other office tenants of the building at the corner of 57th Street include Crowell & Moring, Aspen Insurance, and Morgan Stanley Smith Barney. NASCAR announced in late August it was taking 14,077 square feet of space in a 10-year lease. Retail tenants include watch seller Tourneau and Bonhams, an auction house.
For the past year, STRS Ohio had been considering selling a minority stake up to 49 percent in the building in a deal that could have valued the trophy tower at about $1.5 billion, according to Crain's New York Business. In March, the publication also reported that the Safra family of Brazil, which is part owner of the GM Building in Manhattan, was in talks to buy the minority stake. It's not clear why that deal did not transpire but a STRS Ohio spokesperson told The Wall Street Journal that it was using the new loan to pay off the previous $350 million mortgage two years early and lock in a low interest rate.
STRS Ohio, which is the 18th largest domestic U.S. pension fund, owns several other properties in the New York metropolitan region, including several apartment buildings and two retail assets in Manhattan and an industrial building in Carlstadt, N.J. The pension fund also targets real estate investments in Boston and Washington, D.C., in the Northeast as well as other key cities in the United States. STRS Ohio bought an 89,252-square-foot industrial property in Odenton, Md., last month. Arundel Crossing VI is located in the heart of the Baltimore-Washington corridor.