October 5, 2011
By Nicholas Ziegler, News Editor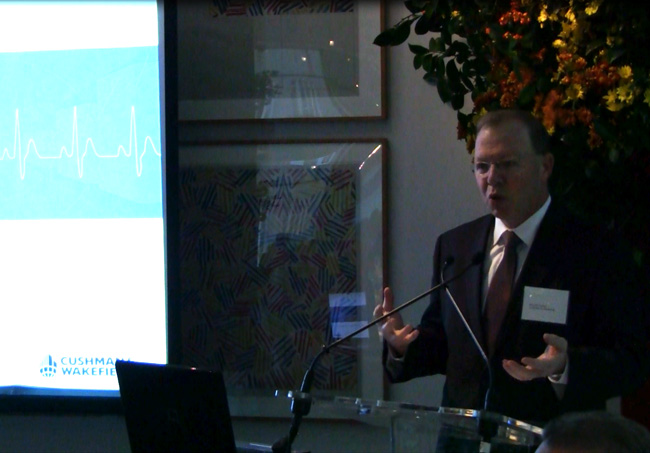 In its third-quarter overview, Cushman & Wakefield painted a scene, and the Manhattan CRE market continues to be picturesque and bright amid the rest of the country.
"The story really is that New York has been different," Ken McCarthy, senior economist and senior managing director with Cushman, told Commercial Property Executive. "During the recession from 2007 through 2009, New York was not as weak as the rest of the country. In the recovery that's happened since 2009, New York has been stronger than the rest of the country."
According to internal figures, commercial property sales in the city have reached $19.4 billion in 2011; were that pace to continue, the total dollar amount of transactions would be the third-highest on record in more than a decade. New leasing activity, specifically, reflected the strongest yearly third quarter since 1998, reaching 6.4 million square feet during the period.
"Through the third quarter, Manhattan commercial real estate fundamentals have strengthened, following the record pace of new leasing activity," Joe Harbert, COO for the New York metro region, said. "It is clear we have been in a hot leasing market."
Strong leasing activity continues to lower the overall average vacancy rate for Manhattan to 9.3 percent as of the end of the third quarter 2011, a decrease of 0.1 percentage points from midyear, 0.7 percentage points since the first quarter and demonstrated the lowest vacancy rate since February 2009. Year-over-year, the overall vacancy rate declined 1.5 percentage points from 10.9 percent at this time last year. The vacancy rate for class-A office space stayed flat from midyear at 10.0 percent, but decreased from 11.6 percent in 2010. The vacancy rates in both class-B and C buildings also decreased compared to the third quarter of 2010. The class-B vacancy is 8.4 percent and class-C is 8.6 percent compared to 9.8 percent and 10.1 percent at this time a year ago.
Vacant space in Manhattan as of the end of September 2011 totaled 36.7 million square feet, a decrease of more than 6 million square feet from the third quarter of 2010. Sublease space, which accounts for only 15.2 percent of all available space in Manhattan, is down from 18.1 percent a year ago at this time, but slightly up during the quarter.
"We've had a very vibrant year," Harbert said. "The second quarter was spectacular. The third quarter was more of a normal market, but we've leased 24 million square feet year-to-date."
By industry, financial services accounted for 32.4 percent of all leasing year-to-date, followed by information/media at 27.5 percent and government, education and social services at 9.5 percent. This compares to the third quarter of 2010, when financial services accounted for 25.5 percent, followed by legal services at 11.2 percent and government, education and social services at 9.7 percent.