October 11, 2011
By Barbra Murray, Contributing Editor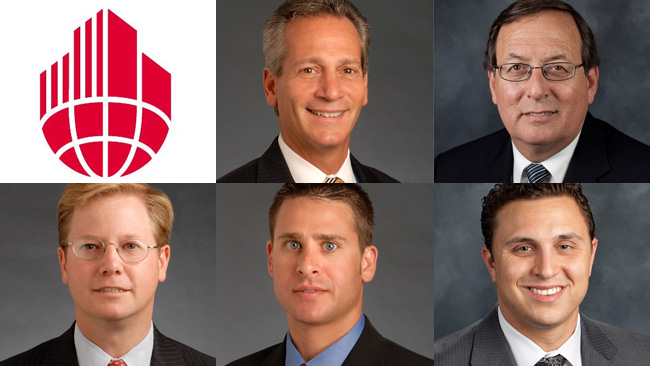 One commercial real estate services firm's loss is another one's gain. Cushman & Wakefield Inc. has snapped up a five-person office-brokerage team from Jones Lang LaSalle Inc. to help bolster its foothold in Central New Jersey. Paul Giannone, executive vice president, is leading the group, which operates from Cushman's office in Edison.
"It's an extraordinarily good fit and a tremendous opportunity," Giannone told Commercial Property Executive.
The team of industry veterans also includes Paul Hindes, who occupies the role of executive director; senior directors Kevin Carton and Todd Elfand; and Charles Cavallo, associate director. Combined, their office leasing and sales activities account for transactions totaling billions of dollars. While Giannone and his team have facilitated deals across the Mid-Atlantic, their focus for the last 25 years has mainly been on Central New Jersey, where they have cultivated valuable expertise and developed an enviable reputation.
The heart of the Garden State is high on the radar for Cushman, and for good reason. "It's an excellent location for companies to consolidate if they have a cost-savings strategy and multiple offices in New Jersey," Giannone said. "Being at the center of the state, you have easy access to New York, Philadelphia, and all of New Jersey. There's been strong demand in the Metropark and Woodbridge areas recently, driven by those reasons."
It is not just in-state office users that are keen on Central New Jersey; companies are relocating or expanding out of Manhattan and other parts of New York as well. Cushman's goal is to capitalize on New Jersey's status as a corporate hub as life returns to the real estate market, and the new members will help lead the way.
"This well-respected team's market expertise and unusual combination of technical and tactical experience enable it to service clients with a broad array of disciplines," Gualberto "Gil" Medina, Cushman's New Jersey executive managing director, said. "The addition of Paul, Paul, Kevin, Todd and Charles will strengthen our regional capabilities significantly and be of great benefit to our valued clients."
Giannone and the four other new additions have hit the ground running, starting with old contacts. "We have a number of agency assignments that were ours for a very long time, so initially we'll be working on bringing those over to Cushman & Wakefield," he said. "Cushman & Wakefield is an extraordinary, global, iconic brand and the talent that exists at the firm is remarkable so there's an extraordinary advantage there. It's just a wonderful opportunity to be able to collaborate with that group."