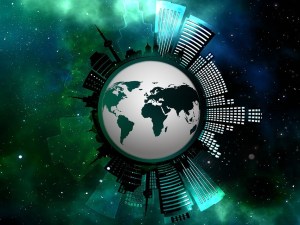 Shaking off a pandemic-induced slowdown in 2020, cross-regional global real estate capital flows from North America, Europe and the Asia Pacific region jumped 60 percent year-over-year to a record $77.5 billion in the second half of 2021.
It was a 13 percent increase over the average H2 total between 2016 and 2020, according to a new CBRE report.
With travel restrictions easing in most regions and market uncertainty due to the pandemic waning, CBRE expects to see continued cross-regional activity in 2022, particularly by North American and APAC investors.
Cross-regional capital flows into North America totaled $27.3 billion for H2 2021, the highest level since H2 2016 and a 50 percent increase over the five-year H2 average between 2016 and 2020. Singapore investors were particularly active in North America, spending primarily on industrial and logistics assets.
---
READ ALSO: Industrial Sector Reaches Supply Momentum
---
The report noted APAC outflows to North America reached a five-year high of $26 billion, boosted by increased investments in the industrial and logistics sector in the U.S. It was also the second-highest H2 level of overall APAC inflows to North America on record.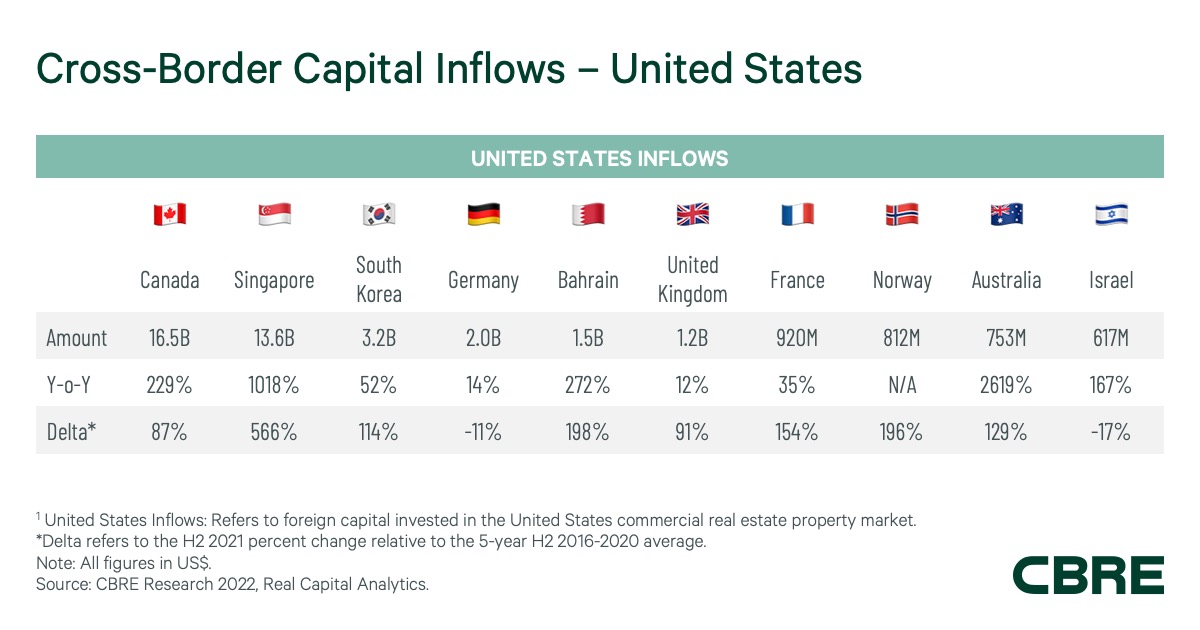 Across North America, Europe and APAC investors were targeting the industrial and logistics sector, which accounted for 45 percent of cross-regional capital flows, followed by the office sector, which attracted 34 percent of the spending. CBRE noted cross-regional investments in the industrial and logistics sectors reached record or near-record levels across all regions. Singapore investors again had strong activity in the sector, accounting for more than 75 percent of all cross-regional inflows targeting industrial and logistics assets.
North American inflows and investments
APAC investors spent most of their capital in North America in the second half of 2021, with London being the only non-U.S. market for APAC's top 10 investments during the period. New York City saw most of the APAC investments by far, reaching $2 billion in H2 2021, up from $150 million during the early days of the pandemic in H2 2020. By comparison, APAC capital outflow to Chicago in H2 2021 hit $1.1 billion and $980 million in Boston.
Overall, London saw the most cross-regional capital inflows in H2 2021, with $5.3 billion in investments, followed by New York City ($3 billion), Sydney ($2.3 billion), Milan ($1.9 billion) and Boston ($1.8 billion).
London apparently was the beneficiary of much of the European cross-border investments in the second half of 2021. U.S. investors primarily sought U.K. industrial and logistics properties. CBRE reported North American outflows to London were at their highest H2 level since 2018 and were up 43 percent compared to the pre-Brexit average between 2015 and 2019.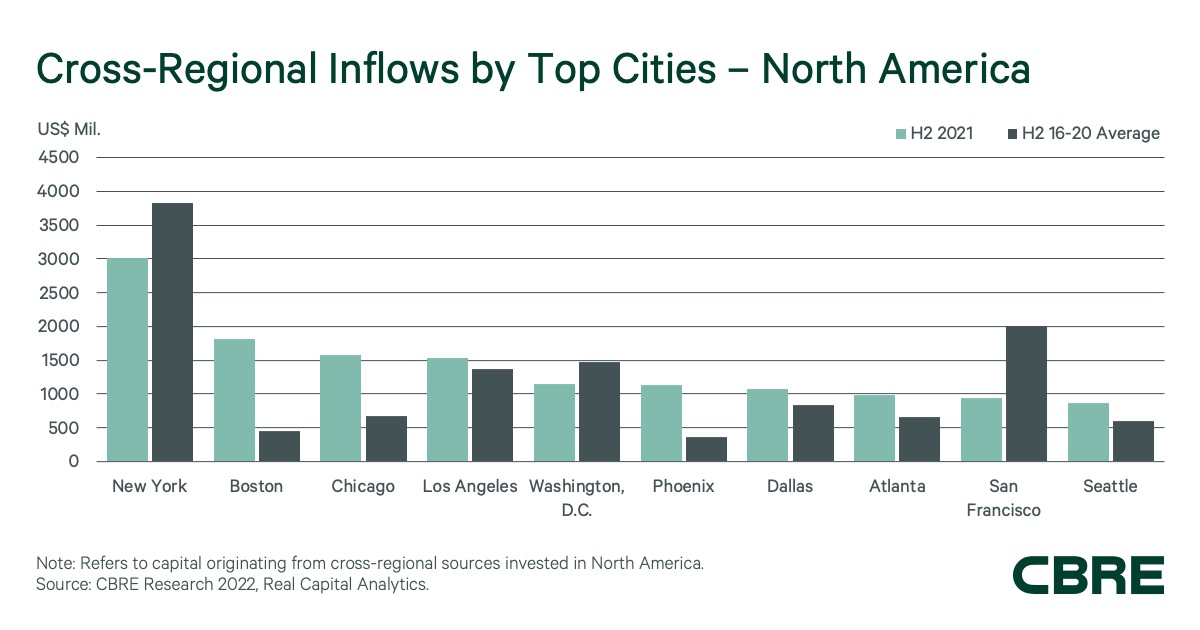 In H2 2021, North American investors spent more than $200 million in each of the 16 European markets and nine APAC markets. Sydney, Hong Kong, Singapore and Melbourne, Australia, were among the busiest APAC markets for North Americans. U.S. investors were also acquiring prime office assets in major European cities during the period, according to CBRE.
Overall, North American outflows during the second half of 2021 totaled $40 billion, higher than all other regions combined. Most of that—$31 billion was for European investments—but the $9 billion invested in the APAC region was an all-time high.
In North America, Boston's cross-regional inflows in the second half of 2021 stood at $1.8 billion, a 300 percent year-over-year increase that was the highest growth rate of all the major North American markets. New York City had the highest total volume of inflow investments during the second half of 2021, hitting just over $3 billion. Twenty North American markets each received cross-regional inflows totaling more than $200 million. Chicago and Los Angeles also saw deal flow across all major sectors, mainly from French, German and Singapore investors.
Read the full report by CBRE.