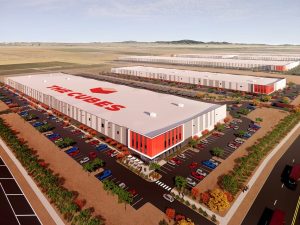 CRG has acquired a 268-acre site in Mesa, Ariz., and plans to develop as much as 4 million square feet of speculative and build-to-suit industrial space. Dubbed The Cubes at Mesa Gateway, the project will be the largest master-planned, development-ready industrial park ever delivered in Phoenix's Southeast Valley submarket.
---
READ ALSO: Phoenix Is Thriving. Here's Why.
---
Situated between East Pecos Road and East Germann Road, the development will be just South of the now under-construction AZ 24 freeway expansion, which will offer direct access to Loop 202, 5 miles from the Phoenix-Mesa Gateway Airport and 20 miles southeast of Phoenix. The Cubes at Mesa Gateway will target a wide array of tenants in the bulk distribution, e-commerce fulfillment and specialized manufacturing fields.
Construction will start immediately for off-site infrastructure improvements to all four sides of the development, including road widening, installation of traffic signals and utility expansion. Phase I of vertical construction is expected to begin in the second quarter of next year and completion of the first building is slated to coincide with the completion of the AZ 24 expansion in the fourth quarter of next year. The entire site slated for delivery in late 2024. The Cubes at Mesa Gateway will offer multiple building and size options from 250,000 square feet to 1.2 million square feet, with build-to-suit opportunities and possibilities to buy improved lots.
Construction will be handled by CRG's parent company Clayco and Lamar Johnson Collaborative will serve as architect. JLL Managing Director Steve Larsen worked on behalf of CRG in the land acquisition and will handle leasing for the project together with JLL Managing Director Pat Harlan and Senior Vice President Jason Moore.
New Supply for New Need
According to Mark Sonnenberg, CRG senior vice president & partner, Southwest region, the Southeast Valley is booming because of the growing presence of high-tech industrial sectors such as semiconductor, electric vehicle, aerospace, defense and data centers. He added that most of the area's current industrial inventory accommodates smaller users and The Cubes at Mesa Gateway will fill the growing need of a large, multi-phase, development-ready industrial park.
Together with The Cubes at Mesa Gateway, CRG has roughly 600 acres under development in the Greater Phoenix metropolitan area. The company entered the market at the beginning of the year with The Cubes at Glendale, a 5.5 million-square-foot, 355-acre industrial project in Glendale, Ariz