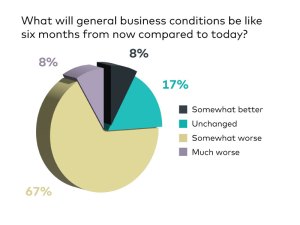 Amid inflation, rising interest rates and recession fears, real estate executives' confidence in the prospects for the industry and the economy has declined rapidly during the past few months.
That is the key takeaway from the most recent CPE 100 Quarterly Sentiment Survey. The short-term impact of that growing pessimism on investment, development and corporate growth plans are unclear, but the findings strongly suggest a consensus among executive that a recession or slowdown is on the horizon, and adjustments in strategy may be ahead.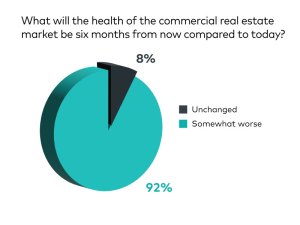 The key indicator is the CPE 100's impression of a slowing economy. In the new survey, conducted in mid-June, 67 percent of respondents said that they expected economic conditions to be somewhat worse in six months. In the course of one quarter, that share of the CPE 100 has nearly tripled from 23 percent. By contrast, during the fourth quarter of 2021, optimism dominated the CPE 100's views. Half of survey participants said they expected better economic conditions in six months.
Executives' expectations about the prospects for the industry have declined even more drastically. In the second-quarter survey, 92 percent of respondents predicted that commercial real estate will be performing worse in six months.
During the first quarter of 2022, only 23 percent said that the industry's performance would weaken. And the result represents a nearly total reversal from a year ago. In the second quarter of 2021, 86 percent of the CPE 100 said that the industry would be performing better in six months.
Rising interest rates appear to be one of the factors weighing on the CPE 100. Half of survey participants believe that rate hikes will start to affect the industry during the third quarter. In all, 83 percent say that the increases will have an impact by the end of the year.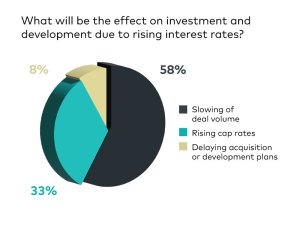 Most respondents (58 percent) see lower deal volume as the principal consequence of higher rates for development and investment. One third are primarily concerned that the increases will trigger higher cap rates.
Worries about the capital markets range from higher financing costs (50 percent) and increased difficulty in qualifying for financing (17 percent) to reduced flexibility of loan terms (8 percent).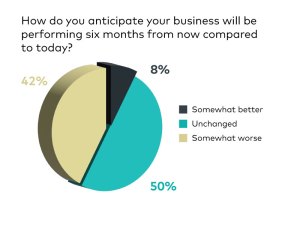 Expectations for survey participants' businesses are guarded, if less dire than for the industry as a whole. The share of executives who say their firms' performance will remain unchanged over the next six months has declined modestly, from 62 percent to 50 percent. But significantly more are now concerned about a decline. During the first quarter, only 8 percent of respondents said their companies would be doing worse in six months; by mid-June, that percentage had jumped to 42 percent.