By Mallory Bulman
Real estate fundamentals remained robust throughout last year. Unemployment dropped and demand for housing, office space, retail and industrial assets increased. According to RCA Analytics, 2016 marked the third strongest year for commercial real estate on record. The Moody's/RCA Commercial Property Price Indices measured a price increase of 9 percent over the course of the year.
From planned projects to adaptive reuse, sales transactions to financing packages and leasing deals, the winners of the seventh annual Distinguished Achievement Awards represent the best of the best in commercial real estate deals during 2016. The following offers details on the winning entries chosen by the judges.
Winners of this year's Gold and Silver awards were honored at an event Oct. 19 in New York City. Stay tuned for details about the 2018 Distinguished Achievement Awards. 
Best Design: Unbuilt
Gold: 412 W. 15 St., New York City
Owner: Rockhill Investment
Developer: Rockhill Management
Builder: Triton Construction
Interior Designer: Centra Ruddy Architecture
Broker and Marketing: CBRE
Project Type: Office
Property Size: 224,000 square feet
The Story: The objective for this project is to merge an existing structure on 14th Street in Manhattan's Meatpacking District with new construction on 15th Street. In order to merge the new design with the industrial and historic context of the area, a custom glass façade and three-dimensional metal panels were imported from Italy to meld with the existing historic structure on 14th Street to create a vertical campus. The rooftop will be adapted as a landscaped terrace and outdoor conference facility, while multiple other terraces will be incorporated for a change of scenery while working, conducting meetings or just taking in the city views.
The interior is customized for today's flexible work environments, with adaptable floor plates that offer many configuration possibilities for any tenant. The full-height glass exterior of the new tower combined with the terraces will create a light-filled space that takes the concept of indoor-outdoor living to the workplace. The project also incorporates another trend sweeping real estate: environmental friendliness. Adaptive reuse is inherently environmentally friendly, as it conserves resources that would have been used to create a new property, but the plans for 412 W. 15th St. take it a step further, with blue roofs, which collect rainwater; landscaping on the roof, which serves as insulation; and an energy-efficient, low-e structurally glazed unitized glass-and-aluminum façade.
Judges Praised: The market savviness to take what was initially bought to develop into a hotel, but considering the demand for flexible office space, changing the plans. The integration of old and new buildings is a creative solution, and the design complements the area's industrial history while still looking modern and leaving options for tenants to change their workspace set up as work preferences evolve.
Submitted by: Centra Ruddy Architecture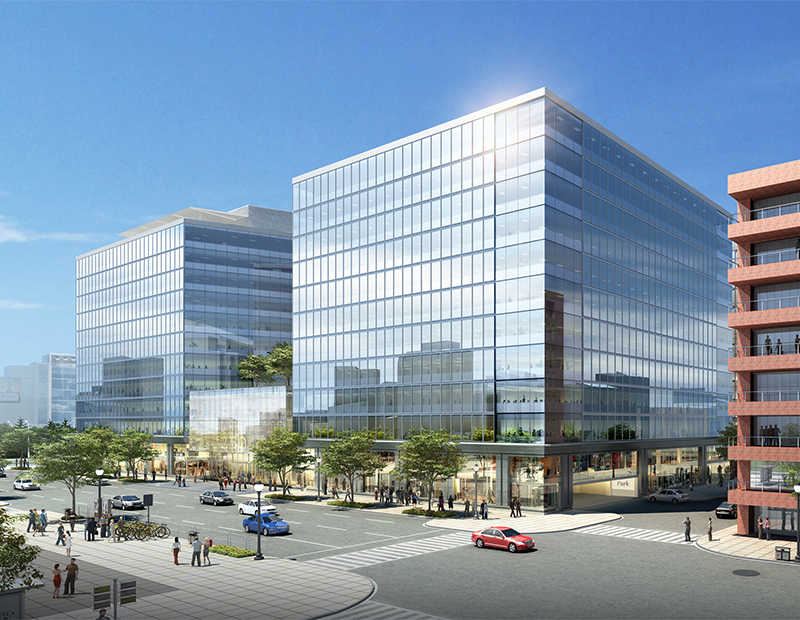 Silver: Capitol Crossing, Washington, D.C.
Owner/Investor: Center Place Holdings
Developer: Property Group Partners
Financier: W.R. Berkley Inc.
Architects: Kevin Roche, John Dinkeloo & Associates; Kohn Pedersen Fox Associates; Skidmore, Owings & Merrill; and Beyer Blinder Belle
Builder: Balfour Beatty Construction
Broker: Cushman & Wakefield
Property Type: Mixed-Use
The Story: Capitol Crossing is one of the largest developments in the D.C. area, as well as one of the most ambitious. Once complete, it will create three entirely new city blocks above an active highway. Capitol Crossing will consist of five new mixed-use buildings that will restore land lost to the I-395 highway. The project is expected to create thousands of jobs and $40 million per year in new tax revenue, and will bridge the gap separating the Capitol Hill and East End neighborhoods.
While it is 100 percent privately funded, the development of Capitol Crossing is a public-private collaboration with the DC Council, the District Department of Transportation, the Washington DC Economic Partnership, the Downtown Business Improvement District, the nearby Advisory Neighborhood Commissions and other community leaders. Additional elements of the project include the relocation and refurbishment of two religious institutions, the Holy Rosary Church and the Adas Israel Synagogue, as well as refurbishing the existing Third Street Tunnel, conducting utility upgrades along Massachusetts Avenue, and new entry and exit portals to I-395.
Judges Praised:  The complexity of building over a highway and the collaboration with mayors and public institutions though it was privately funded.
Submitted by: Property Group Partners
Best Design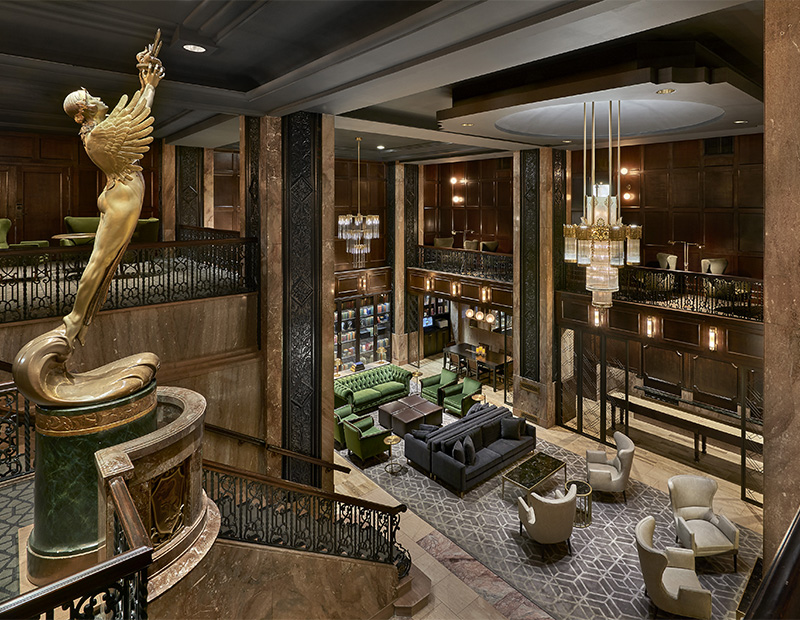 Silver: Hotel Phillips Kansas City, Kansas City, Mo.
Owner/Investor/Developer: Arbor Lodging Partners
Financier: Pine River Capital Management
Builders: Blinderman Construction, Hotel Rehabs
Interior Designer: Kraig Kalashian Architecture & Design
Broker/Sales/Leasing: Jameson & Co.
Project Type: Hotel
Property Size: 174,800 square feet
The Story: Listed on the National Registry of Historic Places, the property has a well-known presence in the community, and renovating it involved a careful preservation. The team's goal was to respect and maintain the original 1930s art deco details while upgrading technology and amenities. Elements like bronze and nickel metalwork, walnut paneling, light fixtures and black glass ceilings were all preserved, while many of the new materials were custom-made to keep the tone of the hotel's heritage alive. Most of the changes served to return Hotel Phillips to its original state. For example, a staircase in the foyer was removed in order to rebuild the travertine floor seen in photos of the property from the 1930s. Walnut paneling in the lobby was restored, while the lobby ceiling and the Crystal Ballroom were touched up to regain their former glory.
Two businesses were added to the hotel during its construction phase, which ended in December 2016. Kilo Charlie Coffee Bar and P.S. Speakeasy were built in portions of the hotel that were previously unused or used for storage space. The Speakeasy concept takes advantage of the hotel's historic past and offers a nightlife experience for guests in an area known mostly for its corporate and financial establishments. Arbor Lodging Partners knows that most attractions are located in the Country Club Plaza sector, but managed to transform the Phillips Hotel into a destination by restoring its historic feel and inserting modern elements.
Judges Praised: Authentic design that preserved the 1930s character of the building, wrought-iron details in the lobby and on the cast-iron stairs, and use of state and federal tax credits for an elegant downtown property.
Submitted by: Arbor Lodging Partners
Best Development
Silver: NEXT Apartments, Chicago
Owner/Investor/Developer: Fifield Cos.
Financiers: The Private Bank, Ullico, Citizens Bank, Related, Bridge Investment Partners and Polaris
Architects and Interior Design: Pappageorge Haymes Partners, Soucie Horner Ltd., CORT Furniture, Brook Furniture and Modani Furniture
Builder: McHugh Construction
Broker: Greystar
Property Type: Multifamily
The Story: Valued at $155 million, construction of NEXT Apartments brought luxury living to an area formerly known for the Cabrini Green housing projects. The site is located between the River North and Cabrini Green neighborhoods, and was underutilized when the company committed to buying the site in 2013. Now, the area is an emerging tech corridor, popular with Millennials and professionals looking for a community in the urban core. Amenities are a big part of the NEXT experience and include an outdoor pool, spa and sun terrace with cabanas, a fire pit and a grilling area. The property also offers a 24-hour fitness center and yoga studio, a media room with an oversize TV and surround sound, a full Starbucks coffee bar, a gaming arcade, a business center and conference room, and a bicycle storage and repair space. Home to Daisy "the house dog," a friendly Newfoundland that spends her days in the lobby playing with guests and residents and even accompanying prospects on apartment tours, the community sponsors pet-friendly events.
The building is located two blocks from CTA's Brown/Purple Line and a short walk from the Chicago Red Line station, offering convenient transportation to the Loop as well as Midway and O'Hare International airports. With a walkability score of 95 out of 100, it is accessible to nearby retail stores, parks and a Divvy bike sharing station by foot. Aside from its transit-oriented green features, the building has green terraces, a green roof, energy-efficient windows, low-flow plumbing fixtures, low-VOC paint, LED light fixtures, Energy Star appliances and NEST Thermostats.
Construction was completed three months early, with NEXT Apartments ready for opening in September 2016. Fifield also donated $500,000 to Interfaith Housing Development Corp. for construction of long-term affordable housing for the low-income population living near the building.
Judges Praised: Use of the challenging EB-5 financing and the dog as part of a creative marketing strategy.
Submitted by: Fifield Cos.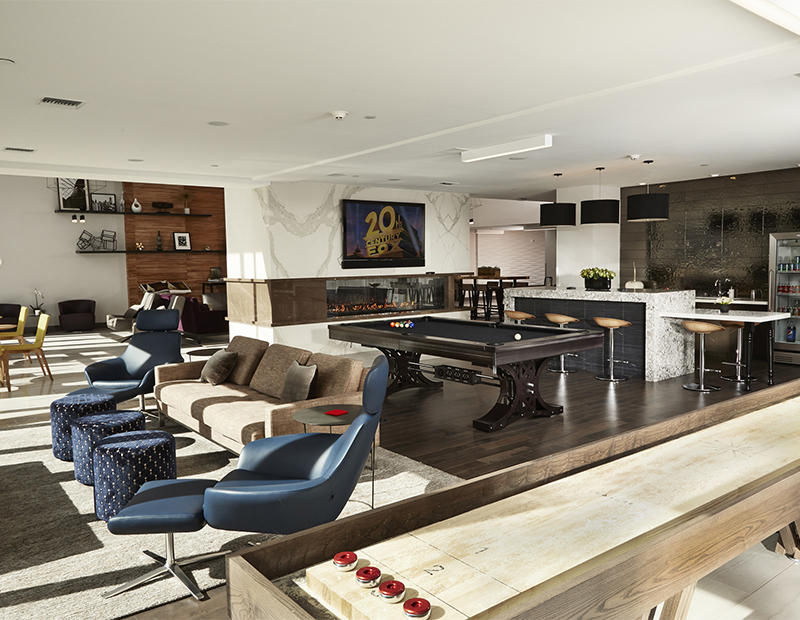 Silver: The Scott at Brush Park, Detroit
Owner/Investor: Broder & Sachse Real Estate
Developers: Broder & Sachse Real Estate, Woodborn Partners
Financiers: Fifth/Third Bank, Detroit Neighborhoods Fund (Capital Impact Partners and J.P. Morgan Chase & Co.), Detroit Investment Fund, Invest Detroit Fund (Chase), Michigan Economic Development Corp.
Architect: Neumann/Smith Architecture
Builder: Sachse Construction
Broker: Broder & Sachse
Property Type: Multifamily
The Story: The Scott at Brush Park is the first project of its kind in Detroit in more than 15 years. As the only luxury apartment property in the Midtown area, The Scott employs a lifestyle curator, who works on-site to attend to residents' needs and establish relationships between the property and local businesses. The community incorporates unique art installations by local artists, some of which rotate quarterly. On the ground floor, 15,000 square feet of retail houses boutique shops, a dermatology office and a bakery.
Amenities at The Scott include a lobby art gallery, a private library/reading room, a conference room, a 24-hour health and fitness center, indoor and outdoor community spaces with grills and a fireplace, a pet grooming station, a bike storage and repair space, play areas, a dog park, an outdoor swimming pool and sundeck, a spa pool with snow-melting surrounds for year-round use and a rooftop terrace.
Architect Neumann/Smith created a U-shaped building design to optimize east, south and west sun exposures for low angles and passive solar heat gain in winter. To mitigate summer heat gain, balconies built over most of the large windows act as sun shades. The roof terrace on the second level incorporates strategically placed plants for aesthetic effect as well as privacy. This includes a partially vegetated panel of artificial turf that provides year-round greenery as well as an aluminum pergola for shade.
Judges Praised: Well-positioned asset in downtown Detroit that came in under budget, usage of green roof and concealed parking.
Submitted by: Broder & Sachse Real Estate
Best Repositioning/Redevelopment Plan
Gold: Hahne, Newark, N.J.
Owners: L+M Development Partners, Prudential Financial, The Goldman Sachs Group
Developer: L+M Development Partners
Architects: Beyer Blinder Belle, Inglese Architecture + Engineering
Property Type: Mixed-Use
The Story: In 1901, architect Goldwin Starrett and prominent local businessman Julius Hahne constructed the first commercial property in Newark, N.J., designed specifically as a department store. The historic Hahne & Co. store was sold to May Department Stores Co. in 1987 and closed shortly thereafter, remaining vacant for nearly three decades before L+M Development Partners and Prudential Financial acquired it in 2013. Completed in 2016, the $175 million mixed-use development has 160 residential units; 75,000 square feet of retail; 100,000 square feet of commercial, community or office uses; and an underground parking garage for 220 vehicles. Of the apartments, 64 are set aside for low-income and working families earning between 40 and 60 percent of the area median income. The apartments are located on the third and fourth floors of the existing Hahne building and a new nine-story residential building. The two structures are connected through a shared lobby and a public atrium. The new residences offer open floor plans, high ceilings, solid wood flooring throughout and a washer and dryer in every unit.
The most novel element of the project is Express Newark, an arts space envisioned by the Rutgers-Newark faculty, staff and students, along with community art leaders. The 50,000-square-foot space features learning spaces, including a 3D printing studio, a photographic portrait studio, video production teaching facilities, smart classrooms and galleries. The space will also serve as the new home for Rutgers' Department of Arts, Culture and Media. The project is also home to Newark's first Whole Foods Market and a Barnes & Noble College store.
The complexity of the mixed-use development was only complicated by its historic status, which usually increases spending. By using the existing structure, costs associated with ground-up construction were avoided. The project used several tax credit programs from public, non-profit and private groups including significant commitments from the New Jersey Housing and Mortgage Finance Agency and the New Jersey Economic Development Authority. L+M Development, Prudential and Goldman Sachs provided equity capital, while debt was provided by Citi Community Capital, Morgan Stanley and non-profits New Jersey Community Capital, the Low-Income Investment Fund and the Reinvestment Fund. 
Judges Praised: Taking an older building that has been abandoned for 30 years and introducing Whole Foods to the city, helping the community by providing affordable housing and creating diversity. All this while preserving the building's history, which takes skill and effort. 
Submitted by: L + M Development Partners
Silver: Wheaton Center, Wheaton, Ill.
Ownership: Wheaton Apartments Owner LLC
Developer: Draper and Kramer Inc.
Interior Design: Eleni Interiors
Property Type: Multifamily
The Story: Wheaton Center is a highly visible property in this Chicago suburb, thanks to its two 20-story towers that have been the tallest in Wheaton since 1972. In recent years, the property had been falling into disrepair despite its downtown location and proximity to the Wheaton Metra train station. Draper and Kramer seized the opportunity to acquire the walkable and transit-oriented property, even if it needed significant improvements. The company started renovations in 2014 and took two years to add the features and amenities that would draw in those looking for luxury living outside the city.
The nearly $40 million renovation, which was completed in 2016, featured three main components: modernizing the units, remodeling common areas and amenities, and addressing deferred maintenance. Renovations to meet current market standards included upgrading 157 units that had 1970s finishes. This included new cabinetry, granite countertops, stainless steel appliances, new flooring and new paint. In-unit washers and dryers were added to 342 apartments, and community amenities now include a fitness center, an outdoor pool and sundeck, tennis courts, a clubroom with an outdoor terrace, lobbies, leasing and management offices, and a dog park. The repositioning has already boosted the property's performance through higher rents and increased occupancy.
Judges Praised: The developer's ability to complete a significant lobby renovation while keeping 120 families in place.
Submitted by: Draper and Kramer
Best Property Management Program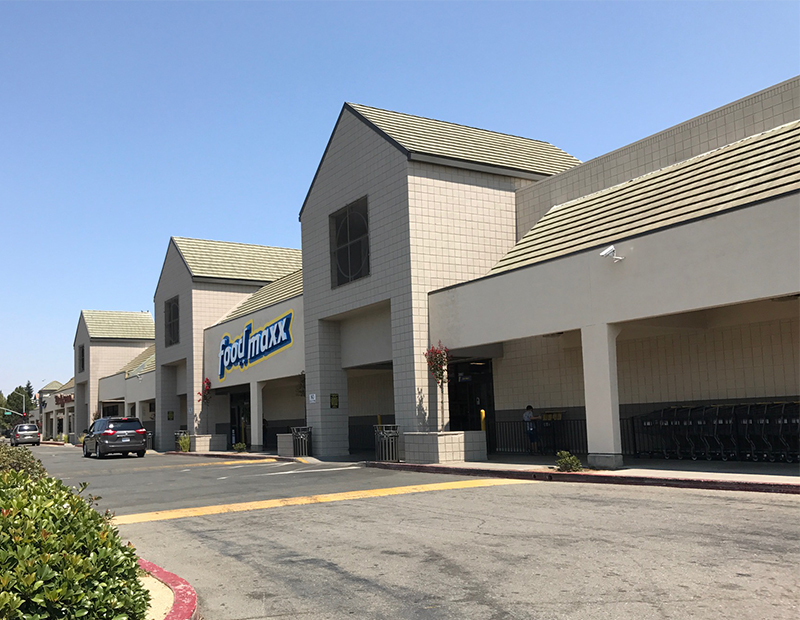 Gold: Phillips, Edison & Co.'s Solar Program, Fairfield, Calif.
Property Management Company: Phillips Edison & Co.
Property Owner: Winery Station
Executive Managing the Property: Eric Richter, senior vice president of property management at Phillips Edison
Property Type: Retail
The Story: Phillips Edison & Co., an owner and manager of more than 340 grocery-anchored shopping centers, executed an agreement in 2016 with Blue Sky Utility that would increase energy efficiency at Winery Shopping Center in Fairfield, Calif., while also saving on energy bills for tenants and ownership. As per the agreement, Blue Sky Utility replaced 70,000 square feet of the property's roof with a roof membrane and solar panels; it will maintain the roof for 20 years. In return, Blue Sky can sell the power generated from the solar panels. With its new maintenance-free solar roof, Phillips Edison and its tenants can purchase power from Blue Sky at a discounted rate.
While new roofs can cost as much as $500,000 and their maintenance can be one of the biggest property expenses, Phillips Edison saves time and money on repairs and installation through its agreement with Blue Sky. The partnership led Phillips Edison to plan implementation of the solar program across all of its California properties during the next two to three years.
Submitted by: Phillips Edison & Co.
Silver: Grand Plaza, Chicago
Property Management Company: Draper and Kramer Inc.
Property Owner: Grand Plaza Owner LLC
Executives Managing the Property: Property Manager William Van Senus and Regional Property Manager Sandi Kowalczyk
Property Type: Multifamily
The Story: Residents at Chicago's 481-unit Grand Plaza are mostly transplants to Chicago, and Draper and Kramer responded to this by creating a community and support system to help them get to know their new home. Some of the initiatives include partnering with restaurants for pop-up food and drink events at the property, creating electronic communication platforms between residents and management, distributing monthly e-newsletters highlighting notable places in the neighborhood, and offering pet events.
Since the property implemented these social initiatives, 68 percent of residents chose to post a review in 2016, compared to 53 percent in 2015. And the property's score on ApartmentRatings.com measured 89 percent in 2016, up from 85 percent in 2015.
Judges Praised: The ability to manage two towers, one condo and one residential, and have them share amenities. The residential component had engineering issues that were resolved.
Submitted by: Draper and Kramer Inc.
Best Lease
Gold: 222 E. 41 St., New York City
Landlord: Columbia Property Trust
Tenant: NYU Langone Medical Center
Landlord's Broker: CBRE
Tenant's Broker: Cushman & Wakefield
Property Type: Office
Lease Size: 389,533 square feet
The Story: Columbia Property Trust acquired 222 E. 41st St. in Midtown Manhattan in 2007, when it was fully leased to Jones Day. The company had been a tenant since Tishman Speyer developed the building in 2001 and carried the lease through 2016, meaning that CBRE had to market the asset as if it were brand new. Interested in its medical potential, access to transportation and location—in the immediate Grand Central Station area—NYU Langone emerged as a potential tenant. To get the building ready for medical use, Columbia relocated the two intended operating floors in order to meet ceiling-height requirements. Also, the building has a 180-year ground lease with the Stahl Estate, which proved to be an obstacle, as more modifications were needed to suit Langone. Columbia then had to conduct negotiations while also working on approvals required by Langone's finance committee and board of directors.
In late 2015, Langone submitted an initial term sheet to lease the entire building, and NYU, as Langone's parent organization, was secured as the entity on the lease. In April 2016, NYU Langone executed a 30-year term lease for the entire building, including the parking garage.
Judges Praised: The natural expansion of NYU, which uses space on nearby 39th Street, within walking distance of the hospital.
Submitted by: Columbia Property Trust
Silver: 151 N. Franklin St., Chicago
Landlord: The John Buck Co. and Affiliates
Tenants: CNA, Hinshaw & Culbertson
Landlord's Broker: Newmark Knight Frank
Tenants' Brokers: Savills Studley, JLL and CBRE
Project Type: Office
Lease Size: 275,000 square feet (CNA) and 101,000 square feet (Hinshaw & Culbertson)
The Story: The complex multi-transaction deal that led to CNA signing a 275,000-square-foot, 17-year anchor tenant lease at The John Buck Co.'s new office building is valued at $683 million. The transaction comprised deals including Hinshaw & Culberton's 101,000-square-foot lease, CNA's lease at 151 N. Franklin St. (the fourth-largest office lease in Chicago between July 1, 2015, and June 30, 2016), CNA's requirement that JBC acquires its existing 1.1 million-square-foot headquarters and CNA's 28-month leaseback for 759,000 square feet—required since it did not have a lease in place.
This mega-deal was orchestrated by collaboration among several broker teams: Bill Rolander and Jon Cordell of Newmark Knight Frank, Greg Gerber and Scott Merz of JLL, and Eric Feinberg of Savills Studley. With three concurrent negotiated documents and the deal blending leasing, investment sales and development, the brokerage team had to work with five different law firms, two lenders, two borrowers and several different architects. The firm's persistent work resulted in a 98-day closing.
Judges Praised: The challenge of leasing as much as 40 percent of a new building and negotiating with multiple people within a 90-day closing time on a complex sale-leaseback deal.
Submitted by: Newmark Knight Frank
Best Financing
Gold: $815 Million San Francisco Portfolio
Landlord: Veritas Investments
Type of Financing: Refinancing Loan
Transaction Size: $815 million
Financier: Goldman Sachs
Adviser: Eastdil Secured
Lead Law Firm: Lubin Olson & Niewiadomski
Project Type: Multifamily/Mixed-Use/Retail
Properties: Roughly 70
The Story: When it closed in January 2016, this was the largest transaction of its kind on record in the city of San Francisco. CEO Yat-Pang Au employs a small-property aggregation strategy that made Veritas one of the city's largest landlords. Veritas' approach is to acquire 20- to 100-unit older, classic properties that are too small for large investors; apply its management, repositioning, renovation and leasing services; and then package a portfolio for sale, targeting institutional investors.
The record-breaking transaction had its challenges. With the official deal closing in January 2016, Veritas faced a major credibility decline in the financial markets. The company's investment bankers at Goldman Sachs worked against Wall Street headwinds that Bloomberg called the "worst since 2009." In the following months, Goldman Sachs doubled down on its networking and marketing efforts to ensure a successful securitization.
Judges Praised: The aggregation strategy as a creative way to make a return on investment by selling portfolios to institutional investors, which have had so few institutional holdings in San Francisco in prior years.
Submitted by: Veritas Investments
Best Sale
Gold: 101 Seaport, Boston
Buyer: Union Investment Real Estate
Seller: Skanska
Price: $452 million
Representative: Newmark Knight Frank for Skanska
Property Type: Office
The Story: At $1,029 per square foot, this deal represents one of the highest price-per-square-foot values achieved for a Boston office tower. Newmark Knight Frank served as leasing agent for both the buyer and seller. The 17-story office tower has a two-level below-grade parking garage completed in 2015 and can accommodate one person per every 100 usable square feet. 101 Seaport is the first LEED Platinum v3 office building in Boston, thanks to its floor-to-ceiling windows, efficient European-model chilled-beam cooling system, rainwater recapture system and integration of locally sourced materials.
On-site amenities include a fifth-floor rooftop terrace with Boston Harbor views, a fitness center with locker rooms and showers, 20,000 square feet of ground-floor retail, a parking garage, a car wash, bicycle storage, an electric vehicle charging station and front-door access to five expansive public green spaces.
Judges Praised: Prime Seaport location, creative design and potential for long-term sustainability.
Submitted by: Newmark Knight Frank
Silver: The Breakers Resort, Denver
Buyers: Pensam Residential, BH Equities, Wafra Capital Partners Inc.
Sellers: Koelbel and Co., The Bascom Group
Price: $350 million
Representative: ARA Newmark for the Sellers
Property Type: Multifamily
The Story: By the numbers, this sale was one of the largest multifamily transactions in the history of Colorado as well as the largest U.S. multifamily transaction outside Manhattan in 2016. The property consists of six villages and 1,523 units on 190 acres, making it the largest physical asset in the state. The community has its own privately owned 60-acre lake with a 26,000-square-foot Catamaran Club, recreation center, restaurant and bar. Capital improvements were implemented for $4 million, including the common areas, pool, lake and clubhouses.
The deal's impetus was actually during the 1970s, when original developer Koelbel and Co. began acquiring land to construct condominiums. Then the oil and gas crash of the 1980s disrupted the market, and thousands of condos were foreclosed upon. After the crash, Koelbel changed its strategy, and once it found a partner in the Feld Co., plans were drawn up for The Breakers. Though new to the market, the size of the asset provided the buyer with the ability to gain economies of scale right away.
Judges Praised: The good price point and low cap rate for a massive complex.
Submitted by: ARA Newmark