CPE Announces the 2014 Distinguished Achievement Award Winners
Which properties and companies won this year's awards? Read on and find out!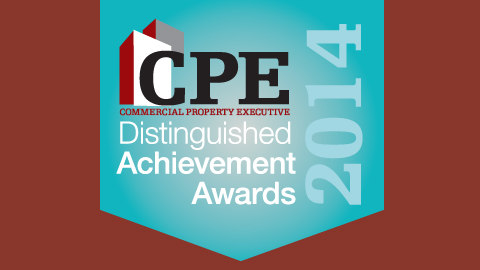 By Suzann D. Silverman, Editorial Director
The winners of CPE's 2014 Distinguished Achievement Awards represent leading transactions, strategies and projects that took place last year. The fourth annual rendition of the awards reflected submissions in eight categories, with first and second place awarded this year in seven: Best Lease, Best Sale – Single Asset, Best Sale – Portfolio, Best Financial Structure, Best Development/Redevelopment, Most Effective Repositioning/Turnaround Strategy and Most Innovative Corporate Strategy.
This year's judges included Ray Cirz, chairman & senior managing director of Integra Realty Resources; Glenn Brill, managing director of real estate solutions for FTI Consulting; Jay Epstien, chair of the U.S. real estate practice and co-chair of the global real estate practice for DLA Piper; and Marilyn Kane, founding partner & president of Iridium Capital.
Following are the winners:
Best Lease:
First Place: JLL for repurposing and rebranding, then leasing The New Jersey Center of Excellence at Bridgewater, Sanofi-Aventis US L.L.C.'s 1.2 million-square-foot former research campus in Bridgewater, N.J. Two major leases last year included 200,000 square feet to Ashland Inc. and 145,000 square feet to Kashiv, a subsidiary of Amneal Pharmaceuticals L.L.C. JLL ultimately sold the property for the pharmaceutical company.
Second Place: Brookfield Office Properties for its 330,000-square-foot lease to Jones Day in Brookfield Place, attracting the law firm from Midtown Manhattan to former Bank of America/Merrill Lynch space in Lower Manhattan.
Best Sale—Single Asset:
First Place: The Carlyle Group for selling 650 Madison Ave. in New York City to Vornado Realty Trust, Crown Acquisitions, Oxford Properties and Highgate Holdings. At $1.3 billion, the sale was one of the few last year to top $1 billion and marked the highest price per foot ever paid in an office and retail transaction in Manhattan, at $2,160 per square foot.
Second Place: Cushman & Wakefield Inc. for representing First Solar Inc. in the sale of Mesa Gateway in Mesa, Ariz., to Apple Inc. for use by its supplier GT Advanced Technologies. Apple's decision to occupy the soon-to-be-empty site was a real coup for the region.
Best Sale—Portfolio:
First Place: Cassidy Turley for representing Washington Real Estate Investment Trust in the sale of 1.5 million square feet of medical office buildings to Harrison Street Capital in four transactions, two of them completed last year for $307.2 million (the final two closed in January).
Best Development/Redevelopment:
First Place: Vulcan Inc. for the redevelopment of the Supply Laundry Building as office and retail space and construction of the accompanying Stack House Apartments in Seattle. The deal included adaptive reuse, multiple public-private partnerships and some very innovative ultra-sustainable design efforts.
Second Place: SJP Properties and Matrix Development built a new, highly sustainable headquarters for Panasonic in Newark, N.J., in the process expanding job-creating incentives statewide.
Most Effective Repositioning/Turnaround Strategy:
First Place: Genesis Capital Partners XI Ltd. for repositioning 110 Tower in Fort Lauderdale, Fla. The former AutoNation Building was transformed into the first LEED Gold for Existing Buildings multi-tenant building in downtown Fort Lauderdale and the first Energy Star-qualified building in the CBD.
Second Place: Glimcher Realty Trust repositioined The SuperMall of the Great Northwest into the Seattle location of it's the Outlet Collection brand, benefiting from a key location and expected to deliver an 8 percent return on investment.
Best Financial Structure:
First Place: Cushman & Wakefield Inc. helped Time Equities Inc. line up a complex combination of financing for the construction of 50 West St. in New York City. It identified hedge fund Elliott Management and met PNC Bank's terms with five other participants in a loan syndication.
Second Place: Beech Street Capital worked with Freddie Mac to refinance Fort Lincoln Senior Village I and II in Washington, D.C.
Most Innovative Corporate Strategy:
First Place: Behringer launched Behringer Net Lease Advisors to offer co-ownership and single-owner 1031 replacements as tenant-in-common and Delaware Statutory Trust properties go up for sale. Branded National Income Properties, each portfolio will employ a single-purpose net lease investment platform.
Second Place: Avison Young took significant steps to further its strategic growth plan last year, growing from 1,178 employees in 43 offices with 43 million square feet under management to 1,505 employees in 53 offices with 66 million square feet under management.
Look for more details on these winning transactions and strategies in the July 2014 issue of Commercial Property Executive. You can also view a slideshow featuring photos of the properties and development plans, and get the inside scoop from the judges in a video.