By Paul Rosta, Senior Editor
As development continues its comeback, the industrial sector is on track to be the year's fastest-growing asset category, according to the latest CPE 100 Quarterly Sentiment Survey.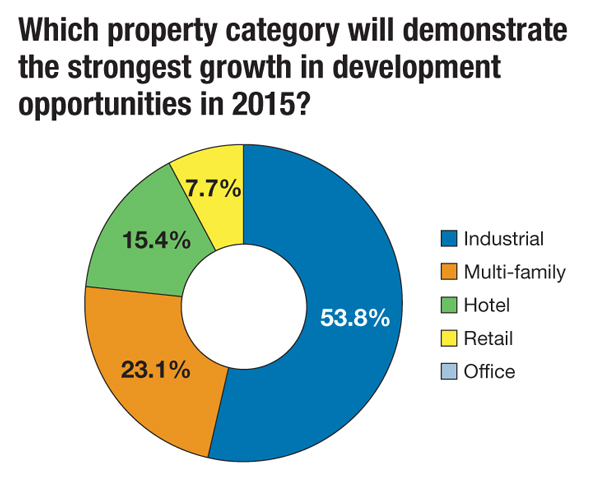 More than half of survey participants—54 percent—said that industrial properties offer the strongest development growth potential among the major commercial real estate property categories (see chart at right). Coming in a distant second was the multi-family sector, which was cited by 23 percent. On the other side of the coin, multi-family is also considered to be at highest risk of overbuilding; the category was cited by 46 percent of the CPE 100, an invited group of industry leaders representing a wide range of commercial real estate business categories.
Multi-family properties have been a favorite of both developers and investors in recent years, yet the some executives now view multi-family as a better bet for investing than building. In the previous Sentiment Survey, which was conducted late last year, 64 percent of executives named multi-family the category most likely to show staying power in performance and investor appeal.
"Expect to see a lot of investment activity in apartments—particular in older assets—both in and just outside of core markets," said Mike Ratliff, CPE's senior associate editor and the coordinator of the Sentiment Survey.
"If the first two months of 2015 is any indication for how the rest of the year will shape up, the majority of acquisitions—aside from newly-built properties—will come with some form of a value-add play," Ratliff added. "That said, you might see the energy markets cool off a bit if oil prices stay low for a meaningful amount of time."
When it comes to finance, more conservative lending is expected to be the most influential new trend. According to 46 percent of respondents, worries about overbuilding will prompt lenders to underwrite new projects more cautiously this year than they did in 2014.
On the other end of the spectrum, 15 percent expect lenders to be more open to development with an upside and 8 percent believe that competition among lenders will produce more favorable terms for developers. Staking out the middle ground are the 31 percent who believe that conditions for financing new construction will be largely the same in 2015 as they were last year.
"Development is starting to ramp up, but the good news is that lenders seem to be exercising control, which should prevent the cycle from moving forward too quickly," noted CPE Editorial Director Suzann D. Silverman.
Regarding their own companies' performance, the CPE 100 takes a decidedly more guarded view than they did a quarter ago. In the previous survey, 71 percent of executives predicted that their companies would be performing somewhat better in three months; this time, only 31 percent said so. Meanwhile, twice as many as last time—62 percent—expect their companies' performance to be unchanged.
Although the CPE 100 has become more cautious about their own companies' prospects, they continue to expect stability from both the real estate industry and economy.  A majority of executives expect that industry conditions will be largely unchanged in three months, though that margin has slipped from 64 percent to 54 percent. Another thirty-nine percent said that the health of the commercial real estate market will be somewhat better three months from now, on a par with the 36 percent who held that view in the previous survey.
Perspectives on the economy are similar to those in the previous Sentiment Survey, as well. Most executives, 62 percent, believe that general business conditions will be largely unchanged in three months, nearly identical to the 64 percent who said so in the previous survey.  Thirty-one percent of participants believe that business conditions will be somewhat better three months from now, within range of the 36 percent who expressed that view last time.
To read the magazine version of the survey in the CPE March issue, click here.