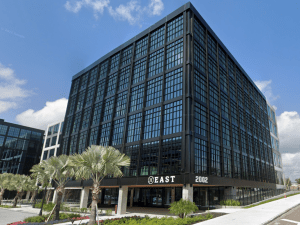 Cousins Properties continues to add to its Sun Belt portfolio with the acquisition of Heights Union, a 294,000-square-foot office property in downtown Tampa, Fla. The company paid $144.8 million for the Class A asset. According to CommercialEdge data, the seller was TPA Group.
The two-building campus is the first office phase of The Heights, a 3.2 million-square-foot mixed-use development stretching on 50 acres that also encompasses multifamily, hospitality and retail elements.
TPA Group completed Heights Union in late 2020. The developer had secured $61 million in construction financing from Pinnacle Bank in 2019, CommercialEdge shows.
Located within an Opportunity Zone at 2002-2004 N. Tampa St., Heights Union–East and West include a 42,000-square-foot retail component, while the East Building features a fitness center available to all tenants. The six-story buildings are seeking LEED certification.
Solid tenant roster
The complex was 93.4 percent leased at the time of sale, with a weighted average lease term of 11 years. More than 60 percent of the tenancy is comprised of life science companies—this February, Pfizer signed a 106,000-square-foot lease for one of its six Global Capability Hubs. The biopharmaceutical giant joined Axogen, which rents 75,000 square feet as lab space and utilizes the space as its second headquarters. Additional tenants include White & Case and DoubleLine.
Heights Union is roughly a mile north of downtown Tampa, with major street exposure to North Tampa Street/U.S. Route 41. The office complex is within walking distance of Armature Works, an adaptive reuse commercial project that anchors The Heights neighborhood.
Sun Belt deals
The Heights Union acquisition marks Cousins' fourth deal in a string of Sun Belt ventures: In August, the company acquired a fully leased office property in Atlanta, entered into a joint venture to develop a mixed-use project in Nashville, Tenn., and sold an office tower in Charlotte, N.C.
In December 2020, Cousins also closed on The RailYard, a mid-rise office building in Charlotte. Beacon Partners sold the 326,253-square-foot property for $201 million.