By Paul Rosta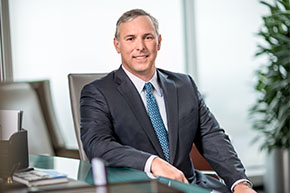 One of the largest U.S. institutional real estate investment managers will get a new yet venerable name as part of a corporate restructuring. Cornerstone Real Estate Advisers LLC is among four MassMutual affiliates that are joining forces, the firms announced jointly on Wednesday morning.
When the integration is completed later this year, the firms will operate under the brand name Barings, a 254-year-old London-based company and one of the four MassMutual affiliates.
Hartford, Conn.-based Cornerstone has more than $46 billion in assets under management. The company maintains offices in Stamford and Glastonbury, Conn., Boston, New York City, Washington, D.C., Chicago, Dallas, Los Angeles and Newport Beach, Calif. Outside the U.S., Cornerstone has offices in 13 major European cities, as well as in Hong Kong and Tokyo.
Besides Cornerstone, the unified firm will comprise Babson Capital Management LLC of Charlotte, N.C., which is Cornerstone's immediate parent; London-based Baring Asset Management Ltd.; and Wood Creek Capital Management LLC, an institutional investment management firm based in New Haven, Conn. All told, the new company will manage assets valued at upward of $260 billion.
Tom Finke, chairman & CEO of Babson, will head the new company, which will be based in Charlotte, N.C. Barings' current chairman & CEO, David Brennan, is scheduled to retire this summer. "This combination is highly complementary in terms of asset classes, distribution footprint and shared commitment to excellence," Finke explained in a statement. "As a unified firm, we will be better able to deliver our diverse and global investment offerings to clients." Joint marketing and distribution efforts will support the new firm as well.
Because the four affiliated firms' asset management specialties are complementary rather than overlapping, "no change in investment leadership is anticipated," the companies stated. Cornerstone's global president & CEO, Scott Brown, joined the firm in 2014 from CBRE Global Investment Partners, where he led the group's activities in the Americas. A refreshed Barings brand and logo are on the way as well.