By Laura Calugar
Copaken Brooks recently announced Midwest Gateway, an industrial project totaling nearly half a million square feet. The development is currently underway at the doorstep of the BNSF intermodal facility in Edgerton, Kan. GMA Architects, ARCO National Construction, Shafer, Kline & Warren, Krudwig & Associates and Metro Air are among the project team members.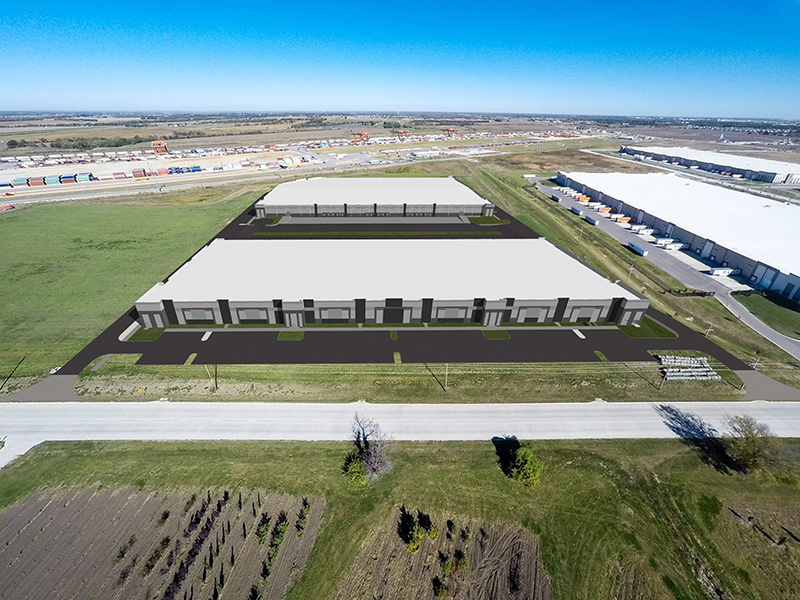 Located at 32180 W 191st St., 25 miles southwest of downtown Kansas City, Mo., Midwest Gateway will be the nearest development-ready site at the entrance to the BNSF intermodal, a logistics, manufacturing and distribution hub in south Johnson County. This will allow tenants to reduce operating and drayage costs and maximize their supply chain. The speculative project is comprised of two buildings; one will be 301,603 square feet and the other 186,107 square feet. Both assets will allow flexibility for industrial users interested in a smaller-scale space.
"Midwest Gateway is an ideal project for us to extend our infill development expertise and deliver a state-of-the-art industrial project on a premiere site at the heart of the BNSF intermodal," said Copaken Brooks Principal Bucky Brooks in a prepared statement.
The buildings will feature tilt-up concrete walls and architectural glass, at least 32-foot clear height, seven-inch floor slab and T-5 motion sensor lighting. The facilities will have ample docks with the ability to expand, plus truck parking and trailer storage, to accommodate warehouse, distribution and manufacturing users. Construction will be completed in February 2018 in time for tenant occupancy.
"For the last several years, we have not had product available for tenants interested in smaller-scale, flexible space. This unique project fills a gap in our portfolio that will allow us to service a greater number of tenants wanting to be in Edgerton, particularly those that may provide support to other intermodal-related businesses," said Mayor of Edgerton Donald Roberts.
The property is co-listed by Bucky Brooks of Copaken Brooks and Nathan Anderson and Russell Pearson of NAI Heartland. Last year, Copaken Brooks contributed to developing the Corrigan Station, a mixed-use development in Kansas City, Mo.
Image courtesy of Copaken Brooks