$ in billions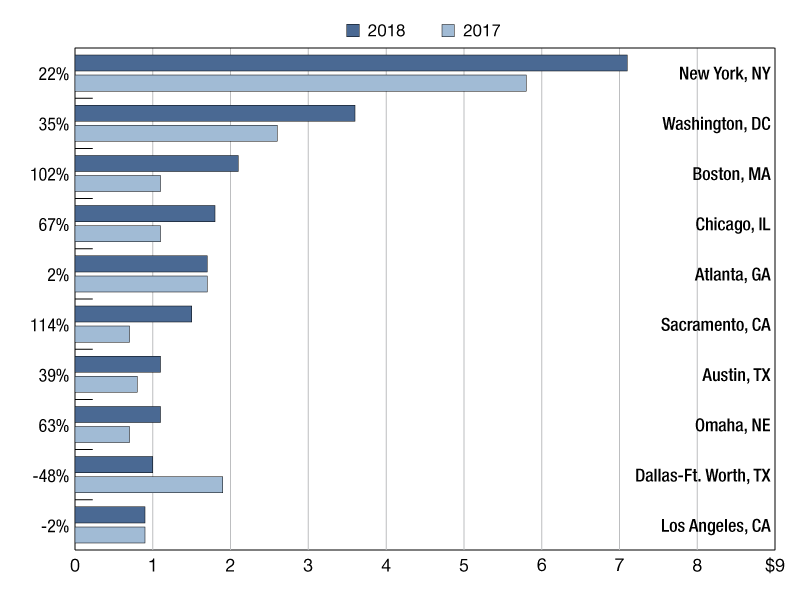 Data by Robert Murray, chief economist, Dodge Data & Analytics
The top 10 metropolitan areas for office building construction starts mostly increased in 2018, with only two markets displaying decreased activity compared to 2017. Leading the way was the Sacramento-Arden-Arcade-Roseville, Calif., metro, which recorded the largest increase, up by 144 percent, from $713 million to $1.5 billion. Boston-Cambridge-Quincy, Mass.-N.H., followed with a 102 percent growth, from $1.1 billion to $2.1 billion, while the Chicago-Naperville-Joliet, Ill.-Ind.-Wis., metro posted gains of 67 percent, from $1.1 billion to $1.8 billion year-over-year.
Office building construction starts dropped by 48 percent or by roughly $900 million in the Dallas-Fort Worth-Arlington, Texas, metro area, from $1.9 billion to $1 billion. The Los Angeles-Long Beach-Santa Ana, Calif., metro recorded a modest decline, with construction starts falling by just 2 percent, from $880 million in 2017 to $860 million in 2018.
—Posted on Feb. 13, 2019
---
$ in billions
Data by Robert Murray, chief economist, Dodge Data & Analytics
The top ten metropolitan areas for office construction starts mostly registered growth in the first half of 2018, with eight markets displaying increased activity compared to the same period in 2017. The Clarksville, Tenn.-Ky., metro was the leading market, recording the largest growth of a whopping 16,702 percent year-over-year, from $3.6 million to $607 million. The Columbus, Ohio, metro followed along, with a 221 percent increase year-over-year, from $153 million to $491 million.
On the other end of the spectrum, office construction starts inched down by 81 percent or by more than $1.5 billion in the San Francisco, Calif., metro, from $1.9 billion to $359 million. The Dallas-Fort Worth, Texas, metro area also recorded significant declines, with construction starts dropping by 52 percent, from $1.2 billion in the first half of 2017 to $562 million in the same interval of 2018.
—Posted on Aug. 15, 2018
---
$ in billions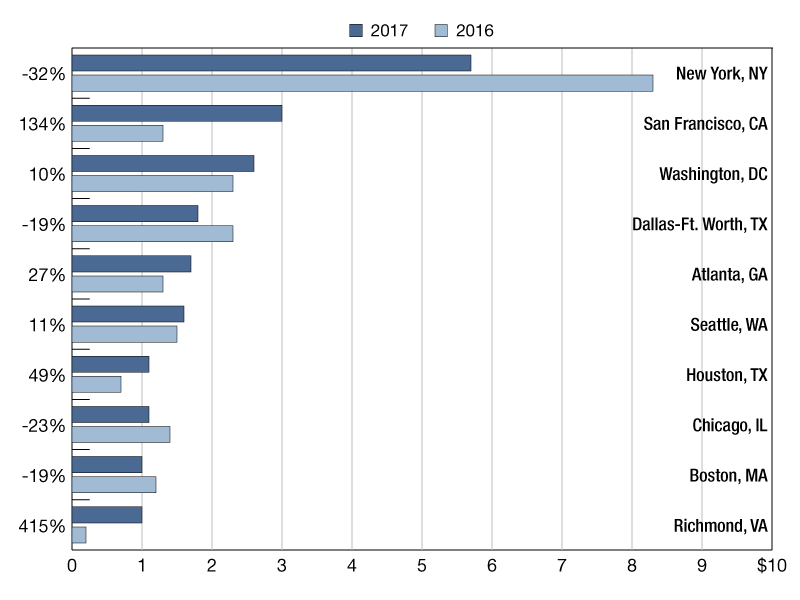 Data by Robert Murray, chief economist, Dodge Data & Analytics
—Posted on Mar. 22, 2018