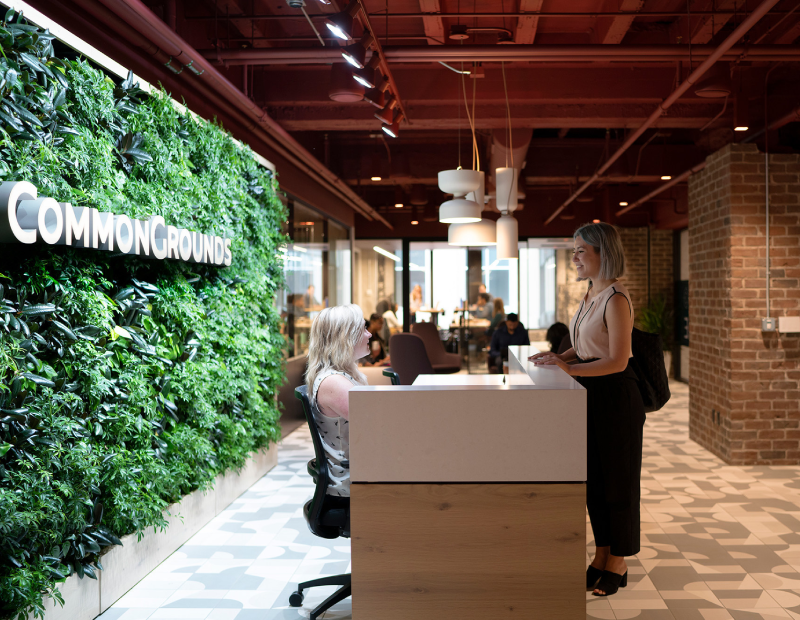 CommonGrounds Workplace has opened two coworking office properties: CommonGrounds Minneapolis Skyway Workplace, a 27,478-square-foot flexible office space in Minneapolis and The CommonGrounds Pearl Workplace, a 14,239-square-foot property in Portland, Ore.
Located at 801 Marquette, in the heart of downtown, CommonGrounds Minneapolis Skyway Workplace offers convenient access to various dining, shopping and entertainment venues. The 84-year-old building was transformed by Perkins+Will in 2017 into a four-story coworking office space. Common-area amenities include a rooftop deck for events, a training and conference center, fitness center and Zip Car access. The property will serve 423 members with private offices, team rooms and coworking areas and will also include eight acoustically sound, video-enabled conference rooms, a communal pantry and living room, and phone rooms. Meet Minneapolis is the other tenant in the building.
The CommonGrounds Pearl Workplace is located at 630 Northwest 14th Ave., in Portland's Pearl District submarket. The property is part of Irving Street Lofts, an eight-story, 140,000-square-foot condominium building, and includes the entire ground floor and a second level of the property. The flexible office space features common-area amenities including private offices, team rooms and coworking spaces, with four video-enabled conference rooms, casual meeting and collaboration spaces and an Invita barista.
These locations mark CommonGrounds Workplace's second and third ones opened this year as part of its $100 million Series A funding expansion program. The company recently signed an 11-year lease for 29,509 square feet of Class A office building in Washington, D.C.