By Paul Rosta
For the past decade, a cooperative effort between business leaders and city officials in Columbus, Ohio, has worked tirelessly to reverse decades of decline during which the population of the capital city's downtown dwindled 90 percent, to a scant 3,000 by 2001. Today, the 2.2-square-mile-area is in the midst of a renaissance that is drawing young professionals and others to new residential development, making over faded buildings and creating new open space. A common attribute of all these projects is that they were made possible by non-profit public-private partnerships able to take on risk that private developers would have found unattractive.
Business and government have teamed up on multiple fronts in recent years. A special improvement district backed by property owners provides funds for activities that support safety and quality of life. Capitol South, a 38-year-old non-profit development agency focused on the district south of the state capitol, has stepped up its efforts. And the Columbus Downtown Development Corp., a non-profit public-private partnership, is leading a series of creative projects.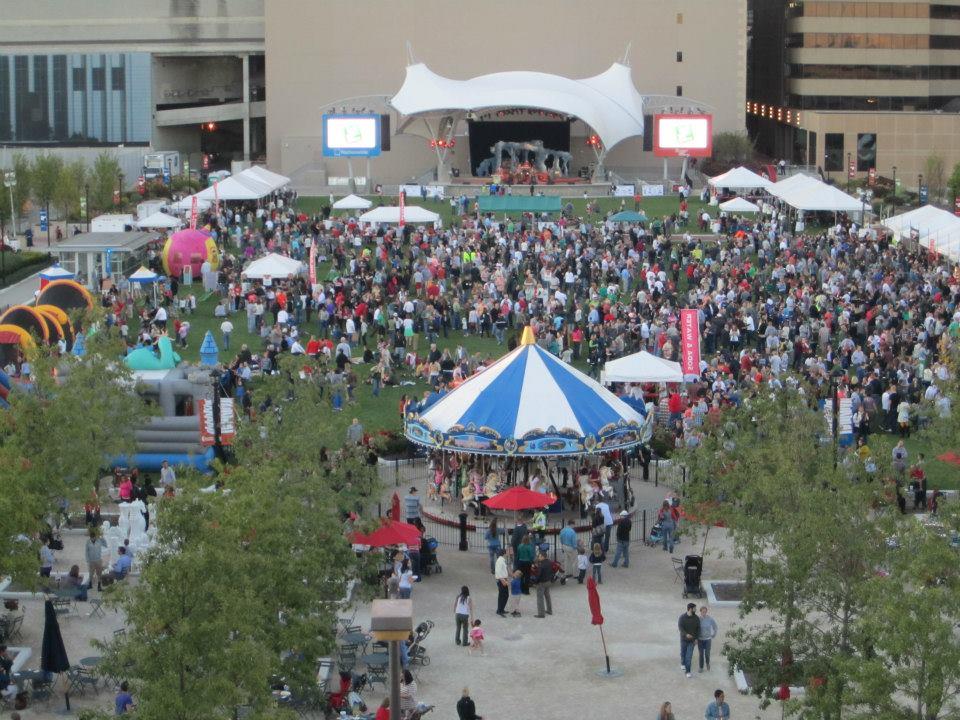 To be sure, it has been an uphill battle at times; for its first several years, the CDDC was often caught up in indecision that handcuffed progress. Guy Worley's arrival in 2007 as president & CEO of both the CDDC and the Capitol South Community Urban Redevelopment Corp. helped refocus the CDDC's mission. One of its signature projects is the renovation of the Lazarus Building, a 1 million-square-foot Downtown Columbus landmark that served as a department store from 1908 to 2004. The agency oversaw a three-year, $60 million project that transformed the building into a multi-purpose space for offices, arts organizations and restaurants. The renovation earned LEED Gold certification.
An even more unorthodox plan created the kind of green space that can draw residents, retailers and office users. At issue was a 1.2 million-square-foot enclosed regional mall called Columbus City Center. After opening in 1989, the retail center enjoyed only a brief heyday before competition from newer properties gradually eroded its market and tenant base. After it closed in 2009, City Center was acquired by the city from Simon Property Group Inc. and demolished, except for an underground parking structure that remains in use today. On the center's footprint, the CDDC created Columbus Commons, a nine-acre park funded with $15 million in public and private capital. Redevelopment figured into the plan from the start: It set aside two acres for residential development and one acre for commercial use.
After its opening in May 2011, Columbus Commons quickly became a vibrant community gathering place and a catalyst for development. Its attractions range from a dozen flower gardens and a carousel with figures carved by local artists to an outdoor reading room and two locally owned cafes. This year's calendar included some 230 separate events. At the same time, redevelopment plans for the site are moving forward.
In August, Atlanta-based Carter launched construction of two six-story multi-family buildings that will offer 302 units and 23,000 square feet of street-level retail upon completion next year.
Blocks away from Columbus Commons, another CDDC project champions open space as a catalyst for downtown economic revival and enhanced quality of life. Under Worley's leadership, the public-private partnership raised $40 million to build Scioto Mile Park, an 11-acre venue on the banks of the Scioto River that opened in July 2011. That success illustrates both the power of public-private teamwork to execute difficult tasks and the virtue of patience. Until the CDDC and the city took action, the idea for a riverside park had languished on the back burner since the 1970s.
Another river-related proposal calls for a $36 million project that would remove the dam and narrow the river. The resulting exposed space could be reclaimed as a park along 1.5 miles of its course. Mayor Coleman pledged $18 million toward the project in April.
For more on unlocking the value of public-private partnerships, see "Common Ground," the Leadership & Learning article starting on page 41 of the December 2012 issue.