By Gail Kalinoski, Contributing Editor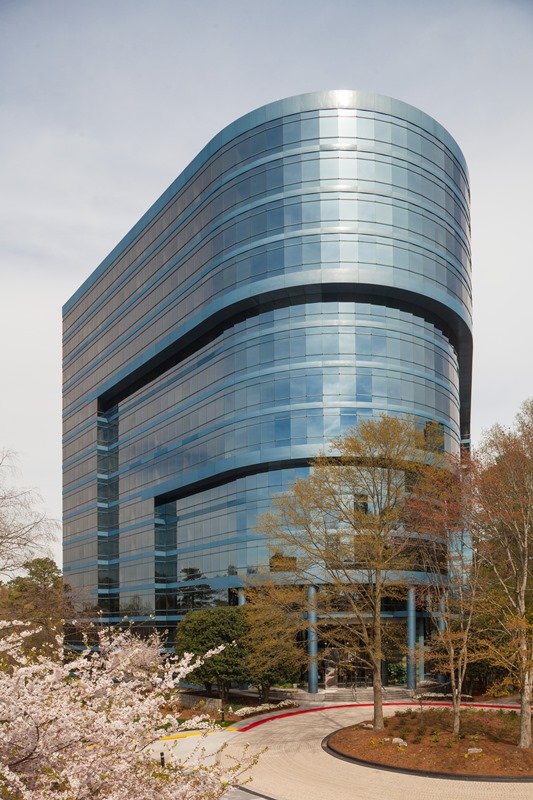 For Columbia Property Trust, the $521.5 million sale of an 18-property office portfolio is part of its strategy to refocus on major markets. For Griffin Capital Essential REIT Inc., which acquired the 4 million-square-foot portfolio, it nearly doubles the REIT's holdings and gives it high-quality assets in 11 states that are triple net-leased to some of the country's top Fortune 500 companies.
With this acquisition, the El Segundo, Calif.-based REIT sponsored by Griffin Capital Corp. now owns 41 properties, with a total capitalization of more than $1.3 billion. More than 80 percent of the portfolio's operating income comes from investment grade tenants, or whose parent companies are investment grade, such as Coca-Cola Refreshments USA, JPMorgan Chase, General Electric, Wells Fargo Bank, Aetna Life Insurance, IBM and United Healthcare Services. The portfolio contains properties in 12 major markets in 11 states – Georgia, Ohio, Texas, Michigan, New Jersey, Indiana, Wisconsin, Tennessee, Pennsylvania, Washington and Missouri.
Atlanta-based Columbia Property Trust said the sale narrows its markets from 31 in 2011 to 16 today. One of the nation's largest office REITs, the firm said it has made $910 million in dispositions since 2011 and $1 billion in acquisitions.
"We have been very proactive in repositioning our portfolio with a focused market strategy to invest in premier office properties in growing markets with solid fundamentals," Nelson Mills, CEO & director of Columbia Property Trust, said in a news release from his firm.
The net proceeds of approximately $500 million will be used to pay down a $90 million mortgage loan on one of the properties and to reduce the company's outstanding borrowings on its revolving credit facility, according to the release. It is expected to fund the company's previously announced tender offer of Columbia commons shares as well as future acquisitions.
"These premier office buildings have fulfilled their original purpose in providing stable income backed by long-term leases and investment-grade quality tenants, and the market interest we received certainly proved their value," Mills added. "The proceeds significantly increase our liquidity and enhance our ability to execute value creation and growth strategies."
CBRE Group, Inc. was the exclusive advisor to Columbia Property Trust. Will Yowell, Justin Parsonnet and Jay O'Meara of CBRE's Atlanta Office Investment Properties Institutional Group led the transaction and worked with local CBRE investments sales experts in the 11 states, who provided critical local market expertise, according to a CBRE press release.
Barclays served as a financial advisor to Griffin Capital Essential Asset REIT.
Griffin Capital used financing provided by a $300 million term loan led by Key Bank, N.A. Most of the loan, $282 million, was used for the purchase, but the firm also held the remaining $18 million back for future specific releasing costs, according to a news release from Griffin Capital. The balance of the acquisition was funded with $250 million provided by an affiliate of Starwood Property Trust, Inc.
"With over 80 percent of the rents paid by investment grade-rated companies or corporate guarantors, and the vast majority of the buildings leased to iconic, blue chip tenants, this is an ideal fit for Essential Asset REIT," Kevin Shields, Griffin Capital's chairman & CEO, said in his firm's release. "With this transaction, this REIT almost doubles in size but far more important is the high quality assets and increased diversification this portfolio provides. Essential Asset REIT now includes tenants representing 33 percent of the DOW 30."
Michael Escalante, Griffin Capital's Chief Investment Officer, noted that many of the properties include national and regional headquarters buildings, primary research and development facilities and key servicing centers.
"We believe that these properties can provide steadier cash flow and a higher probability of lease renewal at maturity as compared with commodity-type assets," Escalante said in the Griffin Capital news release. "The portfolio also includes leases with attractive embedded annual increases, which we feel can provide some measure of inflation protection that flat leases, common in drugstore and certain retail acquisitions, cannot."
A publicly registered non-traded REIT, Griffin Capital Essential Asset REIT owns industrial and office properties totaling nearly 8.8 million square feet. The REIT announced two acquisitions in October, including the purchase last week of The Fox Head Inc. global headquarters, an 81,600-square-foot, Class A creative office building in Irving, Calif., for $27.25 million. Earlier in the month, the REIT had acquired the Verizon Wireless Information Technology facility, a 210,500-square-foot, Class A office building in Warren, N.J.