By Nicholas Ziegler, News Editor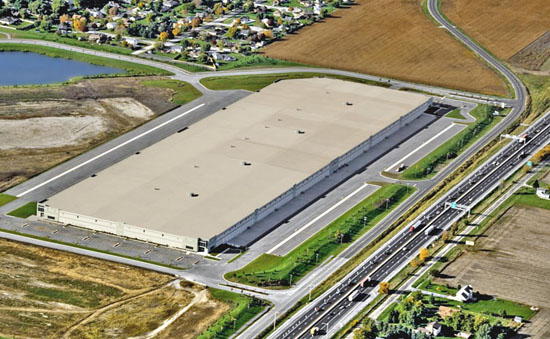 Clarion Partners, working through Colliers International's industrial advisory group, has signed a 492,866-square-foot lease with tenant Wilton Industries. Wilton inked the deal for the property at 21228 Frontage Road in Shorewood, Ill., approximately 40 miles southwest of Chicago. According to Colliers, the transaction marks the largest industrial lease in the Chicagoland area this year and the fifth-largest since the beginning of 2011.
Also known as Heartland Corporate Center, 21228 Frontage is a 1,000,000-square-foot distribution facility located within a 156-acre business park at the new four-way interchange of I-55 and Route 59 in south suburban Shorewood. The facility is also home to logistics firm Jacobson Cos., which has leased the other half of the facility since 2010. Wilton Industries is expected to occupy the facility in January 2013.
According to Matthew Stauber, a principal with Colliers, the signing brings the building to 100 percent occupancy. "Wilton Industries was attracted to the ability of this distribution facility to accommodate its highly automated operations in addition to the fact that it is easily accessible from a new four-way interchange," he said.
Wilton Industries is a food-crafting company offering candy making, cookie making, bakeware, wedding, and seasonal products for the specialty home products industry, and the company now occupies over 2 million square feet in the Chicago area.
According to a fouth-quarter 2011 report by services firm Cushman & Wakefield Inc., the Chicago industrial sector reached its lowest vacancy rate in three years by year's end, hitting 9.8 percent. The sector is expected to rebound strongly in 2012, as investment transactions reached 24.9 million square feet last year, the highest since the end of 2008. "Demand is expected to remain high for institutional investors looking for high-quality assets," the report noted, "and those spaces will come at a premium."
Colliers has had a busy year in 2012, notching some major transactions. In early February, the firm purchased two Back Bay office buildings in Boston, totaling 184,000 square feet, for $87.1 million. In January, Colliers paid $31 million for a Washington state retail center and, in a $100 million joint-venture partnership, the company bought 78 acres of land near Sao Paulo, Brazil, to develop a 1.4 million-square-foot industrial project.