March 12, 2010
By Allison Landa, News Editor and Barbra Murray, Contributing Editor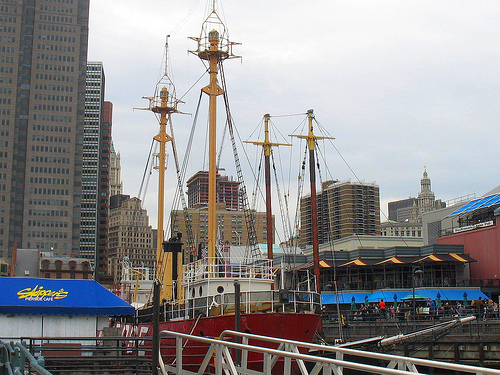 The nation's most active export-focused ports are enjoying stabilizing industrial occupancy rates, according to the Port City Industrial Markets White Paper from Colliers International.
That report, which examines the shipping trade's varied impact on industrial demand for space, asserts that the global recession significantly reconfigured U.S. shipping and occupancy patterns from 2001 to 2009. However, it also found a clutch of positive trends.
Among the report's key findings: Between 2001 and 2007, containerized trade volumes jumped by nearly 60 percent as the global economic boom triggered a wave of spending on U.S. and foreign goods and demand for industrial space in these markets also increased, driving occupancy up by about 20 percent during that period – faster than any other U.S. commercial real estate class.
Additionally, since containerized shipping volume peaked in 2007, average industrial vacancy within these ports dropped by 15 percent. The report also found that ports that were chiefly dependent on imports have experienced the greatest vacancy declines. However, markets that have focused on exports were least effected due to steady foreign demand for U.S. goods.
"Industrial real estate, manufacturing in particular, is highly elastic, meaning that it responds to changes in demand fairly easily," Colliers regional research analyst and the white paper's primary author Thomas Galvin told CPE. "This is a two-edged sword. During the downturn, construction, manufacturing and transportation were the first industries to see significant layoffs and job cuts. This severely reduced the demand for industrial real estate."
Galvin said the reduced demand's effects were felt almost immediately, with construction of new industrial buildings all but stopping across the country and factory and transportation workers being idled. However, he adds that a rebound in manufacturing is starting to become apparent.
Galvin also notes that industrial port markets reflect more than just the real estate immediately surrounding them.
"In many cases, the real estate immediately surrounding the ports was built before the growth and widespread use of containerized trade began in the mid-1990s," he said. "Many of these older buildings, and the infrastructure leading to them, were ill-equipped to deal with current trade volumes."
As a result, much of the industrial real estate related to the ports was built inland – and these have gotten hit hard in the recession. Without trade to support them, Galvin says, these ports are having a hard time finding other uses.
The highest vacancy rates are being found within these inland ports, including the Inland Empire (15.2 percent), Atlanta (12.9 percent) and Dallas (11.2 percent). Conversely, the ports with lowest vacancy rates are those immediately adjoining the water, including Los Angeles (4.8 percent) and Houston (6.8 percent).
Galvin anticipates that the process of employment growth leading to additional industrial demand will be a long one given the preponderance of shadow space, or underutilized industrial space.
"Even when the economy recovers, this extra space will be a huge buffer to overcome," he said. "Most firms will simply use their existing space more efficiently before taking any new space. In the short run, this will cause a lag between an uptick in employment and any new demand."
Though he has seen some firms implementing long-term plans and taking larger spaces, Galvin says most are still focused on shoring up their finances and in short-term cost containment.
"In the long term, as economic conditions and firms can begin to more effectively plan and grow, they will move to larger and more productive space, hiring more employees and relying less on temporary labor," he said.
Exporting activity is likely to increase, given that labor growth is poised to increase with help from the federal government. In the white paper, Colliers points to President Barack Obama's State of the Union Address, during which he proposed the National Export Initiative, which would double the total volume of U.S. exports over the next five years, thereby creating approximately two million new jobs. If these new jobs materialize, Colliers notes, "they will fuel demand for as much as 500 million square feet of industrial space within our largest port markets." So the outlook for industrial port properties for the distant future is positive–in a way–as demand will increase for export-centric properties, but decrease for import-centric properties.
"Over the long term, there will have to be new facilities to handle exports," Galvin said. "We can use some of the importing facilities, but they don't lend well for exporting. If the existing trade patterns continue, we're going to have a dislocation of the industrial space we have now and what's going to be needed in the future."