By Nicholas Ziegler, News Editor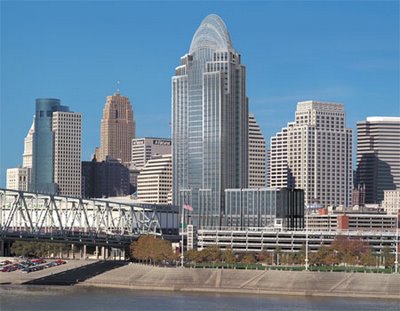 Colliers International has picked up a sizable management contract, as the firm was named the leasing broker for the 1 million-square-foot Queen City Square in Cincinnati's Downtown. The property, which still has a remaining 140,000 square feet available for lease, encompasses multiple buildings that include 303 Broadway and the Great American Tower, the city's newest skyscraper.
Eagle Realty Group, a member of Western & Southern Financial Group, is the developer and property manager of Queen City Square.
"Queen City Square has been very attractive to the city's leading office tenants and is now over 85 percent leased," Mario San Marco, president of Eagle, said. "We are pleased to have selected the esteemed Colliers firm to market the few remaining spaces in this special development."
According to data from services firm Jones Lang LaSalle, the Cincinnati market is experiencing the same rebound seen nationwide. The local area experienced modest growth through the fourth quarter of 2011, with unemployment falling by 0.8 percent to close the year at 8.5 percent. While leasing velocity fell in the same timeframe when compared to the third quarter of the year, "the trend of large users committing to new space continued," giving life to the leasing market that Colliers will be facing.
The completion of the Great American tower, while driving business volume up in the Downtown area, has sent ripples through the city's leasing markets. With the expanded office space available, JLL now characterizes the city as a tenant's market, but notes that "the market has likely hit bottom and, with time, space will begin to be absorbed slowly strengthening the position for landlords."