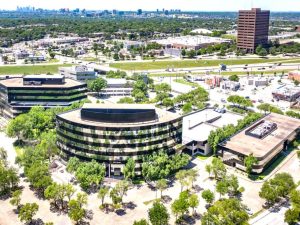 Dallas businessman Hamilton Peck has sold Northcreek Place II, a two-building office portfolio, totaling 166,508 square feet in Dallas. Colliers represented the seller and procured the cross-asset buyer, also a private investor.
American National Bank & Trust provided the financing for the acquisition, CommercialEdge data shows.
Completed in 1982, the two multi-tenant buildings encompass 123,273 square feet and 43,235 square feet of office space, respectively, as well as 35,000-square-foot and 20,744-square-foot floorplates.
The buildings feature glass exteriors and a total of 554 parking spaces. Gonzalez Law Group, Haven Home Health Care, Cantrell & Associates and K&B National Research, among others, are among the property's tenants, according to the same data provider.
Located at 12160 N. Abrams Road and 12170 N. Abrams Road, the buildings are next to Interstate 635 and within half a mile of a variety of dining options along Forest Lane. Some retail options, including Dollar Store and CVS, are within walking distance of the buildings as well. Dallas city center is some 14 miles southwest of the office spaces.
The Collier team that represented the seller and procured the buyer was led by Senior Vice President Cody Payne, as well as Senior Associates Michael Tran and Austin Edelmon.
In March, Payne led the sale of another office building in Addison, Texas. The Colliers team arranged the all-cash transaction and represented the seller, Pillar Commercial.