November 10, 2011
By Scott Baltic, Contributing Editor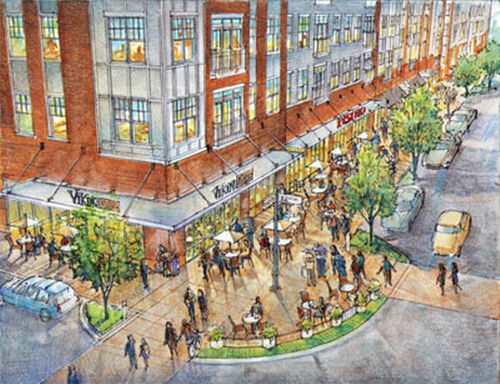 In conjunction with co-developers Polaris Real Estate Equities and Buckingham Cos., Cleveland State University broke ground Wednesday on what the parties describe as a "modern lifestyle development" and the single largest residential development in Cleveland in more than three decades.
Campus Village, a $50-million mixed-use community on the Cleveland State University campus, will consist of nine apartment buildings totaling 318 units. One of the buildings, Buckingham development manager Rob Martinson told Commercial Property Executive, will also feature 9,000 square feet of retail space and such amenities as a theater, pool, cyber café and meeting/conference rooms.
Although Polaris, based in Gates Mills, Ohio, is known as a developer of student housing, Martinson noted that the apartments will rent at market rates and will be aimed at recent graduates and young professionals interested in living downtown and near a campus community, as well as current CSU students.
The site is at the campus' northern edge, bounded by Payne and Chester avenues and 21st and 24th streets, Martinson told CPE, and now consists mostly of surface parking lots. Two buildings, one vacant and the other the university's theater arts building, will be demolished to make way for Campus Village. A replacement theater arts building will be part of a new Arts Campus nearby.
The CSU campus is in the southeastern part of Cleveland's CBD, roughly between Chinatown, I-90 and the Playhouse Square neighborhood. The area adjoining the approximately 7-acre Campus Village site, Martinson said, consists largely of older light industrial and one-story office buildings.
The first phase of construction is scheduled to be complete by fall 2012 and the second phase by fall 2013. After construction is complete, Buckingham Companies, which joined Polaris on the project earlier this year, will serve as Campus Village's property manager.
Founded in 1964, Cleveland State University has an enrollment of more than 17,000 students and about 200 academic programs. Notable alumni include Tim Russert (J.D., 1976) of NBC's "Meet the Press;" former NBA star Manute Bol; Frank G. Jackson, Cleveland's current mayor; and the late Carl B. Stokes (J.D., 1956), former Cleveland mayor and the first African-American mayor of a major U.S. city.
Indianapolis-based Buckingham is involved with development, construction, acquisition and management of multifamily, student housing and mixed-use communities. It manages nearly $1 billion of real estate assets for its own account, clients and institutional partners; this portfolio consists of more than 100 properties totaling nearly 20 million square feet and about 20,000 rental units nationwide.