By Barbra Murray, Contributing Editor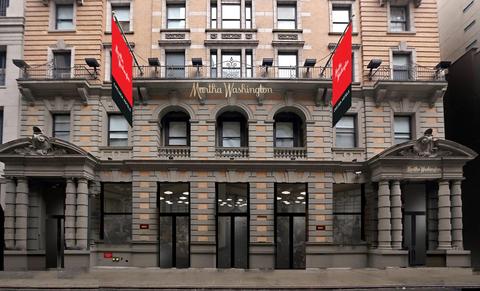 The Martha Washington Hotel in Manhattan just got a new owner and will soon get a new name–again. CIM Group recently acquired the 256-room lodging destination from Chelsea Hotels, with plans of transforming the property and rebranding it as The Redbury Hotel New York.
CIM, which also snapped up a nice piece of land adjacent to the hotel, has thus far remained mum on the acquisition price. The historic property last changed hands in 2012, when Chelsea Hotels, then King & Grove Hotels, purchased the asset from Rockpoint Group L.L.C. for $116 million.
Located in the Midtown South's NoMad District, the Martha Washington extends through an entire city block and claims two addresses: 29 E. 29th St., the main entrance, and 30 E. 30th St.  The 12-story building first opened its doors in 1903 as a hotel exclusively for women and over the last several years has had more than a few names, going from the Martha Washington to Hotel Thirty Thirty to Hotel Lola to the King & Grove New York Hotel, back to the Martha Washington and now, The Redbury.
The last two months have proven a fruitful acquisition period for CIM. Since September, the company grabbed the 272,000-square-foot L&C Tower office complex in Nashville, and purchased a 290,000-square-foot condominium interest in the 350,000-square-foot office building at 625 N. Michigan Ave in Chicago.