By Barbra Murray, Contributing Editor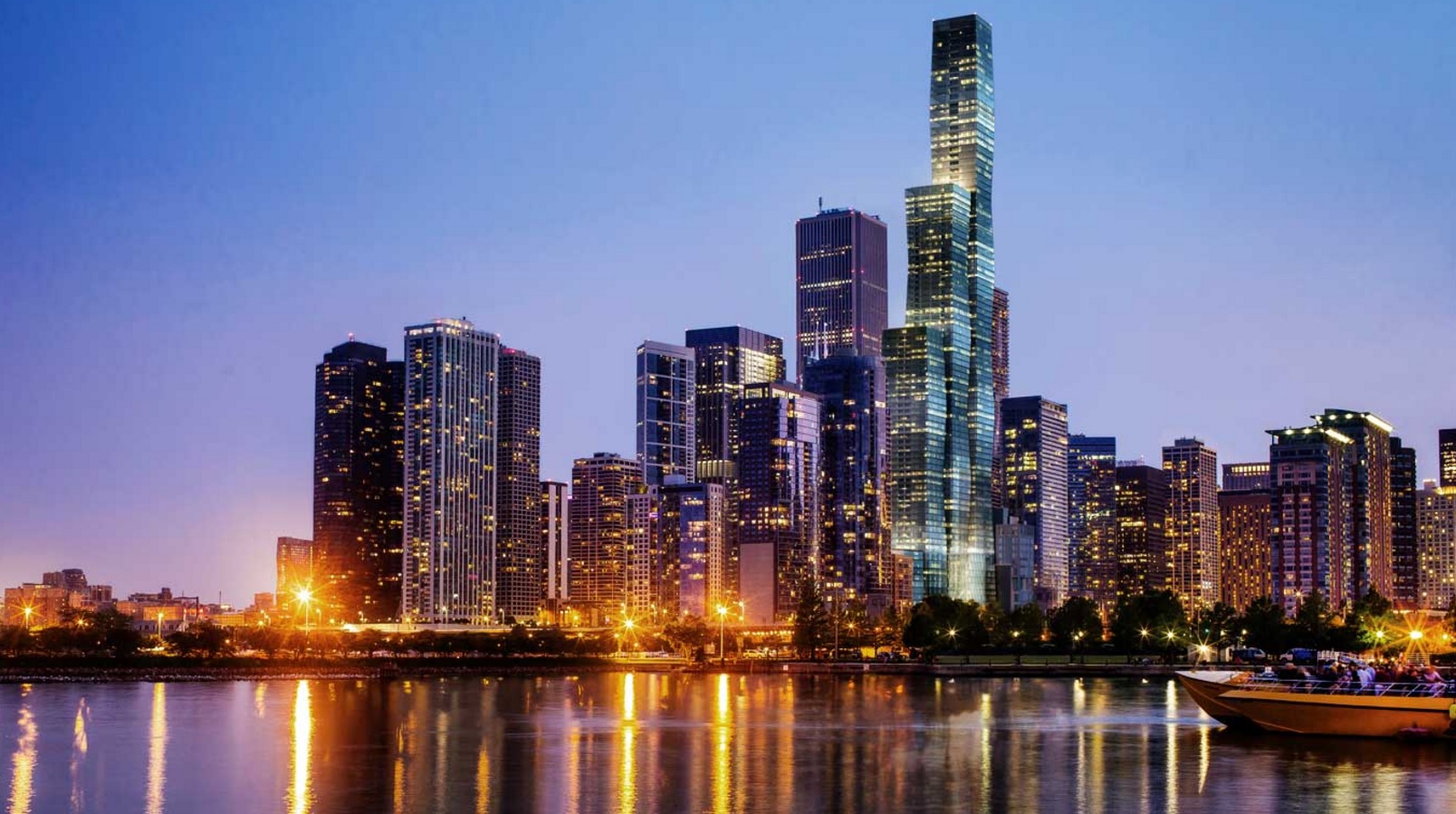 Chicago—Chicago's Magellan Development Group and Beijing-based Dalian Wanda Group have announced their summer plans. The partners will break ground on Vista Tower, a 95-story mixed-use skyscraper that will hold the distinction of being the third-tallest building in Chicago and carry a development price tag of $1 billion.
Magellan and Dalian Wanda's closing on the purchase of land for the 1.8 million-square-foot project in the Lakeshore East neighborhood cleared the path for development to commence. Vista Tower will sprout up at the intersection of E. Wacker Drive and N. Field Blvd., and will house the 406-unit Vista Residences condominiums and the five-star Wanda Vista Hotel.
A Studio Gang Architects-designed structure clad in blue-green glass, Vista Tower will do much more than stand there and look pretty as it welcomes residents and hotel guests. The property will also complete the connection between Lakeshore East and the rest of the Windy City with a pedestrian walk and automobile route that will run right through the middle of the building—at ground level, of course. The project will also connect roughly 2,000 individuals with construction jobs and 500 more with permanent positions.
But the Vista Tower endeavor holds even more significance. The development marks the largest-ever real estate investment in Chicago by a Chinese company. China couldn't be more keen on U.S. commercial real estate these days, and Chicago is one of its favorite markets. According to a report by commercial real estate services firm Newmark Grubb Knight Frank, Chinese investors shelled out $20.4 billion on commercial real estate in the U.S. in 2015. Manhattan was the top focus, attracting 22.8 percent of the funds, and Chicago took the second spot with 7.7 percent, leaving San Francisco in third place with 6.4 percent of the pie.
They're not just numbers on a piece of paper; the proof is in the pudding. Major commercial real estate transactions involving Chinese investors over the last year include Anbang Insurance Group Co.'s $2 billion acquisition of the renowned Waldorf-Astoria Hotel in Manhattan. Additionally, the company recently signed a $6.5 billion deal to buy Strategic Hotels & Resorts Inc., which owns, among other luxury properties across the country, Fairmont Chicago Millennium Park and Intercontinental Chicago Magnificent Mile. In 2015, China Life Insurance Group Co. and Ping An Insurance Company of China, the country's two largest insurance companies, made their entrée into the U.S. real estate market with their co-investment in Tishman Speyer's $500 million waterfront project in Boston. And the list goes on—and on and on.
Magellan and Dalian Wanda's Vista Tower is scheduled to make its debut in 2020.
Image courtesy of vistatowerchicago.com