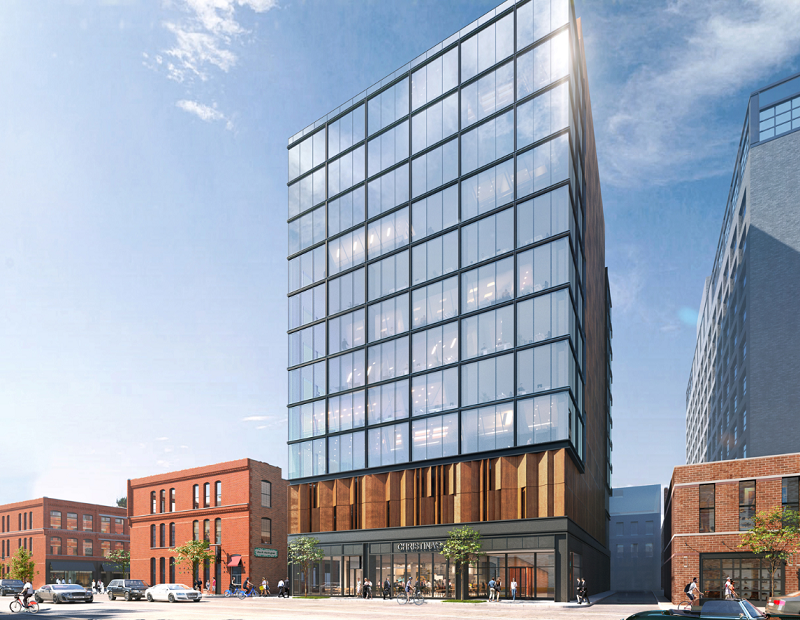 Bob Wislow and Camille Julmy (Peoria Green Owner LLC) have broken ground on Fulton East, a 12-story office and retail building in Chicago's Fulton Market District. The 90,000-square-foot project is slated for delivery in spring 2020 and will include an 8,000-square-foot landscaped rooftop park for tenant use. The development team also includes Clayco, which will be leading the design-build effort, and architecture firm Lamar Johnson Collaborative.
The boutique office building will be located at 215 N. Peoria St., a few blocks from the recently completed Hyatt House West Loop-Fulton Market Hotel, and just west of the Kennedy Expressway. The plans for the building include 11-foot, 4-inch ceilings and floor-to-ceiling windows with skyline views, spacious balconies on each floor for meetings and lounging as well as state-of-the-art technical capabilities. The property will also provide 5,000 square feet of retail space at street level and three levels of parking for more than 160 vehicles.
Fulton East will be designed for a wider range of tenants, from a growing start-up to a law, accounting or consulting firm. Each office floor spans 10,600 square feet, which can be used as open space or divided into smaller offices. The nearest transportation options are the CTA's Morgan Green Line station and the No. 8 Halsted CTA bus.