By IvyLee Rosario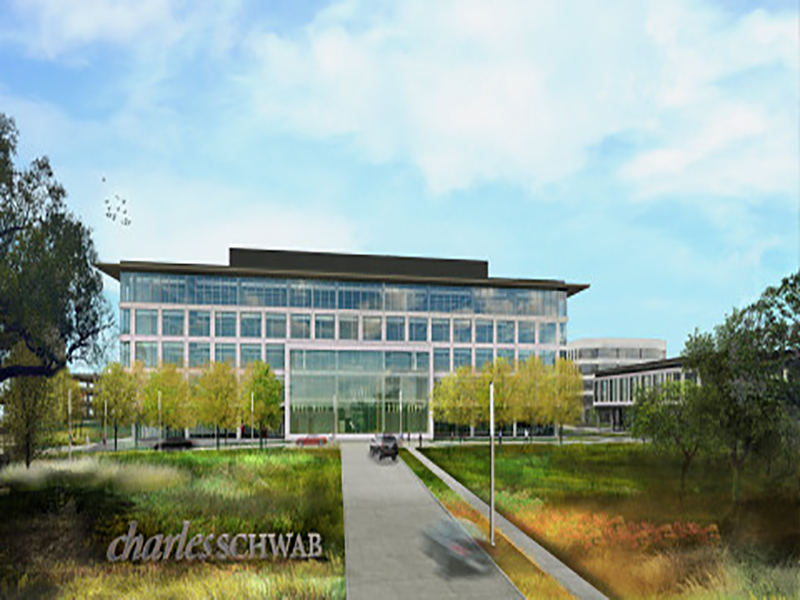 Austin, Texas—Charles Schwab & Co. topped off its new Austin campus located at 2309 Gracy Farms Lane.
The 469,000-square-foot, 50-acre Gracy Farms campus will comprise two five-story office buildings, an amenity building containing a cafe and large assembly space/training center as well as a parking garage.
A total of 1,000 Schwab employees will move into the new campus upon its full completion in June 2018, joining the 600 other employees who moved onto the site in spring 2016. Over the past two-and-a-half years, Schwab has brought 600 jobs to Austin alone. The site and buildings will all incorporate sustainable materials and systems, targeting LEED Gold certification.
"Our corporate real estate team continues to deliver world-class results in building campuses that reflect our employees' spirit of teamwork, collaboration and passion for their work. But above all, they are simply great places to work," said Dennis Howard, executive vice president & CIO of Charles Schwab & Co., in prepared remarks. "This is a first-rate location for us in Austin and we're very much looking forward to deepening our roots here."
Image courtesy of Charles Schwab & Co.