By Gail Kalinoski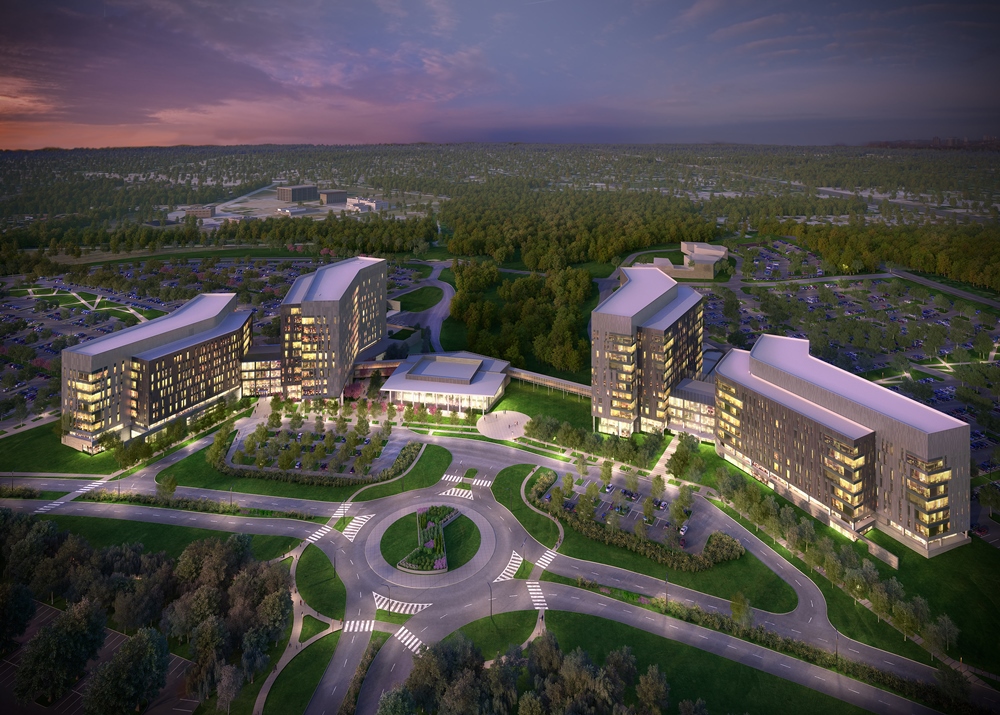 Kansas City, Mo.—Construction of the first two buildings in Cerner Corp.'s new $4.5 billion campus in south Kansas City—the largest economic development project and office park in Missouri—are nearing completion in the initial phase of a project that will take 10 years and add more than 16,000 jobs by 2025.
Cerner, a global supplier of health care technology solutions, services, devices and hardware, announced in August 2013 that it would purchase approximately 237 acres on the site of the former Bannister Mall to accommodate its growth. The development area—bounded by 87th and 95th streets, Interstate 435 and the railway on the east—will eventually include 290 acres and encompass more than 4.7 million square feet of space. That will include 4.3 million square feet in 10 office buildings, a data center, a training/conference center and other amenities like on-site daycare and a health clinic. Known as the Trails Campus, it will also have 370,000 square feet of retail space for restaurants, retail stores and a hotel.
The health IT giant broke ground for the first of 16 phases in November 2014. Officials are expected to gather on March 18 for a topping ceremony for an 11-story, 500,000-square-foot tower. Construction is also continuing on the second building, an eight-story, 305,000-square-foot structure that will have a fitness center, clinic and training space on the lower levels and six floors of offices, according to the Kansas City Business Journal. Both buildings are slated for completion by the end of the year.
"Cerner's investment in the Kansas City community is one of the great stories of this home-grown technology corporation," Mayor Sly James said in a prepared statement. "Southeast Kansas City, and especially students in the Hickman Mills School District, will see the benefits of this massive project for decades to come."
The project includes an investment of $2.7 billion of private funds, according to Cerner.
Last week, the Kansas City Tax Increment Financing Commission (TIF) approved a development agreement that calls for Cerner to contribute $2 million to a neighborhood improvement and infrastructure plan and $6 million to a Hickman Mills Education, Professional Studies and Innovation Program.
"This is the largest single high quality jobs initiative every associated with a Kansas City, Missouri, redevelopment project," said TIF Commission Chair Cindy Circo. "It is transformative for our south Kansas City, Missouri, residents and community."
The Kansas City Star reported the agreement approved last week also provides Cerner reimbursement of about $1.1 billion in TIF revenue and what is known as super TIF revenue. The corporation is also getting about $654 million in tax abatement from the state of Missouri. In all, it should receive $1.7 billion in reimbursable project costs because the redevelopment area is considered blighted, the newspaper wrote.
The city's TIF Commission noted the redevelopment area was assessed in 2013 at about $3.8 million, which generates about $400,000 in annual real property taxes that will continue to be paid. Once the development is completed, the value is expected to increase to more than $219 million and generate about $3 million in annual real property taxes.
Cerner estimates the new campus development, including about 4,500 construction jobs, will create at a minimum, a $4 billion economic impact to the area.