By Scott Baltic, Contributing Editor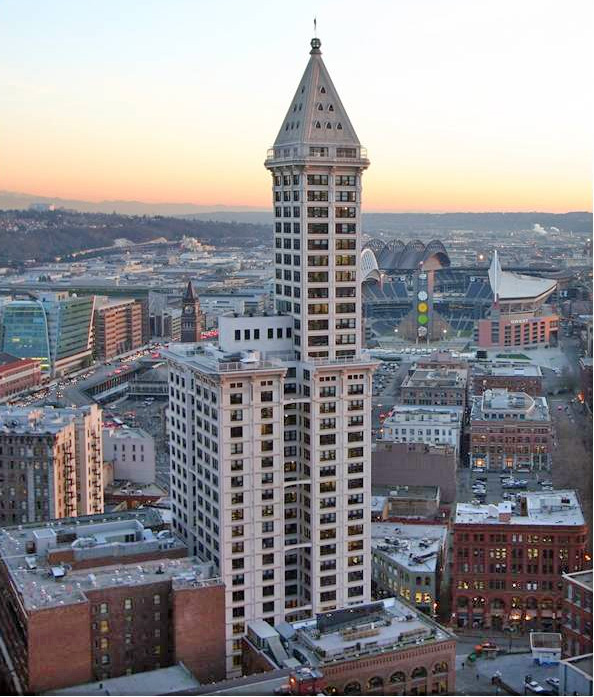 Smith Tower, an iconic 42-story office building, and the adjacent Florence Building, a 6,000-square-foot retail-and-mixed-use building, have been acquired by CBRE Capital Partners following a foreclosure. Both buildings are located in downtown Seattle's Pioneer Square. CBRE Capital Partners, the debt-investment platform of CBRE Global Investors, acquired two non-performing mortgage loans collateralized by these buildings last fall and subsequently began the foreclosure process, which has now been completed.
In 2006, Walton Street Capital of Chicago bought the tower, at 506 2nd Ave., from a nonprofit foundation, but during Walton Street's ownership, the building reportedly lost its major tenants, including Walt Disney Internet Group, Microsoft and Providence Health and Services. In 2007, Walton Street received the city's approval to convert the tower to residential condos, but dropped those plans after the condo market softened.
The two troubled loans that triggered this latest change in ownership totaled $42.5 million, according to media reports. King County reportedly values the Smith Tower for tax purposes at $21.3 million.
The 250,000-square-foot tower is currently just 30 percent occupied, so the new leasing agent, CBRE's Seattle office, has their work cut out for them.  Current rents don't cover the building's operating expenses, according to media reports.  The building will be repositioned and reintroduced to the market following upgrades that will include adding bike racks, showers, a conference center and a catering facility.
The renovations are scheduled to take about 90 days, a CBRE spokesperson told Commercial Property Executive, with stabilized occupancy in 36 months. The leasing effort will particularly target tech companies, design-marketing companies and law firms, CPE was told.
Unsurprisingly, in a building largely vacant, full-floor spaces are available. The building's floor plates range from 2,400 to 11,028 square feet. On the top 12 floors, each tower suite is designed for an individual tenant, and the elevators open directly into the office space.
Another unusual feature is the 35th-floor open-air observation deck, with views of Seattle and its surrounding mountain ranges. The same floor is also home to the Chinese Room, which reportedly is a popular setting for wedding receptions and features a hand-carved wood and porcelain-inlay ceiling, ornately carved blackwood furniture, and 17th-century works of art.
The foreclosure and revamp are just the latest chapter in the Beaux Arts tower's long history. Built in 1914, Smith Tower was one of the world's first skyscrapers and was the tallest office building west of the Mississippi River till 1931.
The building, which is on the National Register of Historic Places, features, among other vintage elements, attendant-operated copper-and-brass elevators. Extensive renovations over the decades have included lobby refurbishments and seismic, HVAC, electrical and life-safety system upgrades.
During a restoration in the early 1990s, workers removed the 10,000-gallon cast-iron water tank in the top of the tower. The resulting space, along with a former maintenance man's apartment, became a three-story penthouse apartment, the tower's only residence, occupied at last report by venture capitalist Petra Franklin Lahaie and her family.
CBRE Capital Partners plans to engage Goodman Real Estate, of Seattle, to asset manage the buildings.