By Scott Baltic, Contributing Editor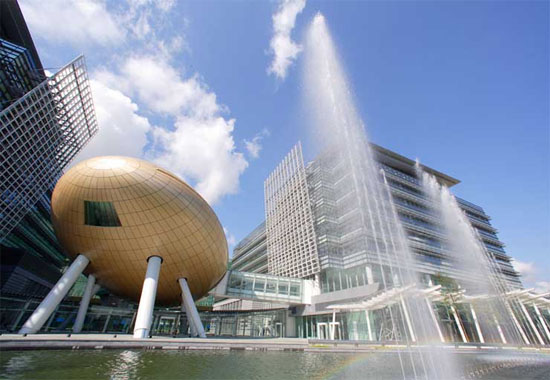 The Hong Kong Science and Technology Parks Corp. has appointed CBRE Group Inc. as the strategic marketing and leasing consultant for Phase III of the Hong Kong Science Park, CBRE announced Tuesday. CBRE's role will be to assist HKSTPC in promoting Phase III globally, with a focus on biotechnology and green-tech organizations. In recent years, the Hong Kong government has worked to encourage the development of innovation- and technology-related industry. The $631 million Phase III project is part of its effort to facilitate a world-class research infrastructure for the city.
Sited along the waterfront of Tolo Harbor, in the northeast part of Hong Kong's New Territories, the 54-acre science park currently features 20 buildings (from Phases I and II) totaling 2.2 million square feet of R&D and office space. Tenants include more than 360 technology companies in the information and communications technology, electronics, precision engineering, biotech and green tech areas.
Phase III will provide a further 1.1 million square feet of space for lease. The first building is scheduled to become available in late 2013.
The government of the Hong Kong Special Administrative Region supports scientific research through a variety of means. The Applied Science and Technology Research Institute was founded in 2000, only three years after Hong Kong's sovereignty was transferred from the United Kingdom to the People's Republic of China, with a mandate to enhance Hong Kong's competitiveness in technology-based industries through applied research.
ASTRI's R&D efforts have focused on five main areas: Information and communications technologies; enterprise and consumer electronics; integrated circuit design; material and packaging technologies; and biomedical electronics. The company received its first U.S. patent in March 2005 and as of mid-2010 had received a total of 67 U.S. patents. In addition, the 9,000-student Hong Kong University of Science and Technology, in Kowloon, was ranked number 62 in the 2011–12 rankings of the world's 400 best universities by The Times of London.
The university has identified several "high-impact areas" on which it will focus, including nanotechnology; biotechnology; electronics, wireless and information technology; and sustainable development.