November 28, 2011
By Scott Baltic, Contributing Editor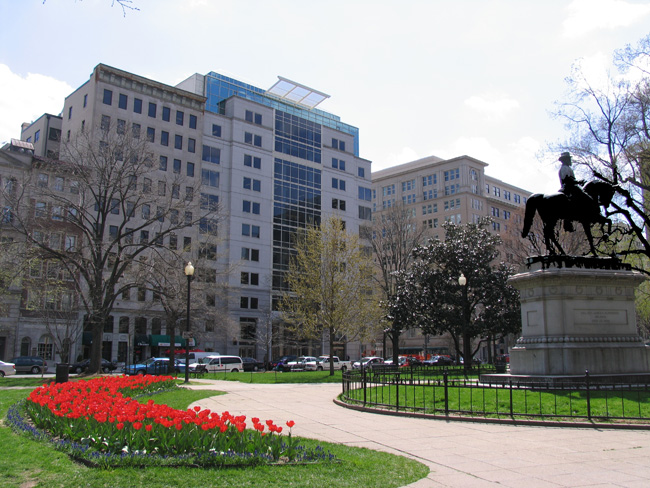 Cassidy Turley has secured a permanent loan for the McPherson Building, located at 901 15th St., NW, Washington, D.C., the company announced last week. The financing, a $95 million non-recourse loan provided by a life insurance company, was arranged by Cassidy Turley senior managing directors John Campanella and David Webb.
The McPherson Building is a 12-story, 253,000-square-foot trophy office building overlooking McPherson Square Park. It was institutionally developed in 1988 and in 2009–10 underwent a $25.1 million renovation that included a new exterior façade with glass curtain wall, cantilevered canopy and stone archway, and a two-story atrium with marble flooring and wall panels of bossé wood, a relative of mahogany.
The long-term, fixed-rate permanent financing took out the construction loan (from a bank) for the renovation, Campanella told Commercial Property Executive. The financing was on behalf of Clarion Partners is the asset manager for the building's owner, the Abu Dhabi Investment Authority, he said.
"In D.C., we are seeing continued demand for loans on quality real estate with quality sponsors," said Campanella.
"Sponsorship is more important than it's ever been," he told CPE, adding that the building is 100 percent leased.
Looking down the road, Campanella anticipates that insurance companies will be increasing their allocations for commercial real estate in 2012.
The McPherson Square Metrorail station is across the street from the property, which is leased to a mix of retail tenants, public and private companies, and law firms. The neighborhood offers convenient access to luxury hotels, fine dining and retail shopping.
According to third-quarter data from Grubb & Ellis, the vacancy rate for Class A office space in the District of Columbia is 13.0 percent, but that for the East End submarket, where the McPherson Building is located, is 9.8 percent.
Third-quarter Class A net absorption in the East End submarket (102 buildings totaling 27.3 million square feet) was a positive 132,000 square feet, bringing YTD net absorption to a negative 15,000 square feet. The East End weighted average asking rent was $58.51, also according to Grubb & Ellis.