By Brad Berton, Contributing Editor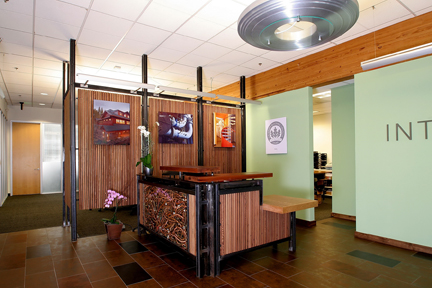 It is obviously going to be quite a challenge to reduce energy—and water—consumption yet another 20 percent at a commercial office already garnering a stratospheric LEED for Commercial Interiors rating of 102. But the deeply talented Oakland affiliate of the Integral Group "deep green" international engineering network feels it is up for the task.
Indeed, even beyond a recent retrofit cutting overall energy consumption 37 percent, Integral managing principal Peter Rumsey, project engineer Christina Liebner and their colleagues expect to further cut the electric load by nearly 24 percent at the roughly 13,000-square-foot office in the heart of downtown Oakland, a facility dubbed the "Deep Green Office."
Of course, the team also looks forward to passing along knowledge gained through participation in the California Best Buildings Challenge to clients and other parties.
Focusing primarily on mechanical and lighting systems, costs of the recent retrofit at the office within a landmark 1930s Art Deco building came in at a reasonable $25 per square foot. And Challenge-related improvements are projected to come far cheaper—even free in some cases.
Integral estimates it can reduce the facility's overall electricity consumption by about 12 percent—at no cost whatsoever—simply by adjusting the office's unnecessarily high fan-speed set-point. The system has been set to maintain a carbon dioxide level of 550 parts per million—far more stringent than prevailing acceptable ASHRAE standards. Adjusting the set-point to 1,000 ppm would effectively cut the ventilation fan speed in half.
Integral will likewise focus to a great extent on reducing the office's plug loads, which account for 54 percent of the facility's energy usage. Much of this effort emphasizes shutting off equipment when the office is unoccupied.
An analysis last summer revealed that 14 percent of the office's overall electricity consumption—and more than one-third of the IT plug load—comes after business hours (8:00 p.m. through 7:00 a.m.) and on weekends. Accordingly, as computers and monitors account for nearly half the energy consumed when the office is not occupied, Integral is installing on/off timers on this equipment, while also reiterating to staffers that they should shut down these devices at the end of the day.
Integral also plans to install timers on printers, scanners and copiers, and remind staffers to shut these down manually, as well. Liebner estimates these measures will reduce the office's overall electricity load by 7.8 percent at a cost that probably will not run much beyond $500.
Integral also assessed the energy efficiency of the various computers and monitors used in the office, and estimates it can further reduce the overall electricity load by another 2 percent by replacing the least thrifty models with high-efficiency alternatives. That cost may run to $2,000.
While the company has already upgraded the Deep Green Office's lighting systems, it is striving to achieve additional savings in cooperation with vendor Lumenergi.
Integral has not yet quantified the efficiency gains likely to come with several other planned activities: installing occupancy sensors tied to copiers and bathroom exhaust fans, separately switching lighting in various sections of the lunchroom, replacing the server-closet cooling system with an exhaust fan and replacing exit signs with LED models.
Integral will also pursue a couple of key strategies aimed at reducing the Deep Green Office's consumption of natural gas, which accounts for 46 percent of the facility's energy consumption even though 90 percent of the usage occurs from late November to mid-April.
One simple solution entails removing obstructions blocking the path of heat from perimeter-wall radiant panels to surrounding occupied space. Another entails replacing deformed and improperly installed window frames, greatly reducing consequential air leakage.
Find out more about the USGBC's California Best Buildings Challenge in CPE's February 2013 issue. And view a slideshow of participating buildings.