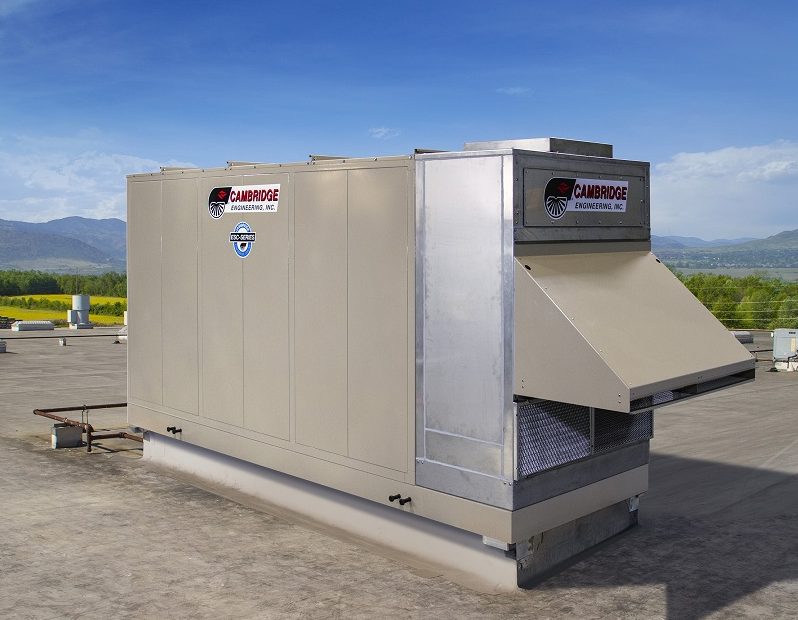 Cambridge Engineering Inc. has introduced two new lines of direct and indirect evaporative HVAC solutions. Officially unveiled in November 2018, the E-Series and ESC-Series units serve industrial, commercial and institutional properties and provide cooling without the use of refrigerants.
The ESC Series air handler is a semi-custom-fabricated product that uses 30 percent to 40 percent of the energy of conventional mechanical systems. Designed to supply improved air quality without the equipment or operating costs associated with mechanical cooling, it employs direct or indirect evaporative cooling techniques, or a combination of both. Heating options are also available.
Key features of the ESC-Series include:
Indirect plate exchanger
Compact polymer plate exchanger
60 percent to 70 percent typical efficiencies
Low static pressure drop
Use of outside air for vaporizer air
Energy recovery
Build-to-suit applications
The E-Series provides direct evaporative cooling for commercial and industrial applications using up to 70 percent less energy than conventional mechanical cooling systems.
Key features include of the E-Series include:
Evaporative cooling media engineered to be self-supporting, impregnated and treated to provide high absorbency
12-inch media depth will provide saturation efficiency of 88 percent when operated at 500 feet-per-minute face velocity
2-inch extruded aluminum frame to maximize strength and minimize deflection
Access doors with hinges and reinforced nylon handles
Evaporative section constructed from single-wall 304 stainless steel
Fully welded sump constructed from 304 stainless steel
Corrosion-resistant stainless steel cooler pump provides water flow through clogless nozzles
NEMA 3R control panel with through-the-door, non-fused disconnect switch
For units through size E120, double-width, double-inlet forward curve fan which is statically and dynamically balanced (Backward inclined fan provided on size E160)