By Gail Kalinoski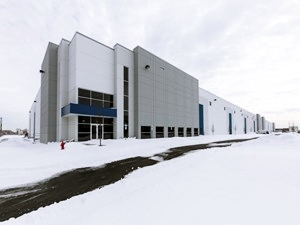 Bridge Development Partners and its joint venture partner, Banner Oak Capital Partners, have sold Bridge Point 290 Business Park, an 899,278-square-foot, three-building industrial property in the Chicago area. Cabot Properties acquired the asset for a reported $54.3 million. Located in Cicero, Ill., near Interstate 290, it is the largest business park in the region that caters to last-minute/infill users.
Building 1 at 1531 S. 54th Ave. totals 323,343 square feet and was leased by Royal Box Group soon after its completion in March. It has 77 trailer positions and 50 docks, which can be expanded to 63. The other two buildings are under construction and expected to be completed in August 2019. Building 2, located at 1400 S. Laramie Ave., will encompass 343,090 square feet and feature 49 docks— expandable to 69—and 94 trailer positions. Building 3, also located at 1400 S. Laramie Ave., will total 232,845 square feet and feature 37 docks—expandable to 45—and 62 trailer positions.
Bridge will remain a minority partner to finish construction of Buildings 2 and 3, and assist with leasing efforts, which are being led by Steve Connolly and Mark Moran of NAI Hiffman. CBRE's team of Michael Caprile, Ryan Bain and Zach Graham marketed the property and represented Bridge and Banner Oak Capital Partners in the sale.
"This was a pretty complicated deal that, in addition to being significant in terms of size, included both a core aspect with a leased facility and a forward commitment component with the two facilities still under construction," Steve Groetsema, partner, Midwest region at Bridge, said in a prepared statement.
While announcing the Royal Box Group lease at Bridge Point 290 in May, Bridge said it had leased two other speculative properties in the region. The Bolke-Miller Co. took 308,107 square feet at Bridge Point North, Building III in Waukegan, Ill., while Agility Logistics leased 117,771 square feet at Bridge Point Franklin Park, Building 1 in Franklin Park, Ill.
Groetsema said at the time that the preleasing of the three properties reflected the scarcity of available new product in infill locations in the Chicago area.
Spec industrial sites
The sale of the Cicero property comes as Bridge and Banner bought an industrial site in Itasca, Ill., for $50 million, according to Crain's Chicago Business. The joint venture plans to construct three buildings totaling 1.2 million square feet on the 50-acre property located near interstates 290 and 390 and about 4 miles from Chicago O'Hare International Airport.
In June, the partners broke ground on another speculative industrial project, Bridge Point Downers Grove, which will have three buildings comprising approximately 680,000 square feet. The properties are situated at the intersection of interstates 88 and 355 in Downers Grove, Ill., and are slated for delivery by the end of this year.
Cabot Properties was focused on the Southeast earlier this summer. The firm acquired Braselton 85 Business Center, a 432,000-square-foot industrial asset in an Atlanta suburb, from Huntington Partners. Cabot selected NAI Brannen Goddard to head up leasing efforts at the site in the Braselton/West Jackson submarket near Interstate 85.
Image courtesy of Bridge Development Partners