January 4, 2012
By Nicholas Ziegler, News Editor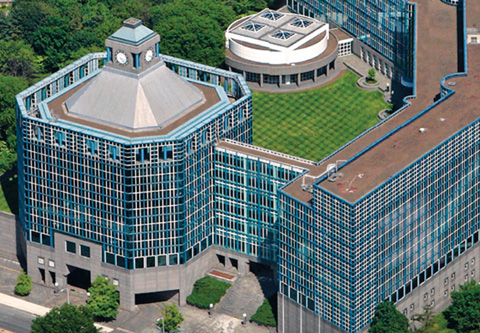 Building and Land Technology, one of the largest property owners in Connecticut's Fairfield County, has just acquired 695 E. Main St. in Stamford. The new owners will be renaming the 614,000-square-foot office complex the BLT Financial Center. Cushman & Wakefield Inc. represented the seller, Lehman Brothers Holdings Inc. The transaction price was $30 million.
Formerly the North American headquarters for General Reinsurance Corp., the vacant property is equally suited to function as a single-tenant corporate headquarters or as a multi-tenant office building with space to accommodate several large corporate tenants. The property's main building, comprised of three sections interconnected by amenity spaces — totaling 460,994 square feet — is joined with the well recognized and unofficially named Clock Tower space, which totals 153,224 square feet.
The property, which is slated to undergo a full renovation, sits three minutes from the Stamford train station and has direct access to I-95.
The market in Stamford, and in the surrounding Fairfield County area, saw improvement throughout 2011. At the end of the third quarter, average asking rents rose by $0.54 to $33.55, according to CBRE Group Inc. "Fairfield County's office market has benefited from an increase in company expansions and a Countywide boost in financial services leasing activity," said Robert Caruso, senior managing director of CBRE's Westchester/Fairfield operations.
Building and Land Technology has selected Newmark Knight Frank as leasing agent for the property.
*This article was updated on Jan. 4, 2012 at 10:44 a.m. EST to reflect the property's purchase price.