By Keith Loria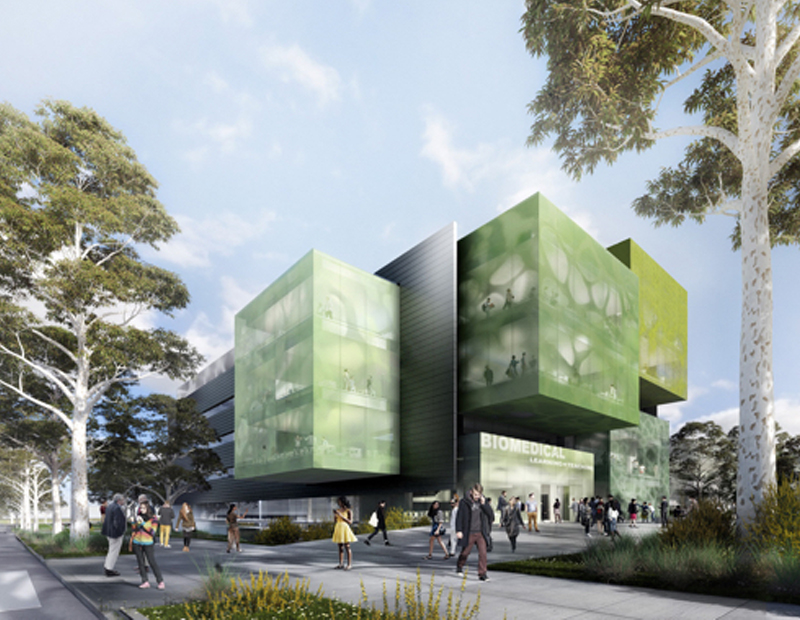 Multiplex, a Brookfield company, will develop a $64.8 million (AUD $81 million) world-class biomedical learning and teaching building for Australia's Monash University at its Clayton campus in Victoria.
Multiplex is also currently constructing a new $164.9 million (AUD $206 million) Learning and Teaching Building at the University, which will include a large underground parking facility and regional transport interchange.
"We are delighted to continue our ongoing collaboration with Monash University and play a pivotal role in its vision for higher education through delivering revolutionary learning spaces," Graham Cottam, Multiplex Victoria's regional managing director, said in a prepared release.
Revolutionary design
Denton Corker Marshall designed the new building, which will consist of four levels, plus a lower ground floor and roof plantroom. Overall, the property will offer 123,000 square feet of learning space.
One design element will be a hanging steel staircase that will be suspended from a skylight truss and connect the various levels of the facility.
Set to be configured in an L shape, four flexi labs will be wrap around a central glazed satellite preparation area providing a more intimate laboratory environment that will hold anywhere from 60 to 120 students. The Biomedical Learning and Teaching Building will also feature a 13,000-square-foot informal learning hub, which can hold up to 400 students, averaging 90 informal learning seats per floor.
Some of the new laboratories will be constructed to Physical Containment Level 2 (PC2) and the façade will be pressure-tested to ensure it has a high level of air tightness. The project is expected to be complete in November 2018.
Transport interchange
The Learning and Teaching Building, expected to be complete in February, will offer a new front door experience for all visitors arriving at the University through a new transport interchange. It includes awning structures, which will provide pedestrians and bus patrons with generous shelter while complimenting the varying context of the Learning and Teaching Building façade screens and landscape features.
Multiplex also delivered Monash University's $116 million (AUD $145 million) student accommodation precinct in April of 2016, which comprises four new residential buildings and more than 1,000 studio apartments, with associated retail and student informal learning spaces.
Image courtesy of Denton Corker Marshall