By Eliza Theiss, Associate Editor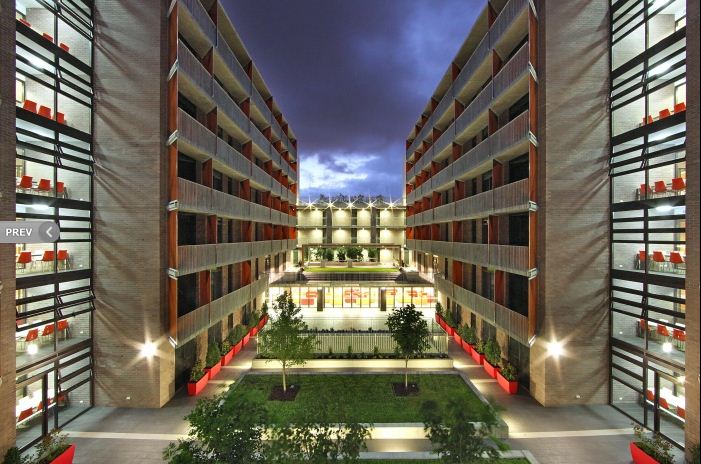 Brookfield Multiplex, the international contracting and development company, has announced completing University Terraces, a $54 million green student housing project at the University of New South Wales (UNSW) in Sydney.
Located on Gate 2 High Street in the Kensington Campus of the University of New South Wales, the residential student accommodation project consists of two seven-story structures comprising 371 self-catered units totaling 399 student beds, abundant meeting areas and retail space. Units range from small studios to one- and two-bedroom apartments, most boasting balconies to ensure a maximum use of natural light. Units come furnished. Meeting spaces abound throughout the development with plenty of study areas, fixed and flexible, individual or able to accommodate study groups. Though each apartment features a kitchen, communal kitchens have also been incorporated to create a social environment.  Other amenities include a designated student lounge, IT lab, games room, laundry facilities, landscaped areas and additional storage areas.
University Terraces also features an advanced security system and Uniwide wireless internet throughout. The ground floor is taken up by retail space and service outlets, creating not only a spacious internal mall, but also enhancing the project's pedestrian connection to the campus. Tenants of the street-level retail space include a mini-mart, banks and cafes. A 74-car underground parking garage will be shared by students, permit holders and paid parking costumers. In accordance with the project's environmental consciousness, bicycle parking will also be available, as well motorcycle parking.
Designer by Australian architecture firm Francis-Jones Morehen Thorp (FJMT), University Terraces meets the requirements for a 5-star Green Star rating also known as Australian Excellence. Green Star ratings are awarded by the Green Building Council of Australia based on comprehensive, national, voluntary environmental rating system that evaluates the environmental design and construction of buildings and communities.  University Terraces' green features include natural ventilation, bore water re-use and tenancy controls to minimize energy usage for unoccupied spaces, as well as a row of mature fig trees on the development's north size that help regulate temperatures.
"University Terraces has been designed and constructed with the student experience in mind. It will provide a much-needed boost to the Sydney student housing market which is highly competitive and has very few newly-built options available,", declared Regional Managing Director NSW at Brookfield Multiplex David Ghannoum.
The development is owned UNSW and operated by UNSW Residential Communities. Units are rented to undergraduate and postgraduate students at UNSW. The January 2013 launch of University Terraces almost doubled UNSW's previous student housing roster of 439 rooms.
Brookfield Multiplex developed the student housing complex in 13 months.