By Nicholas Ziegler, News Editor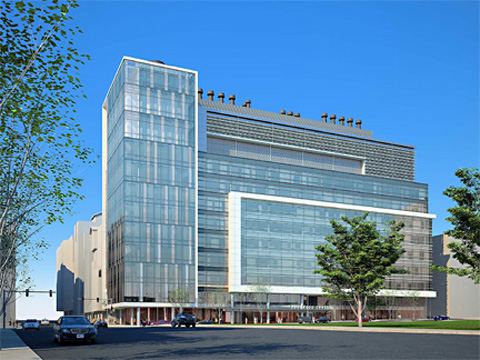 Courtesy of a many-layered deal involving multiple joint-venture partners, Boston's Longwood area will see the construction of a 413,536-square-foot life-sciences center. Clarion Partners L.L.C., Alexandria Real Estate Equities Inc., National Development and Charles River Realty Investors have all joined forces on the 11-story project that will include flexible laboratory, office and retail space.
Dana-Farber Cancer Institute has already signed on as the first tenant, leasing approximately 154,000 square feet in the building that will sit on 1 acre at the intersection of Longwood and Brookline Avenues.
"We are tremendously excited to be part of this project," Barrett Rollins, chief scientific officer at Dana-Farber, said. "Its scope and ideal location provide an extraordinary opportunity for Dana-Farber to accommodate its research needs in a way that will take advantage of cutting-edge concepts in interactive laboratory design."
Previously, a wholly owned affiliate of Alexandria formed a joint venture with ND/CR Longwood L.L.C. to purchase and entitle the site — but also worked to seek another equity partner to participate in the development. After a comprehensive search, Alexandria and ND/CR agreed to contribute their member interests into a new joint venture, whereby Alexandria and ND/CR would collectively become a 50/50 partner with Clarion. In addition, the new ownership joint venture entered into an agreement with a lender for non-recourse construction financing for approximately 60 percent of total project costs.
"This project truly represents the next chapter in leading edge global research and development," Mark Weld, managing director & portfolio manager in Clarion's Boston office, said.
According to year-end 2011 report by services firm Jones Lang LaSalle Inc., the Boston area is the nation's number-one center for the life-sciences field. "The area's life sciences sector is well positioned in comparison to its peers," the report noted. "It will continue to fuel employment and attract both companies and investors to the area. As the market continues to tighten, there will be additional demand for top-grade laboratory space."
"After four years of closely working with the City of Boston, the local community, and the medical institutions on the permitting, design, and leasing of Longwood Center, we are pleased to commence construction of this exciting new life science building," Jack O'Neil, managing partner of National Development, said.