By Gail Kalinoski, Contributing Editor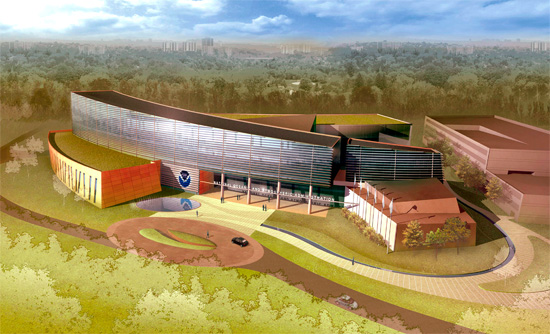 A $72 million financing deal secured by Bostonia Partners L.L.C. helped complete construction on a new NOAA Center for Weather and Climate Prediction in Maryland after it was stalled for more than two years because the original developer went bankrupt.
Bostonia Partners, the investment banking arm of Boston's Bostonia Group L.L.C., recently closed on nearly $72 million in lease-backed secured notes for the construction to permanent financing of a Government Services Administration credit tenant lease in Riverdale, Md. The notes were placed by Bostonia Global Securities L.L.C., the broker-dealer arm of Bostonia Group. Bostonia Partners structured the deal as a credit tenant lease with two tranches of lease-backed secured notes, which were issued by the new developer, Acquest Development L.L.C., in order to raise proceeds to buy the mortgage note and finish the project. The notes were issued in the private placement market to institutional investors and are payable from the project's rental income.
"This is a great example of how important the private placement market is for funding in the current market environment," Anita Molino, managing partner & president of Bostonia Partners, said. "What was unique about this transaction was the simultaneous closing of the purchase of the first mortgage note with the credit tenant lease financing. We are pleased that our partnership with institutional investors enabled us to finance the revival of this important project."
Construction began in 2006 on the 268,762-square-foot headquarters for the National Oceanographic & Atmospheric Administration Center for Weather and Climate Prediction located in the University of Maryland's M-Square research park. Opus East L.L.C., the original developer, stopped construction in 2009 during a dispute with the GSA over money it believed it was owned by the federal government, according to various published reports. In July 2009, Opus East filed for Chapter 7 bankruptcy liquidation. Company officials cited the payment dispute and subsequent lawsuit over the NOAA project as one of the factors. The lawsuit was later dismissed and Opus East allowed the mortgage note to go into default and be held in receivership. In 2011, Acquest took over the project and was given permission to purchase the mortgage note from Bank of America, N.A., according to Bostonia Partners.
The four-story, environmentally sustainable building should be completed next month. Designed by noted architectural firm Hellmuth, Obata + Kassabaum, Inc., the building will be home to NOAA's National Centers for Environmental Prediction; NOAA's Satellite, Data and Information Service and Air Resources Laboratory. It is Energy Star certified and expected to achieve LEED Gold certification. The state-of-the art facility will have about 800 employees and a parking garage with spaces for 685 vehicles.