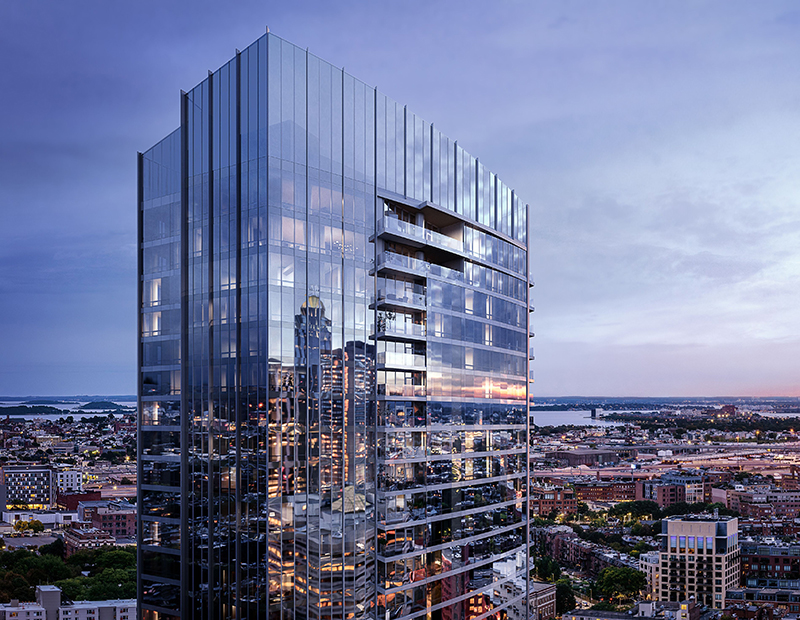 The first Raffles Hotels & Resorts property in North America is poised to break ground later this year after scoring debt and equity financing from Cain International and Madison Realty Capital.
Real estate investment firm Cain International will provide most of the equity to develop Raffles Boston Back Bay Hotel & Residences. Madison Realty Capital will provide $314 million in construction financing, which will retire the existing debt on the property. The project has a total capitalization of $400 million. JLL's Riaz Cassum and Anthony Cutone arranged both the equity and debt financing.
Trinity Stuart—a partnership between Saunders Hotel Group and The Noannet Group—develops the 33-story luxury project, located at 40 Trinity Place in Boston's Back Bay neighborhood. AccorHotels, which owns the storied Raffles brand, first announced the planned development in April 2018.
The property is scheduled to open in 2021 and will provide 147 guestrooms and 146 residential units, along with 15 amenity spaces. Suffolk Construction will build the Architectural Team-designed project, with Stonehill Taylor designing the hotel interiors and Rockwell Group handling the residential interiors. The building will measure 431,273 square feet, sitting on a 1/3-acre site.
Construction to start this year
A fact sheet provided by AccorHotels indicates that site mobilization is planned for the summer of 2019 and groundbreaking is slated for the fall, while a company spokesperson told Commercial Property Executive that the exact month and date of the groundbreaking will be announced soon.
The hotel and residences are projected to boost Boston's annual real estate taxes for the site from $250,000 to more than $4 million, while the development will create around 700 construction jobs, according to the fact sheet.
Gary and Jeffrey Saunders lead the Back Bay-focused hotelier Saunders Hotel Group. Jordan Warshaw heads Boston-based mixed-use and residential developer The Noannet Group. The executives teamed up in 2012 to develop a hotel on the site, formerly home to the John Hancock Hotel & Conference Center.
The new project will add to Raffles' collection of 12 properties around the world, with another five hotels currently under development. Singapore's Raffles brand was acquired by French hospitality firm AccorHotels in 2015.
To the west of the Raffles property, One Dalton, a 61-story Four Seasons Hotel & Private Residences tower, had its grand opening last month. Carpenter & Co. topped off the Back Bay project last year. The tallest residential building in New England, One Dalton features 160 private units atop the 215-key Four Seasons hotel.