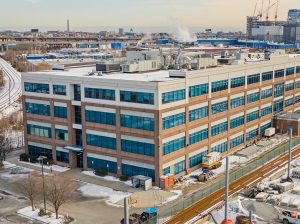 A joint venture between North River Co. and North Colony Asset Management has completed the $160 million recapitalization of 200 Inner Belt Road, a Class A mixed-use office property totaling 191,089 square feet, in Somerville, Mass.
---
READ ALSO: Top 5 Office Transactions in Manhattan
---
Newmark represented North River Co. and North Colony Asset Management in the transaction that added Wheelock Street Capital to the ownership group. Newmark also secured the financing for the deal through its Boston Debt & Structured Finance Group.
Barings provided a $120.3 million financing package for the recapitalization of the fully leased asset, according to Middlesex County records.
In 2013, North River Co. paid $33.4 million for the multi-tenant office complex, CommercialEdge data shows. Later in 2017, Newmark also arranged the previous recapitalization of the property with North Colony Asset Management joining the newly formed partnership, according to the Boston Real Estate Times.
200 Inner Belt Road
The mixed-use building sits on nearly 8 acres at 200 Innerbelt Road within an Opportunity Zone. The property also serves as an art storage facility, as well as a research and development center with laboratory and biomanufacturing components.
Built in 2000, the low-rise structure is home to five tenants. The Somerville Research Facility of Harvard University/Harvard Art Museums anchors the property, which also hosts Finch Therapeutics, OpenBiome, Artex Fine Art Services and serves as the corporate headquarters of Triumvirate Environmental.
200 Inner Belt Road offers easy access to Interstate 93 and will also benefit from a direct link to East Cambridge, one of the nation's strongest life sciences submarkets, through MBTA Green Line's future East Somerville station. Downtown Boston is some 4 miles southeast, while roughly 2 miles away Moderna's corporate headquarters is underway.
During the last three quarters of the year, national office transaction volume has surpassed $53.3 billion and is set to overtake last years' nearly $62 billion invested in the sector, according to CommercialEdge data. Year-to-date, Boston saw $4.6 billion in office transaction volume, at a $471 price per square foot, well above the $295 national average.