Bob Faith's Mission to Buy, Build, Manage Drives Greystar
For someone who once seemed to be headed for a career as a petroleum engineer, Bob Faith has enjoyed a journey that may be as improbable as any real estate CEO's today.
By Paul Rosta, Senior Editor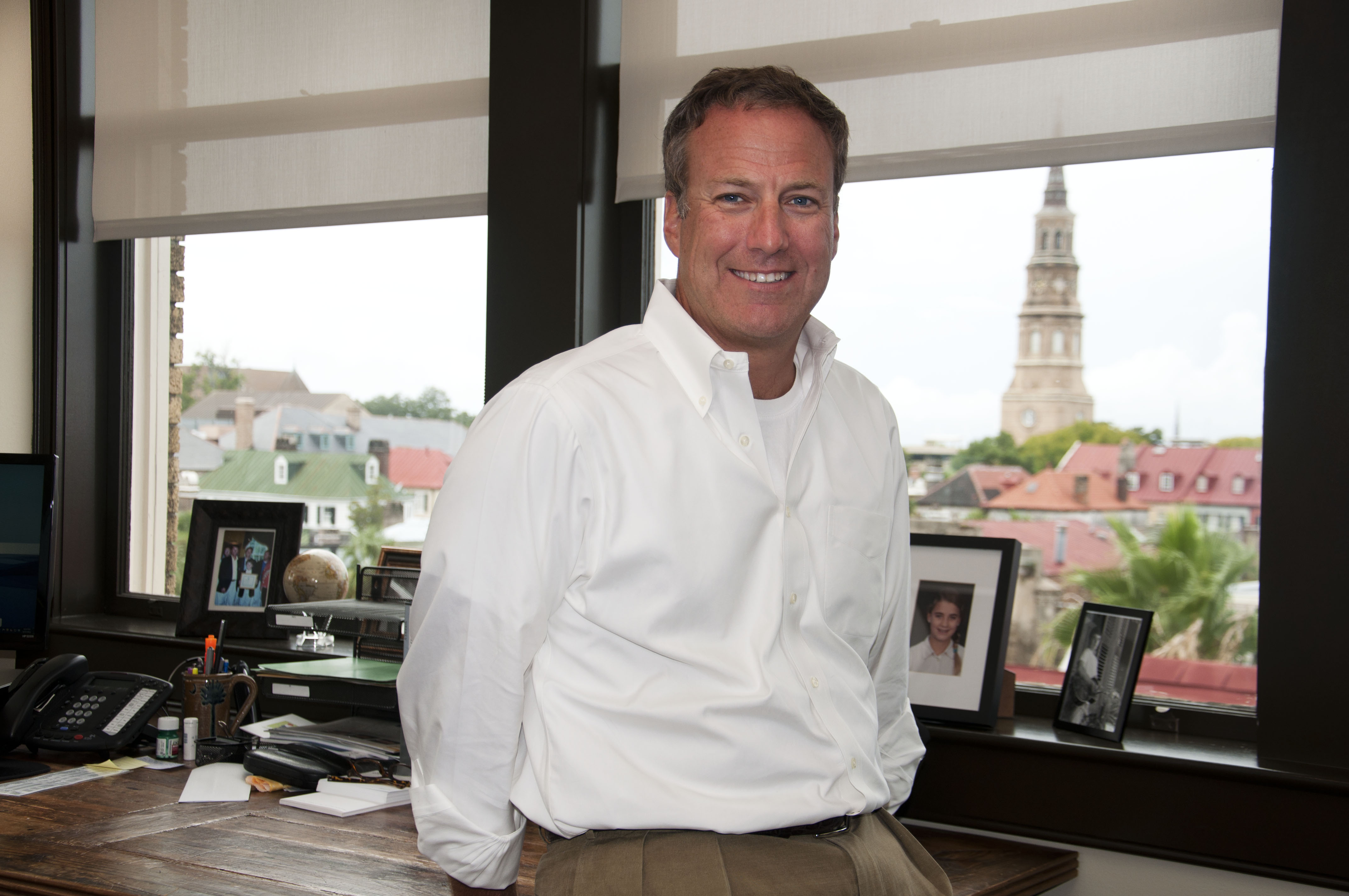 For someone who once seemed to be headed for a career as a petroleum engineer, Bob Faith has enjoyed a journey that may be as improbable as any real estate CEO's today. Sidetracked from his planned profession by a recession three decades ago, Faith went on to found the nation's most prolific multi-family management firm and contribute greatly to the sophistication of the sector and the participation of institutional players.
Along the way, he has also developed office and industrial buildings; co-founded one of the nation's most powerful diversified investment management companies; and even spent four years as a South Carolina cabinet secretary—a tour of duty he pulled off while keeping his day job as a real estate CEO.
No less impressive than that balancing act, Faith has risen to the top of the multi-family sector while embodying that most coveted of qualities: the ability to inspire excellence and loyalty through unflagging high spirits, good humor and genuine consideration for his team. "He's just one of the most likable guys in the industry," said Tony Dona, co-founder & principal of Thackeray Partners, a Dallas-based investment management company that partners regularly with Greystar. "People love working for Bob and are loyal to him because he likes his people and he's loyal to them."
Since founding Greystar in 1993, Faith has built the company on a three-legged stool of property management services, acquisitions and development. For the second year in a row, Greystar's management portfolio of more than 190,000 residential units—90 percent of them operated for third-party clients—made the company the top manager in the multi-family business, according to the National Multi Housing Council's annual ranking. Last year, Greystar closed a $600 million acquisition fund—the firm's seventh—and its national development pipeline exceeds 40 projects. "The synergy of all three (business lines) is as good as, or better than, any in the industry," Dona contends.
The Great Recession vindicated Faith's belief that diversification offers maximum flexibility through market ups and downs. "No matter where we are in the cycle, there's a time to buy, there's a time to build and there's a time to hunker down and manage," he said. Even if the investment market suffers a downturn in a given area, Greystar has the option of disposing of its assets there while maintaining its property management business. "What that allows us to do is to keep our team together," he explained. "That way, I can recruit the best people." As Greystar's local eyes and ears, the ground-level property management team provides market intelligence that serves as the basis for future investment and development decisions, Faith added.
"He really understands the capital markets and the operating business in a way that most people don't," said Robert Whitman, who first got to know Faith in the 1980s, while serving as CFO of Trammell Crow Co. "I think it's an unusual thing to be able to balance both," added Whitman, currently the CEO of Franklin Covey.
Although management may be an ancillary service for some multi-family investors, Faith has always considered it an essential building block. "Bob's (vision) was to build a truly outstanding service platform," Dona observed. Greystar's management business serves 105 markets through 20 local offices that stretch from Boston to Seattle.
During the the past few years, Greystar has grown its management portfolio at a stepped-up pace. The company doubled the number of its multi-family properties in the Northeast and Middle Atlantic states to 46 during the first three quarters of 2011. In the process, it increased its scope from slightly fewer than 6,000 units to nearly 16,500. That robust expansion came on the heels of Greystar's selection by Archon Group L.P. in 2010 to manage a 27-property, 7,600-unit portfolio in Virginia, Florida, Texas, Arizona, Nevada and California.
A turning point came with the 2008 acquisition of JPI Management Services, an affiliate of Irving, Texas-based JPI Multifamily Partners L.L.C. In a single stroke, Greystar's property management arm became a truly national business for the first time. The acquisition created economies of scale and expanded Greystar's footprint in California, the Midwest and the Northeast. In all, the deal added about 41,000 units to the company's management portfolio. That acquisition was made possible in large part by a capital infusion from Goldman, Sachs & Co., which bought a 20 percent stake in Greystar five years ago.
Greystar has steadily expanded its property management portfolio in the four years since the JPI acquisition. The deal also gave it an entrée into the burgeoning student housing niche through an affiliate that was rebranded Greystar Student Living. Recent assignments include Circle West Campus, a 477-bed project near the University of Texas' campus in Austin.
A Time to Build
While continuing to expand its third-party services, Greystar is carrying out an aggressive development strategy. "The best opportunities are always happening at these inflection points as markets move," he explained. Faith targets vibrant, transit-oriented, pedestrian-friendly urban settings that tend to attract young urban professionals.
In July, Greystar kicked off construction of Elan Uptown, a 591-unit mid-rise property in Downtown Minneapolis. The two-phase development process is scheduled for completion in 2014. Also in the pipeline is Elan Town Center, a 134-unit apartment community scheduled for completion next year in the Seattle suburb of Redmond, Wash., and Elan Midtown, a 200-unit project underway in Greystar's home city of Charleston. Elsewhere, Greystar's development pipeline includes Lakewood Apartments, a 435-unit complex in suburban Dallas, and the Ascent, a 404-unit, 26-story project in Tysons Corner, Va.
To capitalize the projects, Greystar regularly teams up with institutional investors. Prudential Real Estate Investors is the capital partner for Elan Midtown and the Ascent. For Elan Uptown in Minneapolis, Greystar recruited Multi-Employer Property Trust, which manages real estate investments for some 360 public and private retirement funds. And Greystar brought the Carlyle Group on board for a 288-unit high-end property scheduled for completion next year in Woodbridge, Va., a Washington, D.C., suburb.
A connecting thread among these diverse projects is a balance between quality and affordability. Greystar typically tailors its projects to younger, active professionals who tend to spend much of their time outside of home. For these residents, a big apartment tends to be less important than a location convenient to work, transportation and cultural amenities. A relatively compact floor plan allows Greystar to strike a balance between attractive amenities and affordable rental prices. At Elan Town Square in Redmond, Wash., the 134 units will average 872 square feet in size.
Detour to Success
Faith's path to real estate began as something of a detour. He had every intention of taking up his father's profession and pursuing a career in the oil business. But by the time he received his engineering degree from the University of Oklahoma in the early 1980s, a recession had thrown a monkey wrench into the job market. So Faith came up with a Plan B and applied to graduate programs. "I couldn't get a job as a petroleum engineer," he recalled, "but I did get into Harvard Business School, so I guess that's a pretty good fallback."
Upon earning his MBA from Harvard, Faith joined Trammell Crow Co., which liked to hire newly minted MBAs from the nation's top business schools and quickly give them challenging assignments, explained Whitman. Then a prolific developer, Trammell Crow was in the midst of sorting out deals that had run aground in the wake of the savings-and-loan crisis. For his first assignment, Faith was posted to Oklahoma and asked to find workouts and exit strategies for troubled projects. Even then, colleagues say, he demonstrated a knack for untying difficult knots with not only a penetrating intellect but also high spirits and good humor that raised the morale of everyone around him. "He could make things seem like, 'Hey, this isn't so bad,'" Whitman explained.
After impressing higher-ups by completing a series of difficult assignments, Faith was sent next to Charlotte, N.C. His challenge was to re-energize a team shaken up by the departure of senior partners. Along with his partner, Bill Maddux—now Greystar's COO—Faith earned trust and loyalty in a difficult situation. He also got his first taste of development, overseeing a series of office and warehouse projects.
By 1990, the savings-and-loan crisis had taken a heavy toll on Trammell Crow's development pipeline, and Faith moved on. In 1991, he joined forces with fellow rising star Barry Sternlicht, an acquaintance from Harvard Business School, to co-found Starwood Capital L.L.C. Faith started Greystar two years later, initially managing 9,000 apartment units in Houston.
In building the company, Faith drew on the practices he learned during his time at Trammell Crow, starting with an emphasis on local knowledge. "There's no replacement for living there," Faith asserts. "People that live in these markets know them better than someone who's flying in from the outside." Further, he took to heart the Trammell Crow emphasis on creating a culture of partnership, a principle embodied by Faith's own upbeat, outgoing personality.
Like Crow himself, Faith made a practice of recruiting talented, energetic young people and quickly giving them significant responsibility for operations and execution. While trusting his team with a high degree of autonomy, he chose a more centralized policy for capital allocation than he had encountered at Trammell Crow. Faith also understood the opportunity for professionalization in an industry that was often viewed as a mom-and-pop business.
By the end of the 1990s, Greystar's management footprint extended across much of the Sunbelt. At the same time, Greystar was bringing an institutional approach to acquisition. A milestone arrived in 2000, when it established a $300 million fund with the Oregon Public Employees Retirement System. By the time the company closed its seventh and latest fund in 2011, Greystar's pool of investors extended to Europe.
While the company was headquartered in Houston, Faith made regular visits to family in Charleston, and took a liking to the city's setting and vibrant atmosphere. In 1998, he relocated both his home and Greystar's corporate headquarters there. Today, Charleston houses the holding company and corporate-level operations, and offices in Houston, Dallas, Tampa and Phoenix handle back-office functions.
A different kind of opportunity arose in 2002, when Faith served as a volunteer fundraiser for the successful gubernatorial campaign of his friend Mark Sanford. The governor-elect asked Faith to bring his business acumen and enthusiasm to the cabinet as secretary of commerce, the state's top economic development official.
For a token salary of $1 per year, Faith crisscrossed the state, met with business leaders and was instrumental in securing some big wins for the state (see "Double Duty" ). "It really did stretch me to run the company and be secretary of commerce," Faith said. After four years of well-regarded service, he stepped down at the end of Sanford's first term. Although he has yet to return to public service, Faith continues to keep his hand in politics, periodically volunteering for campaigns.
In reflecting on Faith's varied accomplishments, colleagues remark on the deceptively simple balancing act that he has pulled off in a scrappy, volatile business. "Bob's style is to be very likeable and very nice, but at the same time, he's obviously very driven," observed Dona.
As Faith's smart, spirited leadership has earned the respect of his peers, it brings to mind the caustic comment made famous by baseball's Leo Durocher. "Nice guys finish last," the combative Hall of Fame manager and player once declared. Clearly, Durocher never met Bob Faith.