By Ioana Neamt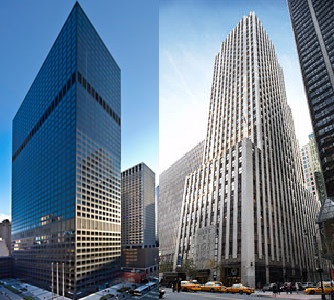 New York—Business and financial information network Bloomberg LP has recently signed an expansion lease with SL Green Realty Corp. at 919 Third Ave., in Midtown Manhattan. With the 204,442-square-foot lease, the company now occupies 458,998 square feet in the 47-story tower—covering the entire fifth through ninth floors and part of the building's eleventh floor. Bloomberg signed the lease for a term through February 2029, represented by Craig Reicher, Howard Fiddle, Chris Mansfield and Chris Corrinet of CBRE.
"This transaction underscores the healthy leasing activity that we have seen in the Midtown market," Steven Durels, director of leasing and real property at SL Green, said in a statement. "We are delighted that Bloomberg selected 919 Third Avenue to satisfy their expansion needs."
Located at the intersection of Third Avenue and East 55th Street, 919 Third Ave. was constructed back in 1971 and is owned by SL Green. Notable tenants at the 1.5 million-square-foot tower include BNP Paribas and Bloomingdale's.
It's been a busy week for SL Green in New York City. The company also signed a renewal lease with Omnicom Group covering 64,111 square feet at 220 E. 42nd St. Omnicom signed a 15-year renewal lease for the entire ninth floor of the "News Building," increasing its total commitment to 231,114 square feet. The News Building is a 37-story, 1.2 million-square-foot office tower located just two blocks from Grand Central Terminal. Its tenant roster includes the Tribune Co., the United Nations and Martin Clearwater & Bell. Lee Feld of Feld Real Estate LLC represented Omnicom in the lease deal, while SL Green acted on its own behalf.
Images courtesy of SL Green